Napa or Nappa cabbage is a kind of Chinese cabbage widely used in Asian cuisine. It is the cabbage that is used for making Kim Chi. Napa cabbage grows into an oblong shape with large, crinkly light green leaves on the outer layers. The leaves will gradually become a light yellow colour in the inner layers.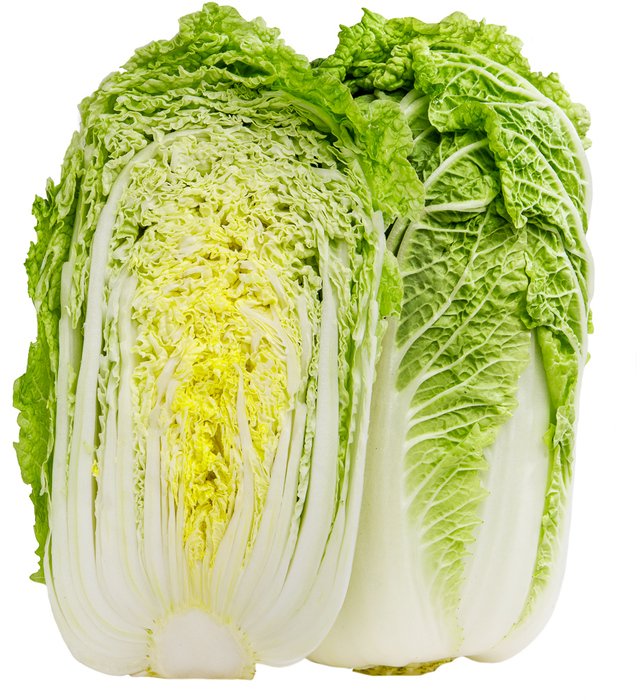 The large surface area of each layer makes the vegetable a great choice for wrapping meat. The leaves has a sweet and somewhat celery like flavour, which makes it very palatable. The thick white part of the leaf remains crunchy after cooking, adding texture to the dish.
Some nutritional facts about Napa Cabbage:
Incredibly low in calories
Packed with anti-oxidant
Excellent source of folates & Vitamin C
Contains many essential vitamins and minerals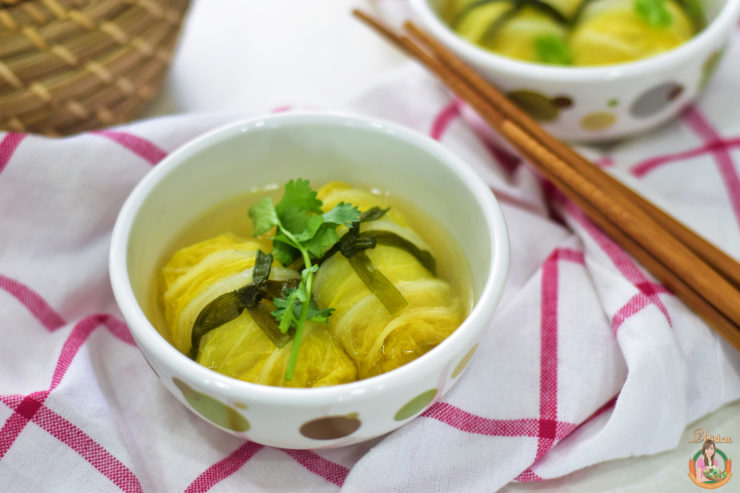 Personally, I love using cabbage in soup because it lends a little natural sweetness to balance the saltiness of the soup. Usually, I would make cabbage wraps with a steamer and sauce over method. However, I was craving for some boiling hot soup and cabbage wraps at the same time. So, I dropped the cabbage wraps in the broth to cook, and killed 2 birds with 1 stone.
The girls and husband was ecstatic to find out what was for dinner that night, and could not wait to dig in. Happy faces & satisfied bellies, I could not be any happier with this recipe! Don't skip the step on scalding the cabbage leaves briefly with boiling water. This process makes it more pliable to work with when wrapping the meat.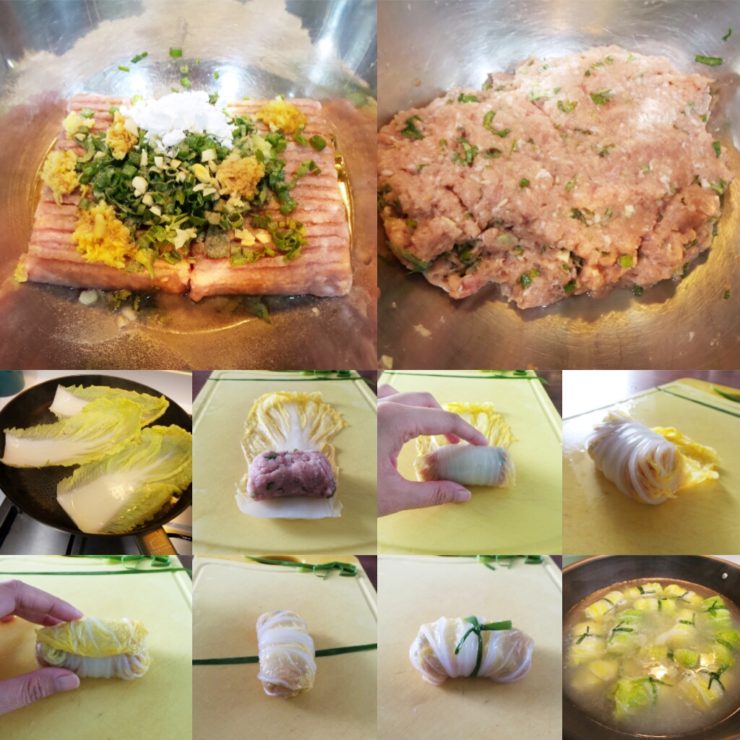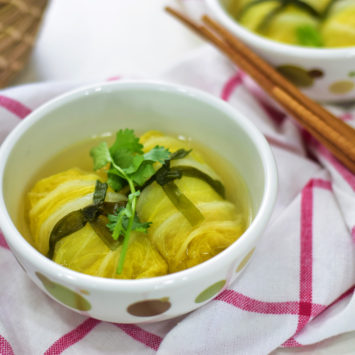 Stuffed Cabbage Soup
Ingredients
500

g

minced pork

3

tbsp

spring onions

chopped & green part only

1

tbsp

ginger

grated

1

tbsp

light soy sauce

1

tbsp

shao xing wine

1/2

tsp

sugar

2

tsp

corn flour

White pepper to taste

14

chinese napa / wong bok cabbage leaves

5

cups

1.2L chicken stock or water

Enough spring onion to secure cabbage

Coriander leaves for garnishing
Instructions
In a mixing bowl, add pork, ginger, spring onions, sugar, soy sauce, shao xing wine, pepper, and corn flour.

Using a wooden spoon, chopsticks, or hand, stir vigorously in one direction until filling has a sticky consistency.

Leave to marinate while preparing cabbage.

In a large pan, bring salted water to boil and blanch napa cabbage until soft (about 30-45 seconds).

Do the same for the spring onions.

To wrap, scoop about 2-3 tbsp of meat filling onto an inch above the end/stem part of the napa cabbage.

Roll upwards, then tuck in the sides as you continue to roll.

Tie a butterfly knot around the cabbage roll with the blanched spring onion.

Continue until all the fillings are used.

In your wok, bring chicken stock to boil over medium high heat.

Gently drop in all the cabbage rolls, and bring it back up to a boil.

Cover, reduce heat to medium low, and allow to cook for 12-15 minutes.

Serve garnished with coriander leaves.