We were introduced this dish when we visited our an Indian restaurant during one of our visit back to Wisconsin. The husband knows that this lady here cannot go without spices for too long so I'll start to get sad and grumpy. So he lovingly hunted down an Indian restaurant for me to refuel. He calls it survival. This is my life equation -> Spices + Coffee = Happiness.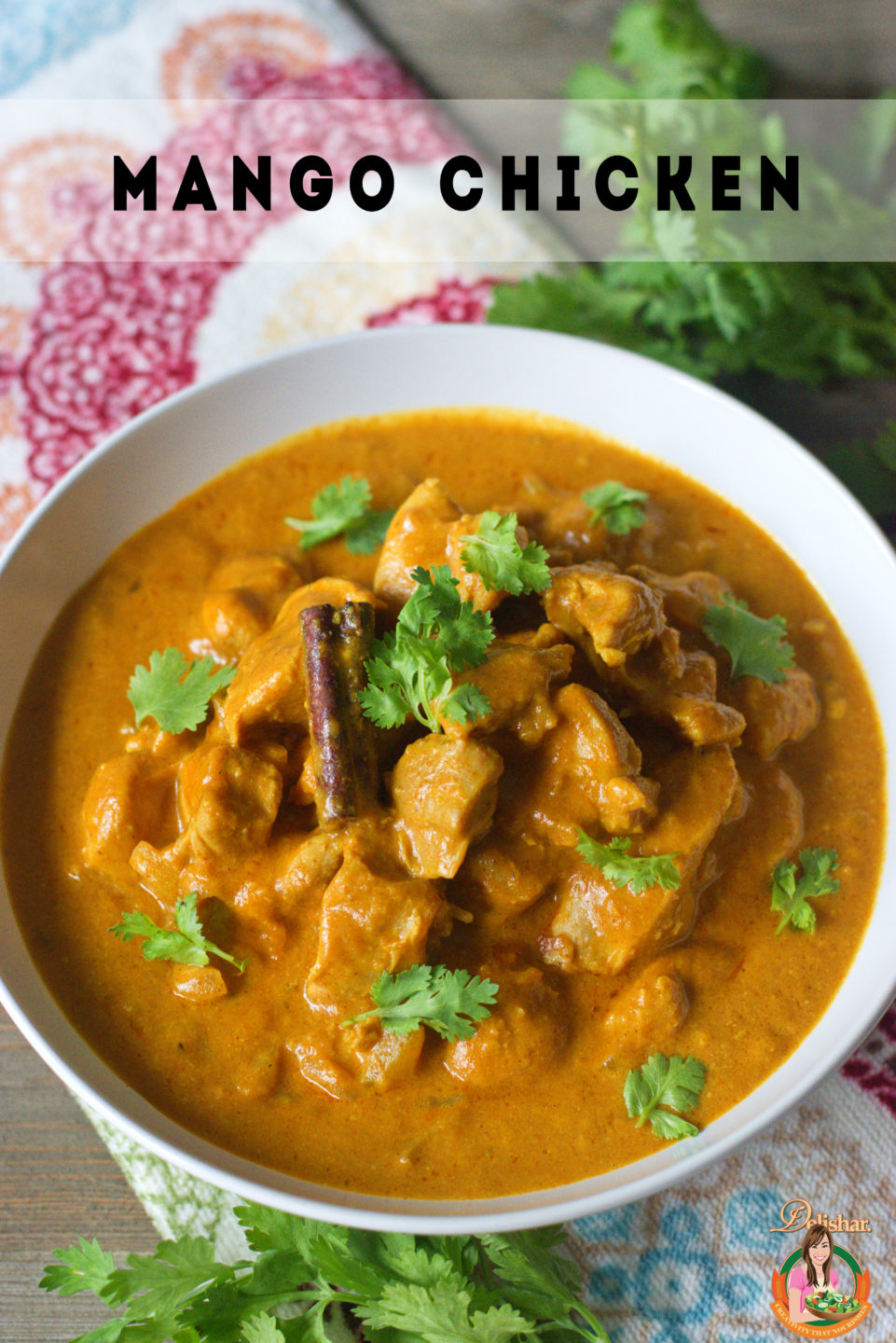 We'd usually go for our usual butter chicken and request the kitchen to tone down the heat so my girls can enjoy too. However, my niece joined us for one of the visits and we asked our waiter to recommend something even milder. He recommended Mango Chicken.
View my Instagram Story highlight of this recipe.
That first bite into the tender piece of chicken started a raving party in my mouth. Creamy, sweet, slightly spicy, aromatic, with a slight tinge of tang. It won me over on so many levels that it has replaced the spot where butter chicken used to sit on the table. This recipe produced a result that is very close to the one we had. This recipe makes me a very happy person.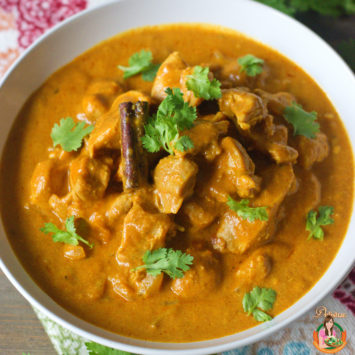 Mango Chicken
Ingredients
3

pcs

boneless, skinless chicken thighs

1

pcs

mango

seeded and pureed

1

small

red onion

finely diced

2

cloves

garlic

grated

1

tsp

ginger

grated

1

tsp

tomato paste

1/2

cup

coconut cream

1/4

cup

water

salt

to taste

2

tbsp

ghee or butter

Coriander leaves

to garnich
Spice marinade
1

tsp

paprika powder

1/2

tsp

chilli powder

or to taste

2

tsp

coriander powder

2

tsp

garam marsala

2

tsp

cumin powder

1

tsp

turmeric powder

1/4

cup

plain yogurt or coconut yogurt
Dried spices
1

tsp

fennel seeds

6

pods

cardamon

1

stick

cinnamon

1

bay leaf
Instructions
Mix all the ingredients for Spice Marinade together and divide mixture into 2

Pour 1/2 of the mixture over chicken and leave to marinate for 15 minutes or longer

Melt ghee over medium heat and fry dry spices until fragrant

Then add the other half of the spice marinate, tomato paste and onion

Stir-fry until soft then add water, garlic, and ginger to cook for another 30 seconds

Add coconut cream and bring to boil

Then add marinated chicken and mango puree

Allow to simmer until chicken is fully cooked

Garnish with coriander leaves
Notes
You can use premix curry powder in place of the spice powders. about 2-3 tbsps. Use coconut yogurt for a paleo/whole 30 option.