This cake requires a bit of work but the effort was well worth it. Of course, you can skip making your own caramel sauce, and use a store-bought one. But you know it's going to be different. There's actually 3 recipes in this post. Streusel, salted caramel sauce, and a cake recipe. You can use the streusel recipe to top any coffee cake or muffins for that crumbly edge.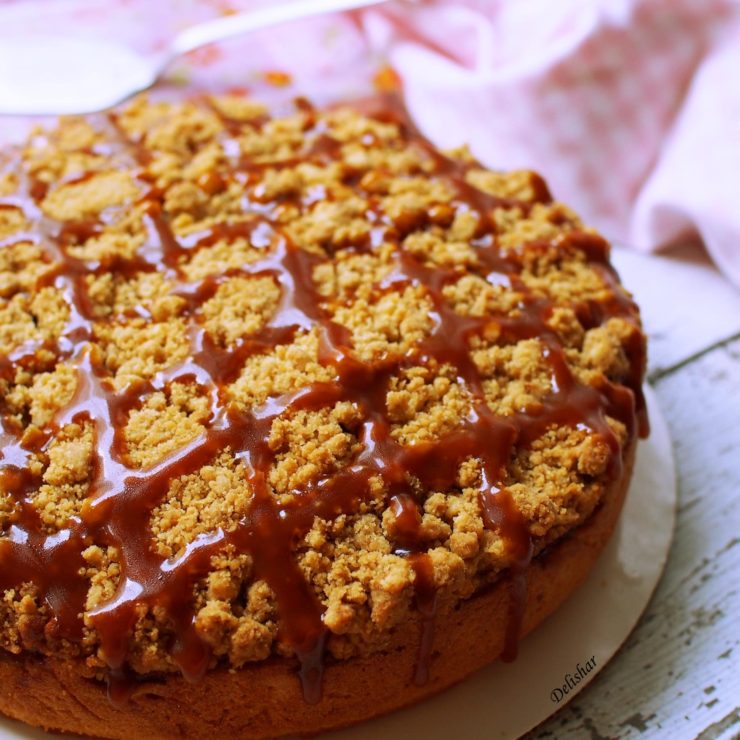 The salted caramel sauce needs no introduction. It goes amazingly well with any and every dessert! Salted caramel is another one of my kryptonite. I can go in spoonful after spoonful if I'm out of control. I tend to find quick ways to get rid of it. Either by using it for other bake products or giving it away to friends and family. I'm not sure how strong my will power is to keep myself away from that delicious thang if I know it's still in the house.
So anyway, the sour cream and the apples keeps the cake nice and moist. The streusel gives it a contrasting texture, and the sauce hits all the right notes. There's a lot going on, in this cake. And I'm certain that you'll enjoy it as much as I did.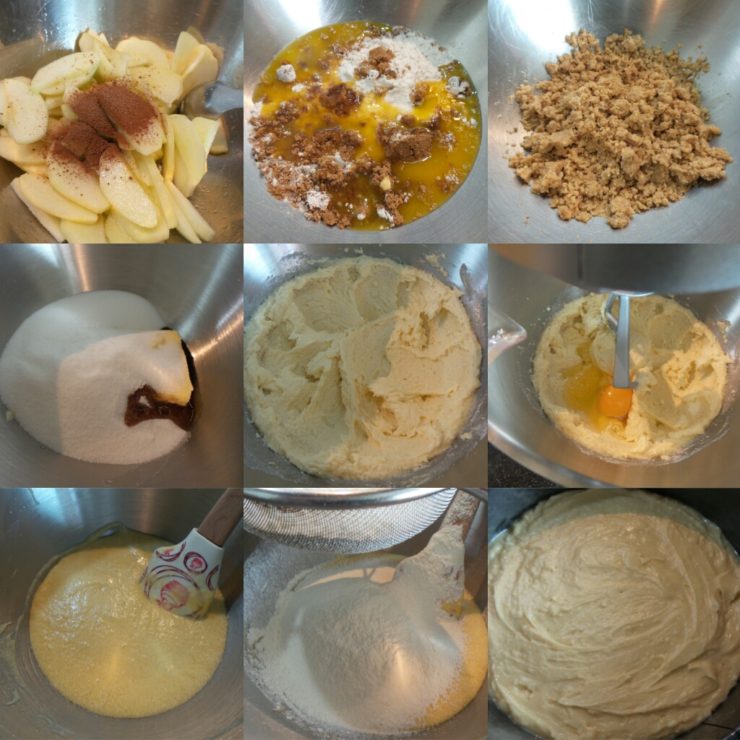 Apple Crumb Cake with Salted Caramel Sauce
Makes an 8 inch cake
Ingredients
Salted Caramel Sauce (makes about 1 1/2 cup)
1

cup

225g castor sugar

½

cup

117.5ml heavy cream

2

tablespoons

28.5g unsalted butter

1/2

tsp

sea salt

or to taste
Streusel Crumb
1 1/2

cup

192g flour

1/2

cup

100g brown sugar

1/4

cup

56g castor sugar

1/2

tsp

salt

1

tsp

cinnamon powder

1/4

tsp

nutmeg

1/2

cup

113g butter, melted

1/2

tsp

vanilla extract
Cake Batter
4

Tablespoons

56.5g butter, softened

1/2

cup

100g castor sugar

1

large egg

1

tsp

vanilla extract

1/2

cup

sour cream

1

cup

128g flour

1/4

tsp

baking soda

1/2

tsp

baking powder

1/4

tsp

salt

2

granny smith apples-peeled and sliced

1

tsp

cinnamon powder
Instructions
Salted Caramel Sauce
In a medium saucepan set over medium-low heat, melt sugar.

Cook, without stirring, until the sugar has turned a deep amber hue, approximately 10 to 12 minutes.

Then add butter while stirring constantly.

Slowly whisk in the cream and continue simmering the mixture until it is smooth

Remove from heat, then whisk in salt, to taste.
Streusel Crumbs
In a bowl, whisk together all the dry ingredients.

Pour in melted butter and vanilla, stir until moist and crumbly.

Set aside.
Cake
Preheat the oven to 175C.

Toss sliced apples with cinnamon powder, then set aside.

Line and grease a 8 inch round pan.

In a mixing bowl, cream butter, sugar, and vanilla extract together until light and fluffy.

Add egg and beat well.

Add sour cream and beat until combined.

Sift in dry ingredients (salt, baking powder, baking soda, and flour) to the butter mixture.

Stir until combined.

Spread half the batter at the bottom of the pan.

Lay the apple chunks evenly on top of the batter.

Sprinkle 1/2 of the crumbs mixture over the apples.

Spread the remaining batter over the crumbs and on the top spread the rest of the streusel.

Bake 35-40 minutes, or until a skewer inserted in the center comes out clean.

Drizzle salted caramel sauce on top and serve.
Notes
Adapted from yummiestfood