Okay, I'll come clean. Besides Milo, I have a weakness for ribs too. Give this girl some ribs, a glass of hot or iced Milo, and I'll be the happiest foodie in the whole entire world (as my eldest, Melody likes to put it)! The same goes for the husband. He walked into the kitchen, saw me cutting up the ribs, and said, "Wait, what kind of sorcery did you do there?! Have you taken your pictures yet?" and a huge smile was plastered across his face. I brushed on some honey on the savoury baby back ribs, and it totally transforms the product to a whole new dimension. A darn good one!
Although, this recipe is not as tender as my fall-off-the-bone and melt-in-the-mouth BBQ Slow Roasted Ribs, it sure makes up for in stronger flavours, and a much MUCH shorter cooking time. The preparation for this dish is extremely simple. Just marinate, then bake, basting it 2-3 times along the way. Quite effort free if you ask me.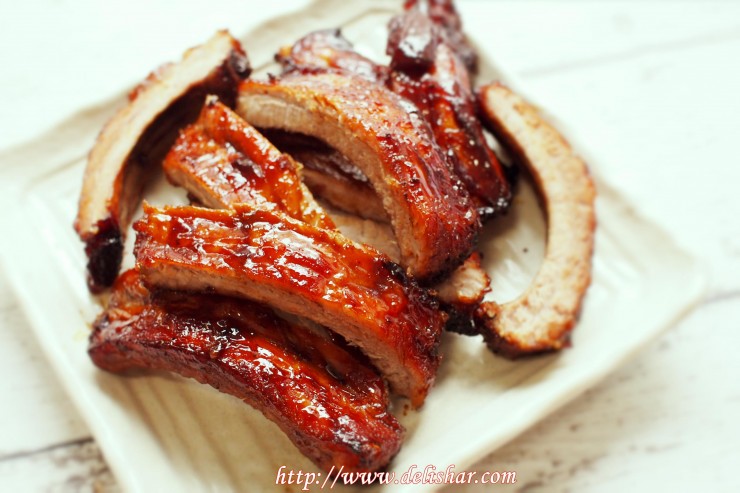 While the oven does the cooking for me, I kept myself busy with my Caixin with Fishcake, and Watercress Chicken Soup. That's what I love about oven cooking. I get to multi-task without having to worry much. By the time the ribs are done, I was done with all the other dishes too, including most of the washing up. I like to wash up while I cook, and try my best to keep the kitchen clutter free. Well, maybe because my kitchen is super small. I know friends who only wash up after dinner is completed. Pots, pans, plates… etc. What about you? Do you clean up while you cook or do you wait till dinner has concluded?
Don't forget to take part in the current giveaway! Win 1kg of wild caught Alaskan Halibut valued at $82! Click here to go to giveaway page.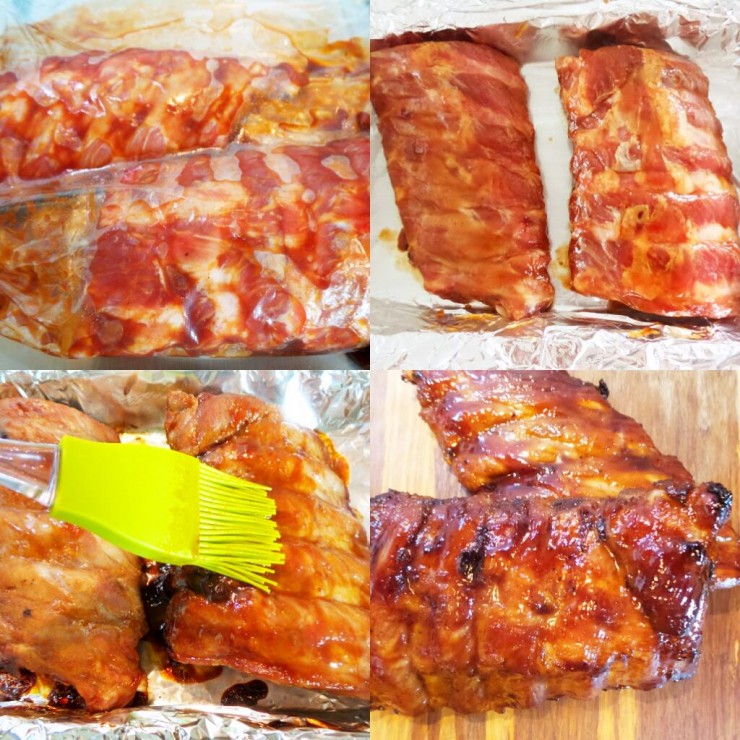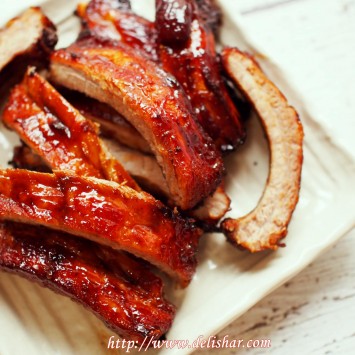 Hoisin Honey Sticky Ribs
Ingredients
1

kg

baby back ribs

1/2

tsp

5 spice powder

2

tbsp

hoisin sauce

2

tbsp

honey

1

tsp

rice vinegar

1

tsp

sesame oil

1

tbsp

rice wine

1

tbsp

light soy sauce

2

tsp

dark soy sauce

White pepper to taste

1

tbsp

honey to glaze
Instructions
Clean ribs by removing tough membrane at the bone side of ribs.

Add all the ingredients except ribs and 1 tbsp honey into large zip lock bag.

Mix to combine, then add ribs, cut if needed to fit into ziplock bag.

Marinate for 1 hour to 24 hours.

Preheat oven to 180C.

Remove ribs from bag, and bake on greased baking tray for 40-60 minutes.

Reserve marinade, and baste every 20 minutes.

When done, brush on the remaining 1 tbsp honey, and serve immediately.
Notes
Adapted from The Steamy Kitchen Cookbook