I've got a weakness for ribs. Fall-off-the-bone baby back ribs lathered with smoky BBQ sauce. Particularly, Sweet Baby Ray's BBQ sauce. Unfortunately it's not sold in SG, so whenever we travel back to USA. I'll stock up huge bottles of it. If I have to get BBQ sauce in SG, it'll be Hunt's and no others.
Everytime the husband brings me to a diner or ribs joint in the states. I'm half ecstatic and half priming myself for disappointment. As much as the BBQ ribs there are nicely charred and has an intense smoky flavour. It's often dry, tough, and does not fall off the bone / melt in your mouth tender.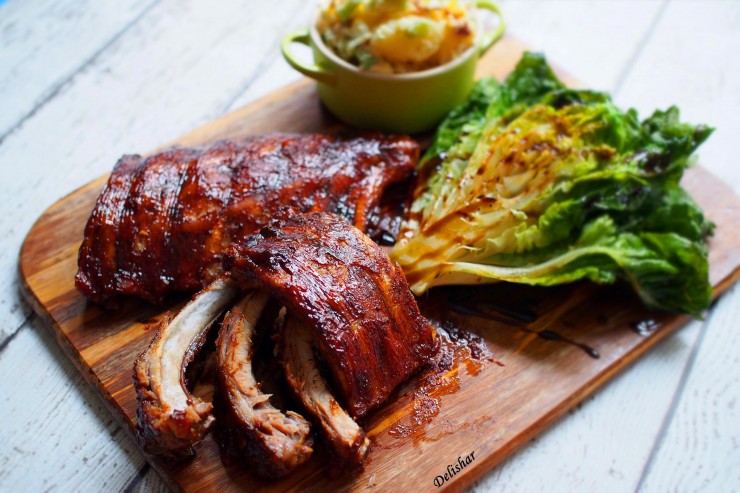 However, these bad boys right here were slow roasted in a tightly sealed casserole. That kept the ribs moist and sealed in all the flavours of the meat and dry rub while it cooks very slowly. They are absolutely delicious and I lose all self control when I have it on the dinner table. The meat just pulls off the bone, and melts in your mouth. There is no need for a knife to eat this. It is best enjoyed with your hands. Just hold, pull, and I promise you that it'll come right off. Just thinking about it while I write this post gets my mouth watering uncontrollably! Serve it with Mash Potatoes with Gravy or Cauliflower Mash for a lighter side. Here, I served mine with Potato Salad, and Grilled Romaine drizzled with Honey Balsamic Glaze. (Recipe will be shared later.)
This is one recipe that I highly recommend. I urge you to try it at least once in your life. It requires very basic ingredients and very minimal effort as the oven does most of the job for you. I'll stop raving about how good it was and show you how it's done.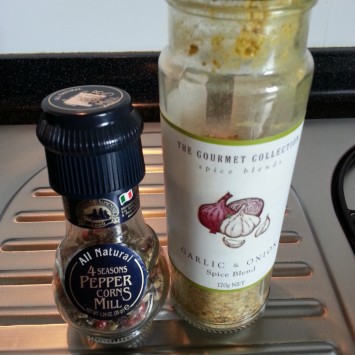 These are the seasoning salt and spices I used to dry rub the ribs. I both both bottles from NTUC Finest.
Preheat your oven while you prep your ribs.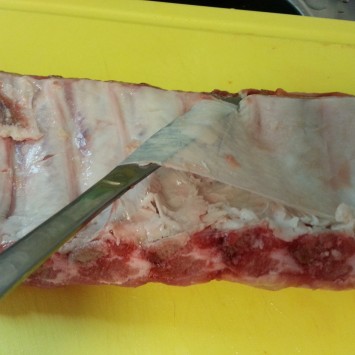 Clean ribs and use a butter knife to slide under membrane on the bone side. Lift to detach membrane.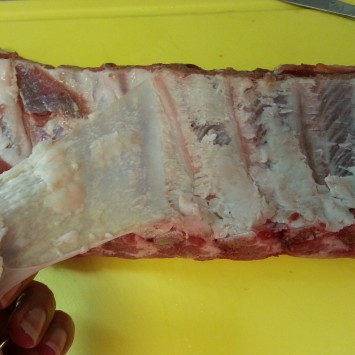 Then use your hands to tear it out. It should come out pretty easily.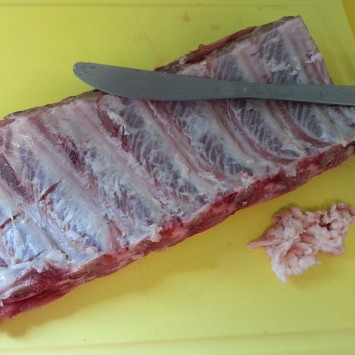 Trim of excess fats if you wish to. You can cut the ribs into half or roast it as a whole rack.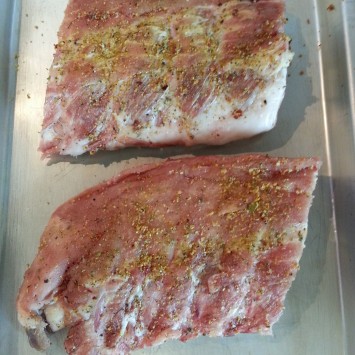 Season both sides of the ribs generously with seasoning salt, and pepper.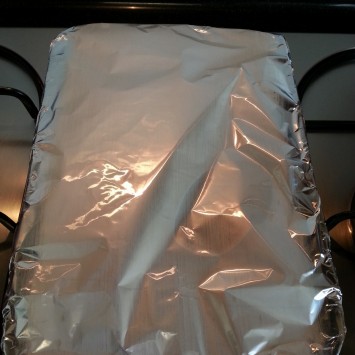 Then wrap up the baking try tightly with foil. This protects the ribs from drying out when slow roasting it. Then slow roast for 2 hours or until for tender. Crank oven to 180C. Remove pan from oven, remove foil, drain liquid, and brush on 1/2 the BBQ sauce on the ribs. Return back to oven and bake for 15 minutes. Then brush on the rest of BBQ sauce and serve.
Slow Cooked BBQ Ribs
Ingredients
1

slab of baby back ribs

about 800g

1/2

cup

of bbq sauce

Hunt's and/or sweet baby ray, divided

Seasoning salt or just salt and pepper
Instructions
Preheat your oven to 150*C

Prepare your ribs by removing the tough membrane on the bottom side of the ribs.

Use a butter knife to go under the membrane, and lift it up.

Then using your hand, pull back the membrane and it should tear out pretty easily.

Remove excess fatty bits from the ribs.

Season both sides with salt and pepper.

Put it in a baking pan and cover tightly with foil.

Pop it in the oven for 2 hours or until fork tender. (Check with fork)

Longer if the slab is meaty.

When 2 hours is up, remove baking pan from oven.

Crank up oven to 180C.

Unwrap the foil, drain liquid, and brush on 1/2 of the BBQ sauce on both side of the ribs.

Return back in the oven for 15 minutes.

Brush on remaining BBQ sauce and serve.