It's my favourite time of the year again! The time of delicious feasting and more importantly, the lovely company of friends and family. We gather around to share food, recipes, stories, gifts, then leave with a warm belly and full heart. This recipe is great for gatherings as it can be easily scaled up for a larger group. Plus, hotpot is always a welcomed meal for our Asian culture, especially during the cool rainy weather!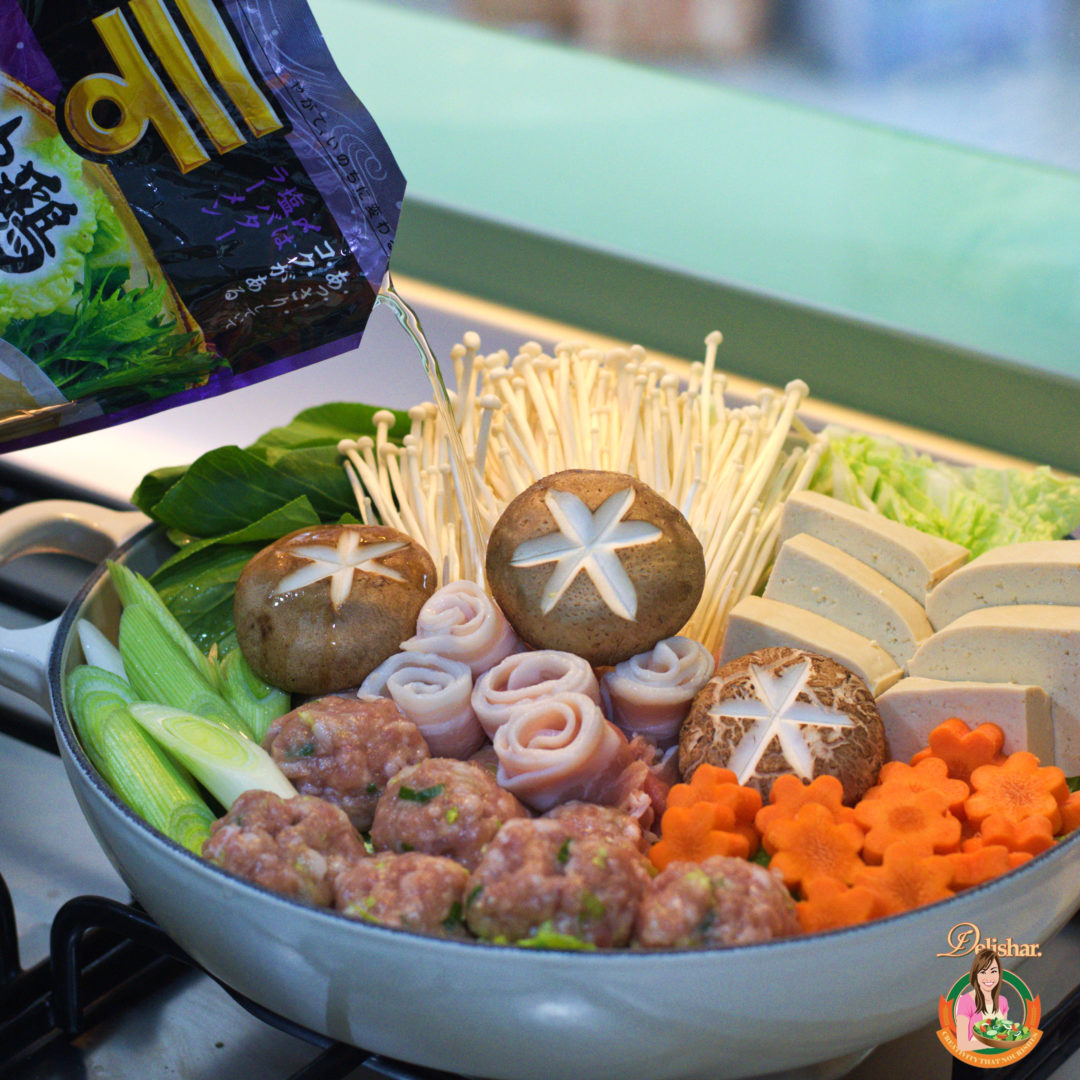 Chanko Nabe is also known as Sumo Hotpot. Yes, you guess right. It's what the Sumo wrestlers eat to build and replenish energy. There's really no hard and fast rule on what to put in the hotpot. It usually consists of veggies, meat, and chicken meatballs. I used Mizkan's ready-to-use soup base to help me prepare my Chanko Nabe. Easing me of having to prepare my own broth so I can have more time to be creative and spend time with my loved ones!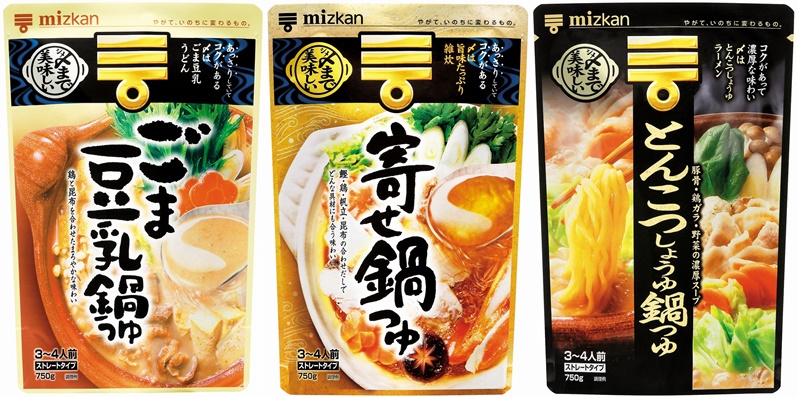 Choose from Yoso Nabe – light soup base with a combination of four stocks – bonito fish, kelp, scallop and chicken. Sesame & Soymilk – Smooth, rich and mild flavoured made with chicken and kelp soup finished with sesame and soymilk. Pork bone & soy sauce – Rich flavoured base made by adding vegetable soup and brewed soy sauce to slowly simmered pork bone and chicken soup.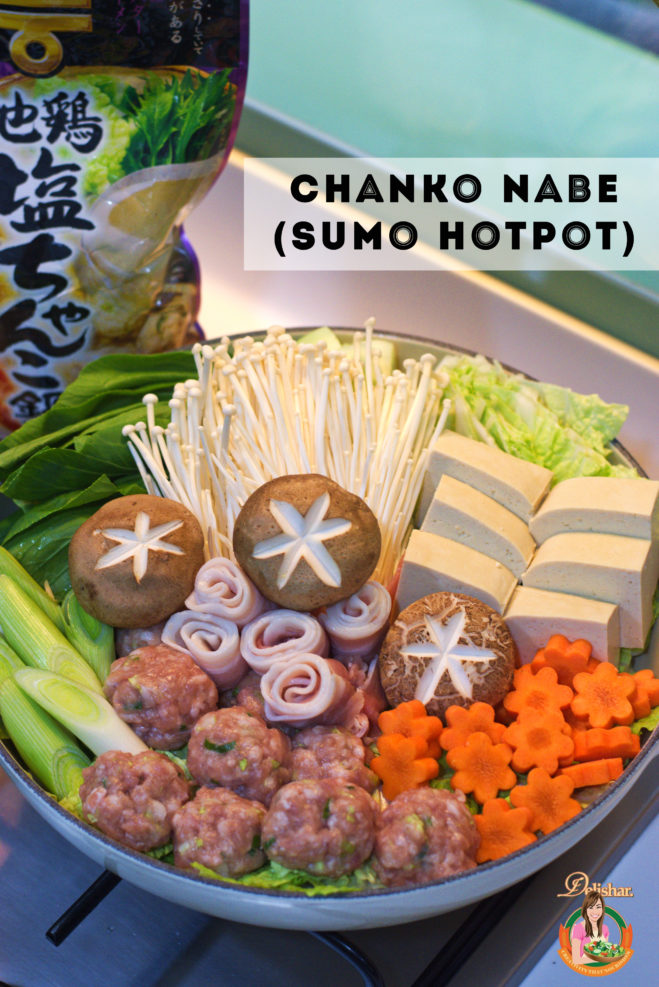 You can get Mizkan's products at any major supermarkets. Here are some other ways you can use Mizkan's products: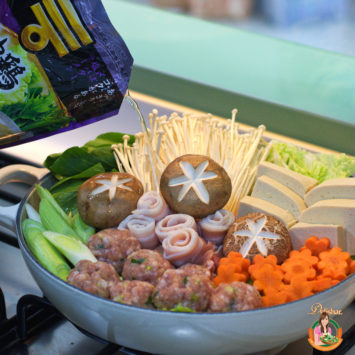 Chanko Nabe (Sumo Hotpot)
Ingredients
1

pack

Mizkan's Yose Nabe/Soymilk & Sesame/Pork Bone soup base



600

g

Napa cabbage

slice to 2-inch pieces

150 – 200

g

Xiao Bai Cai

separated

2

stalks

Leeks

sliced diagonally

200

g

Enoki mushrooms

cleaned, ends removed

4-6

pcs

Fresh Shiitake mushrooms

cleaned, stalk removed

200

g

Tau kua

slice into cubes

300

g

Shabu pork belly

1

pcs

Medium carrot

Cut into 1/2 inch rounds
Meatballs
300

g

Minced chicken/pork

1

Egg

4

tbsp

Spring onions to garnish

chipped

4

tbsp

Napa cabbage

finely chopped

3

tbsp

Cornflour

Add more if mixture too wet

1

tbsp

Old ginger

grated

1/4

tsp

White pepper
Instructions
Meatballs
Add all the ingredients together into a large bowl and mix with hand or chopsticks. Mix the meat mixture in one direction vigorously until it is sticky.

Shape mixture into one-inch meatballs.
Chanko Nabe
Layer the bottom of the pot with the napa cabbage.

Then add the rest of the ingredients on top of the napa cabbage.

Carefully drop in the meatball.

Pour in Mizkan Chicken and Salt soup base and bring to boil.

Cover and simmer until meat cooked and vegetables tender, about 15 minutes.

Season with salt or soy sauce if needed (I didn't add any)

Serve immediately with a bowl of rice or add noodles to the broth to cook.