I'm back!!! Did you miss me? I sure did miss our interaction, a lot! We just got back from our summer vacay from the USA and the whole family is super jet-lagged. LOL! But the break from cyber-world was liberating as always. It was a good avenue to recharge, spend quality time with family, and I had some time to read a cookbook or two to be inspired. 🙂
I know I've been away for more than 3 weeks. That's because we just moved into our new place and I've been busy with the renovation, packing, and unpacking boxes after boxes. I really don't like moving. I realised that during our move, I was more worried about my dinnerware and cookware being misplaced or damaged than anything else. So much so, I actually hand-carried some of my precious cookware! Some friends thinks I'm a little crazy. Haha!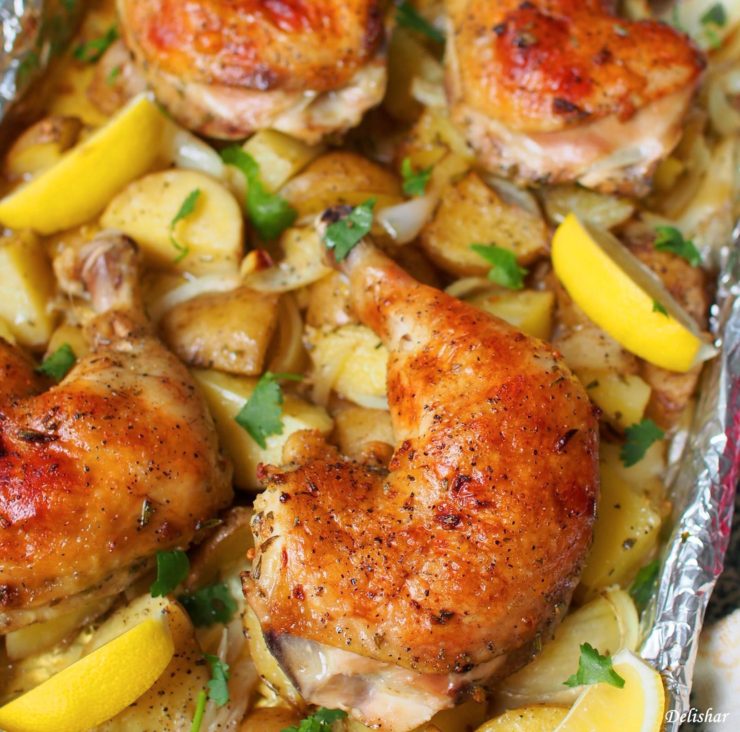 Because I was preparing for my move, I had many of my kitchenware carefully and securely packed. So I had very little to work with. As such, our meals needed to be simple with minimal ingredients and preparation. I also didn't have a lot of time at hand to be puttering around the kitchen so the oven was my best friend.
This meal was made all in one big mixing bowl and baked in a pan all at once. Blanch some greens or throw a salad together and you'll get a complete dinner that looks like you worked all day in the kitchen. In fact, you can even mix up all the ingredients on your baking tray. Just remember to line your baking tray so that it makes clean up easy. If you are into crispy skin chicken that stays moist in the inside, and super flavourful potatoes, then you should not pass up on this ridiculously easy recipe.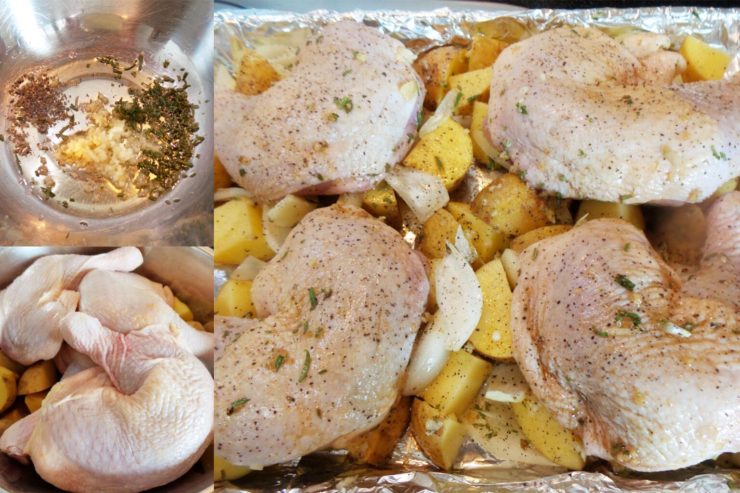 Crispy Rosemary Chicken & Roasted Potatoes
Ingredients
4

Skin on

bone-in chicken legs, pat dry

6

small potatoes

Granola Potatoes, washed & quartered

1

yellow onion

cut into 1 inch pieces

1/4

cup

olive oil

1

tbsp

chopped fresh rosemary

1

tsp

dried oregano

3

cloves

garlic

minced

1

tbsp

worcestershire sauce*

Salt and black pepper to taste
To serve
Lemon wedges

Chopped cilantro
Instructions
Preheat oven to 190C. (Top & bottom heat, no fan-force)

Mix rosemary, oregano, garlic, worcestershire sauce, and oil together in a large mixing bowl.

Add chicken, onion, and potatoes into bowl.

Toss to coat.

Lay everything out onto a large baking dish.

You can rest the chicken on top of the potatoes.

Season with salt and pepper.

Bake on middle rack for an hour, uncovered.

Serve with lemon wedges and garnish with chopped cilantro.
Notes
You can also mix all the ingredients up in your baking tray if you don't want to wash another bowl!
*For whole30 compliant worcestershire sauce substitute: https://goo.gl/IsPuXa
Adapted from Big Oven