My lovely mummy taught me how to make this yummy dish when I was living in Australia. I missed having chinese food so much, I called her up to teach me how to make this, just so I can make a big slab of it, feed myself for a week, and cook it in different ways after. One of my favourite way of cooking siew yok, is to fry it with chopped chilli padi, dark soy, and sweet soy sauce. So so so so so so good! Be prepared to be surprise at the ingredients list!
Ingredients
700g pork belly with skin intact
Packet of fine salt
Yup, that's it!
Of course you can use the usual 5 spice powder & chinese cooking wine too.
Method
Clean pork belly and skin, pat dry with kitchen towel
Rub meat portion with a little salt to season, chill in fridge for at least 1 hour.
Preheat oven to 250*C
Use a metal skewer, pierce skin several times (I forgotten this step this time round and it turned out fine!)
Pour a layer about 0.5cm thick of salt on top of the skin. Cover as much of the skin as possible, You should not be able to see the skin. (A tip is to hold your palm on the side of the meat, so the salt doesn't fall off the edges.)
Roast the pork belly with layer of salt on a wire rack for 35 mins
Remove the salt layer and remember to scrap of any bit of salt on the skin
Roast for another 35 mins. Keeping watch that it doesn't burn as each oven is different!
Increase or decrease roasting time depending on the crispiness of the crackling.
Let it cool completely before cutting, or else the crackling may not be intact with the meat.
Cut into small thin slices with skin facing downwards. It will be very salty if you serve big chunky pieces! Sightly smaller than 1cm x 1cm would be perfect.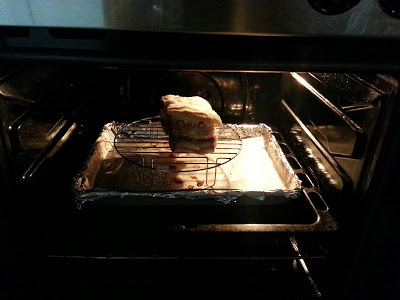 This was about 20 mins into roasting.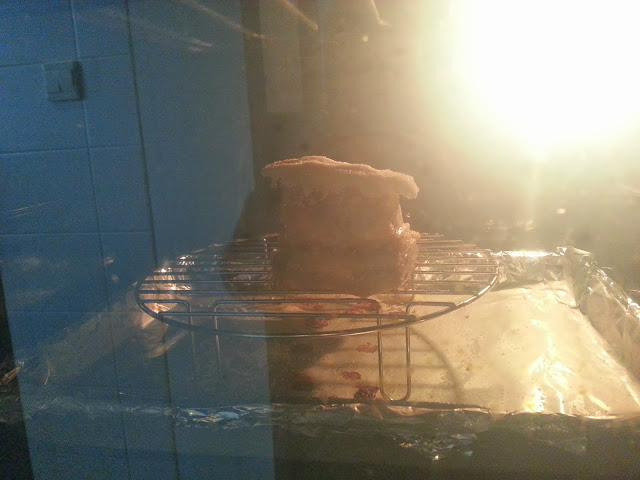 Just to give you an idea how much salt I was talking about.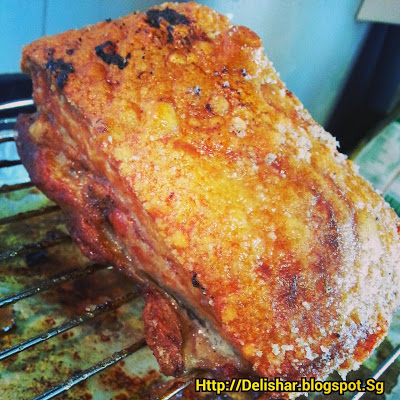 Make sure you let it cool on the wire rack so the meat and skin will not turn soggy!
Bon appetit!!