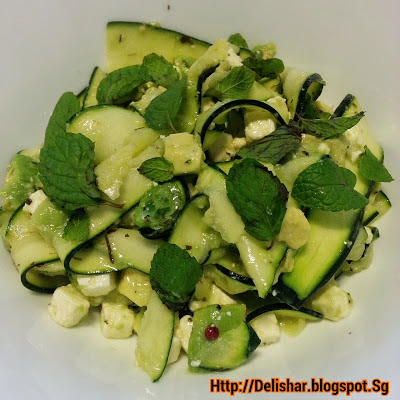 This is one yummy salad! It may not look much but man does it take you by surprise! The husband liked it so much I was rewarded by a big wet kiss on the cheek right after dinner! Sometimes, the simplest, cleanest food… gives the best texture and flavor profile! Oh and did I mention that it's healthy too?
Ingredients (Serves 2)
1 large zucchini, sliced thinly with a veg peeler or mandoline
Handful of mint leaves
1 tsp lemon juice
1 tbsp extra virgin olive oil
1/8 – 1/4 tsp dried rosemary
1/4 cup feta cheese, cubed
1 avocado, cubed
Salt and pepper to taste
In a large mixing bowl, toss zucchini and lemon juice together and let it sit for 15-20 mins.
Add rosemary to oil while waiting.
Toss together oil, and the rest of the ingredients with the zucchini, and season with salt and pepper to taste.
Serve immediately.
Bon appetit!!