This post is only to be a long one as there are 3 recipes needed to build this amazing waffle burger! The waffle burger is made of perfectly grilled juicy Lemongrass Chicken lays on a bed of Asian Slaw, and sandwiched between savory Herb and Cheese Waffles!
This was inspired by a friend who recently bought a waffle pan and shared her delicious creation, which got me itching to try making my first waffle (this one). I didn't know how much interest I will maintain for waffle making, so I decided to buy myself a $29 waffle iron. Cheap, but good enough! There's a little bit of inactive time needed but prep-ing and cooking it was pretty quick and easy.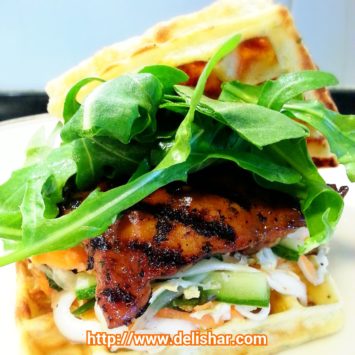 When my husband asked me what are we having for dinner a night before, I told him, "Do you like waffles?". His reply was,"For dinner? No, not really." But I made it anyway. And on that night we were having this, this was what he said.
Husband: "Hmmm, this is something different." *takes a bite
Husband: "I think we might be on to something here!" *takes another bite
Me: "So what do you think?"
Husband: "It's really delicious! Ok, you've turned me. Do we have anymore?!"
So now the husband is a convert!
The kids were delighted to have waffles for dinner. They both had an open face burger, and requested for another serving of waffle. My 3 year old asked if I can make her waffles again the next day. I'm so glad both the husband and kids enjoyed it!! After this recipe, I went online and bought myself an good (by reviews) electric waffle iron that so happened to be on sale! 🙂