This post is only to be a long one as there are 3 recipes needed to build this amazing waffle burger! The waffle burger is made of perfectly grilled juicy Lemongrass Chicken lays on a bed of Asian Slaw, and sandwiched between savory Herb and Cheese Waffles!
This was inspired by a friend who recently bought a waffle pan and shared her delicious creation, which got me itching to try making my first waffle (this one). I didn't know how much interest I will maintain for waffle making, so I decided to buy myself a $29 waffle iron. Cheap, but good enough! There's a little bit of inactive time needed but prep-ing and cooking it was pretty quick and easy.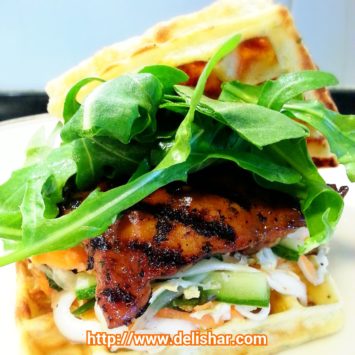 When my husband asked me what are we having for dinner a night before, I told him, "Do you like waffles?". His reply was,"For dinner? No, not really." But I made it anyway. And on that night we were having this, this was what he said.
Husband: "Hmmm, this is something different." *takes a bite
Husband: "I think we might be on to something here!" *takes another bite
Me: "So what do you think?"
Husband: "It's really delicious! Ok, you've turned me. Do we have anymore?!"
So now the husband is a convert!
The kids were delighted to have waffles for dinner. They both had an open face burger, and requested for another serving of waffle. My 3 year old asked if I can make her waffles again the next day. I'm so glad both the husband and kids enjoyed it!! After this recipe, I went online and bought myself an good (by reviews) electric waffle iron that so happened to be on sale! 🙂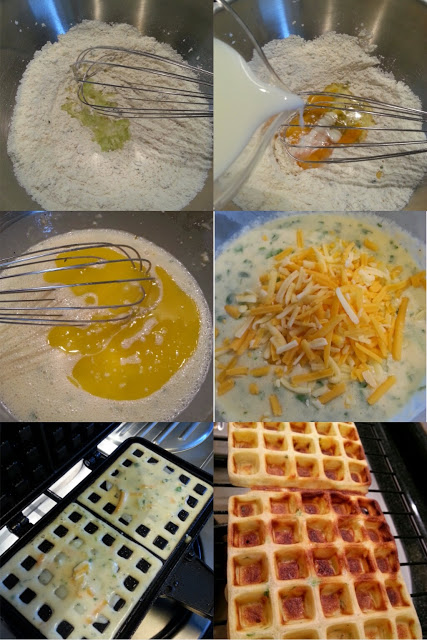 Herb and Cheese Waffle
Ingredients
3/4

cup

flour

1/4

cup

corn flour

1/2

tsp

baking powder

1/4

tsp

baking soda

1/2

tsp

salt

1

cup

buttermilk

1/3

cup

melted butter

1

egg

1

tbsp

chopped parsley

1

tbsp

grated onion

1/3

cup

shredded cheddar cheese
Instructions
Mix flour, corn flour, baking powder, baking soda, and salt together in a mixing bowl.

Pour in egg and buttermilk, then mix.

Add melted butter, parsley, and onion.

Mix until JUST combined. Do not overmix.

Pour into plastic container, cling wrap, and poke a hole with a toothpick.

Leave it in the chiller for 30 mins or overnight for the baking agent to work its magic.

When ready to cook, fold in your cheese into the batter.

Heat waffle iron on med heat and lightly spray with oil to prevent sticking.

When pan is hot, pour in about 1/4 cup batter. cover and allow to cook to desired colour.

I cooked mine for 3 minutes each side.

Gently remove waffles and place on wire rack to cool. This is an important step if you want your waffle to remain crisp and not soggy.
Notes
Adapted from inspiredtaste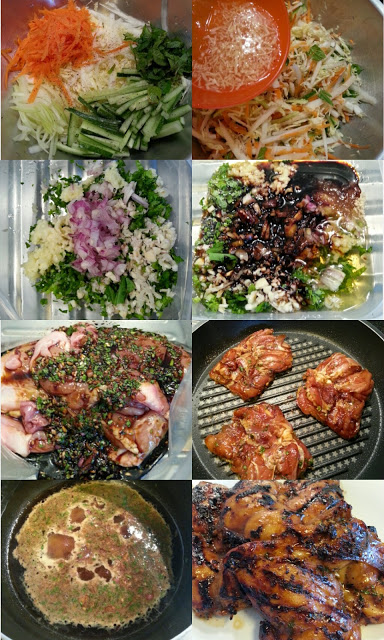 Grilled Lemongrass Chicken & Asian Slaw
Serves 4-5
Ingredients
Asian Slaw
1/2

cup

shredded carrot

1/2

cucumber

cut into matchsticks

3

cups

shredded napa cabbage

2

tbsp

chopped fresh mint

2

tbsp

chopped fresh basil

1/2

tbsp

freshly grated ginger

3

tbsp

rice wine vinegar

1

tbsp

fish sauce

1/2

tbsp

sugar

Salt & black pepper to taste
Grilled Lemongrass Chicken
5

boneless chicken thighs

I removed the skin

2

garlic

finely minced

3

lemongrass

ends and woody parts removed, minced

1-2

shallots

minced

3

tablespoon

parsley

finely chopped

1

tbsp

sugar

1

tbsp

honey

1-1/2

tbsp

dark soy sauce

1-1/2

tbsp

fish sauce

1

or half chilli padi

seeded finely chopped (optional) I added in later while making the sauce so the kids' chicken isn't spicy

Black pepper to taste

Oil to grease pan
To Serve
Wild rocket salad

Herb and cheese waffles

Grilled Lemongrass Chicken

Asian Slaw

Prepared sauce
Instructions
Asian Slaw
Toss all the ingredients together and let it sit in the chiller for at least 30 mins.
Grilled Lemongrass Chicken
Add all the ingredients except oil into a large ziplock bag.

Toss well to make sure ingredients are evenly spread out and coats chicken nicely.

Leave in chiller to marinate for at least 30 mins to overnight.

Take chicken out 5-10 mins before grilling.

Lightly grease pan and turn heat up to med high.

Grill chicken for 6-8 mins or until cooked through, flipping occasionally.

While the chicken cooks, pour remaining marinate into a heavy bottom pan.

Add 1/4 cup water and bring to boil.

Lower heat and allow to reduce, stirring occasionally until sauce thickens.
To Serve
Build your waffle burger with waffle, slaw, chicken brushed with some sauce, wild rocket, and top with waffle.