The haze situation in Singapore has been driving me up the wall. I'm not a very outdoorsy person, but always having to stay indoors is giving me the cabin fever. Plus there's only so much you can do indoors with the kids. They need the great outdoors / playground / pool to tire them out! lol!
We have been keeping the windows closed, and A/C turned on. When my electric bill comes, remind me not to look at it. The haze has also generously gifted us with some unwanted presents. I just got over a pretty bad fever lung infection, the kids and husband have been coughing on and off. Mostly Melody because her airways has been quite sensitive since she was a baby.
That prompted me to make chicken soup for the family. But not the western soup, but one that the Chinese is familiar with. Why watercress chicken soup? Because it's good for the lungs, nutritious, and delicious of course! You'll get a whole lot of vitamin A, calcium, sulphur, and chlorophyll from watercress, and protein from the chicken. Traditional Chinese Medicine believe that Watercress can help clear phlegm caused by heatiness of the body. Watercress is also diuretic, clearing facial blemishes and improves night vision. It nourishes you and at the same time helps cleanse and detoxify your lungs. Just what we need for the haze conditions! Oh, this soup will be great for people who smokes, or 2nd hand smokers too.
Here are some other healthy chicken soup recipes that I've shared a while ago: Chicken Noodle Soup (Pho Ga), Lemongrass Ginger Chicken Macaroni Soup, and Grill Chicken on Ginger Miso Soba.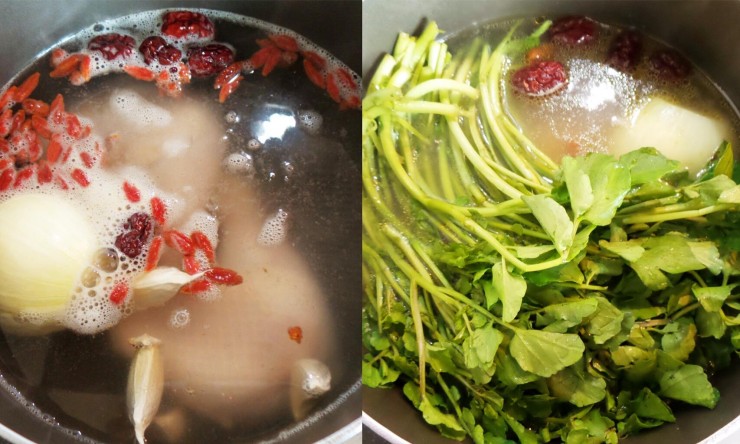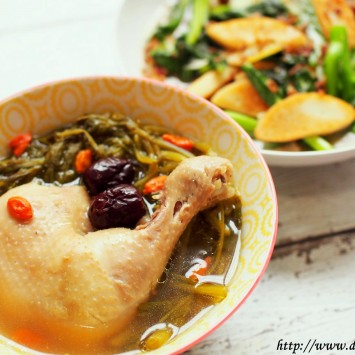 Watercress Chicken Soup
Ingredients
Bunch/bundle of watercress

3

chicken leg

6

dried dates

1 1/2

tbsp

wolfberries

1

msg-free chicken bullion cube

4

cloves

garlic

peeled

6

cups

water

salt

to taste
Instructions
Add everything except watercress into a pot.

Bring to boil, and allow to simmer for 15 minutes.

Remove scum from top of the broth.

Add watercress, and turn up heat, and bring to boil again.

Lower heat to a simmer, cover and allow to cook for 45 minutes.

Season with salt to taste, if needed.