I hear you! Quite a number of you have asked for vegetarian recipes, in the option to comment during my Mayer Airfryer Giveaway. This easy one pot recipe has the variation for a vegetarian version. 🙂 Simply substitute the chicken stock to vegetable stock as the base stock for the recipe, and you'll get yourself a one pot vegetarian meal!
At first I was afraid that I will have to fight the kids during dinner to finish up their food. You know, because it's not 'unhealthy' looking. Kids, they love their Chicken Nuggets, French Fries, Fish and Chips, Burger, and Chicken Tenders. Basically anything that looks like it's been fried. But boy was I surprised that dinner was an easy feat that night! The 2 little girls looked at their plate, then dubiously picked up a forkful, and started nibbling. Then my first born, also the picker one, turned to me and said, "Mmmm! Mom, I like it!". I probably mouth a "Phew" and "Yay" at the same time. Dinner was polished off their plate in no time. That for me is the best thank you ever!
As a cooking blogger, I do plan for meals to be posted on my cooking blog. As a working mom, it leaves me with limited amount of time to do so as well. Therefore, I cook as much as I can on the weekends, or on days where I have a little more time to spare. It is recipes like this, that makes cooking less daunting for busy moms like myself. I'm sure that even my helper, who is an avid follower of my cooking blog appreciates recipes like that too. Little prep, with very little clean up. That leaves her with more time in the day to finish the household chores so she can retire for the evening much earlier.
Alright, enough of my ramblings. If you like to see more recipes like this, drop me a comment. If you tried a recipe from my cooking blog, I'd love to hear from you. Or simply drop me a note to say hi! 🙂
This recipe was made in my 26cm Le Creuset French oven, you can simply multiply the recipe to feed more!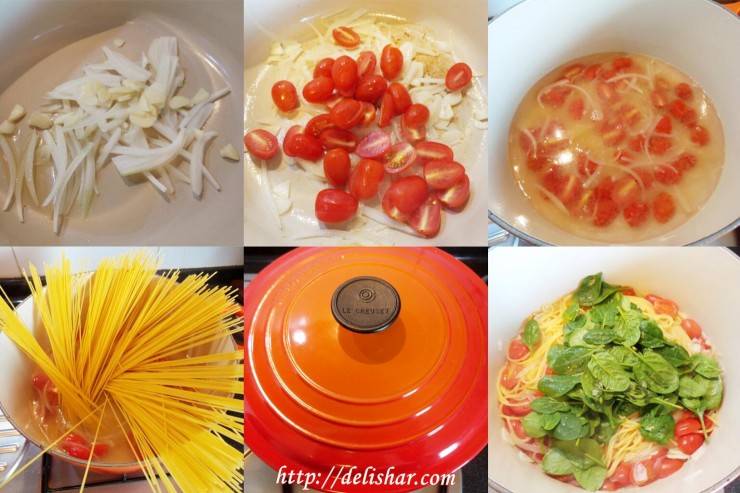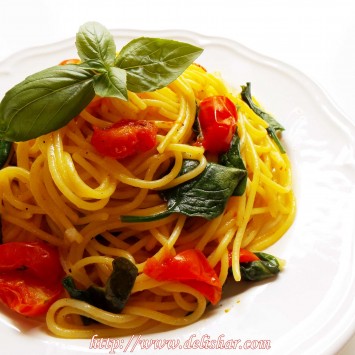 One Pot Spinach Tomato Spaghetti
Ingredients
250

g

instant spaghetti

800

ml

low sodium chicken/vegetable stock

1/2

medium onion

sliced

6

cloves

garlic

minced

1

cup

cherry or grape tomatoes

halved

1

tbsp

olive oil

salt and pepper to taste

2

cups

baby spinach
Instructions
Heat dutch oven and add olive oil.

Saute onion until soft, then add garlic and saute for 30 seconds.

Add tomatoes, and saute for a minute.

Then add stock, pasta, and season with salt and pepper.

Bring to boil, lower heat to medium low.

Cover and allow to cook for 7-8 minutes.

Uncover, and stir in spinach until wilted.

Remove from heat, and serve immediately.