Admit it, we all love nuggets. I'm guilty of it too! I've also never met a kid that does not like nuggets. Plus parents like ordering nuggets for their kids when out and about. It's easy, yummy, convenient, less messy due to its bite size portions. It's a comfort food for sure, but do you know what you are actually eating when you order nuggets from fast food joints or pre-made pre-packed nuggets from stores?
If you are interested to know what 'chicken' nuggets are actually made of, this is a very interesting read, the video on the page shows that one nugget from a famous fast food joint is made out of 40 ingredients! Another article stated, and I quote "Our sampling shows that some commercially available chicken nuggets are actually fat nuggets," he tells The Salt. "Their name is a misnomer," he and his colleagues write. The nuggets they looked at were only 50 percent meat — at best. The rest? Fat, blood vessels, nerve, connective tissue and ground bone — the latter, by the way, is stuff that usually ends up in dog food." – NPR
Want to read more on why nuggets and hot dogs are bad for children (and adults)? Click to go to article by theasianparent.com
So why are we eating dog food or chicken butts? Or worse… feeding our kids with it? Bear in mind I've yet to mention the added chemicals, MSG, and preservatives. I urge you to read the two sources that's referenced here.
But that doesn't mean we should stop eating nuggets all together, just know what you are eating by making it with the ingredients you trust. And you know what? Making your own home made, healthier chicken nuggets is really easy. I chose to bake my nuggets, rather than deep frying, but even if you choose to deep fry it, it is still healthier than what you are getting commercially.
I made this for the pool get together with a few other families living in the same estate. The kids and adults loved it! It didn't last very long before it was all gone, I regretted not making more. I'll share 2 sauces that you can make as dipping sauce in the recipe as well. So lets look at how the nuggets were made shall we?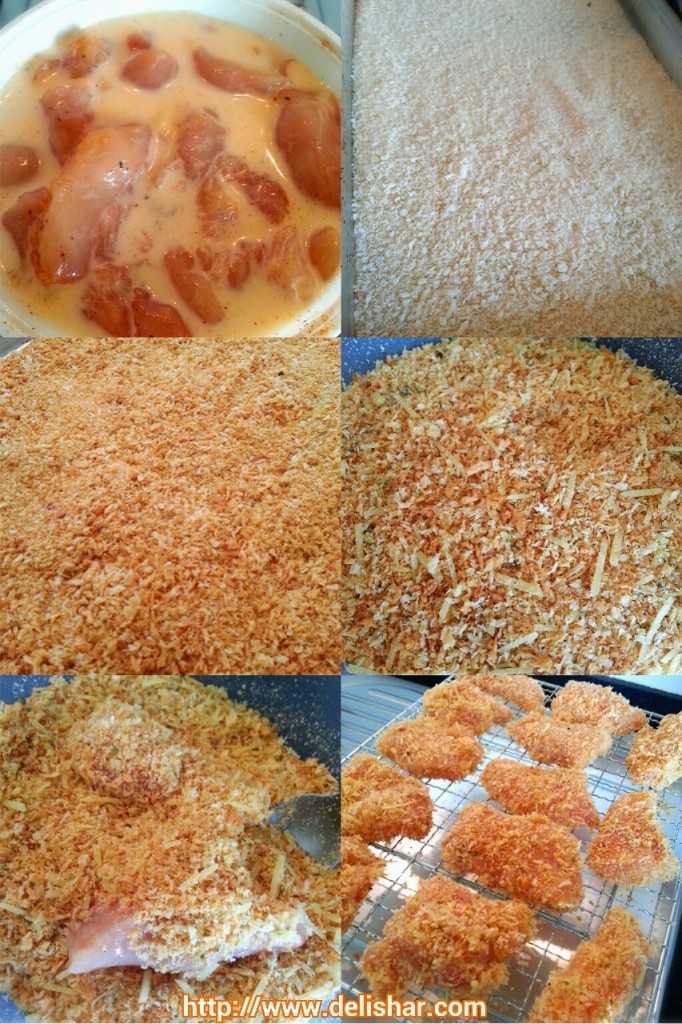 Baked Healthier Chicken Nuggets
Serves 4-6
Ingredients
600

g

chicken tenders

or breast meat, cut into 2 inches pieces

1

cup

buttermilk

1 cup milk + 1 tbsp vinegar or lemon juice

1

tsp

paprika

1

cup

panko

I've used crushed cornflakes and it turned out awesome!

1/4

cup

grated parmesan cheese

I only had the finely shredded ones, works fine

1

tsp

dried parsley

1/2

tsp

garlic powder or to taste

1

tsp

onion powder or to taste

Salt and pepper to taste
Honey Mustard Sauce
1/4

cup

mustard + 2 tbsp honey
Spicy BBQ Sauce
1/4

cup

bbq sauce + 2 tbsp garlic chilli sauce
Instructions
Method

Preheat oven to 200C.

In a bowl, marinate the chicken in the buttermilk and paprika for 1 hour or overnight.

(Note: you can skip this if you are in a hurry, just season chicken with paprika then toss it in 1-2 tbsp of olive oil. Buttermilk imparts a nice flavour and the acid in the buttermilk helps to tenderize the meat)

Spread your panko on a baking sheet/tray and bake it for 6 mins, checking to make sure it doesn't burn. This is to give your panko a nice crispy golden crust.

(If using cornflakes, skip this step)

When done, leave to cool completely and toss in onion powder, garlic powder, salt, pepper, parsley, and cheese.

Remove chicken pieces from buttermilk allowing excess to drip back into the bowl.

Coat chicken with panko mixture.

Place on lightly greased baking sheet so it doesn't stick.

Lightly spray nuggets with cooking spray.

Do NOT over crowd pan, we don't want soggy steamed chicken.

Bake for 12 minutes, turning half way.

Serve immediately.
Notes
Best to bake it and consume it immediately.
Allow excess buttermilk and egg to drip off, and coat generously with cornflake/panko.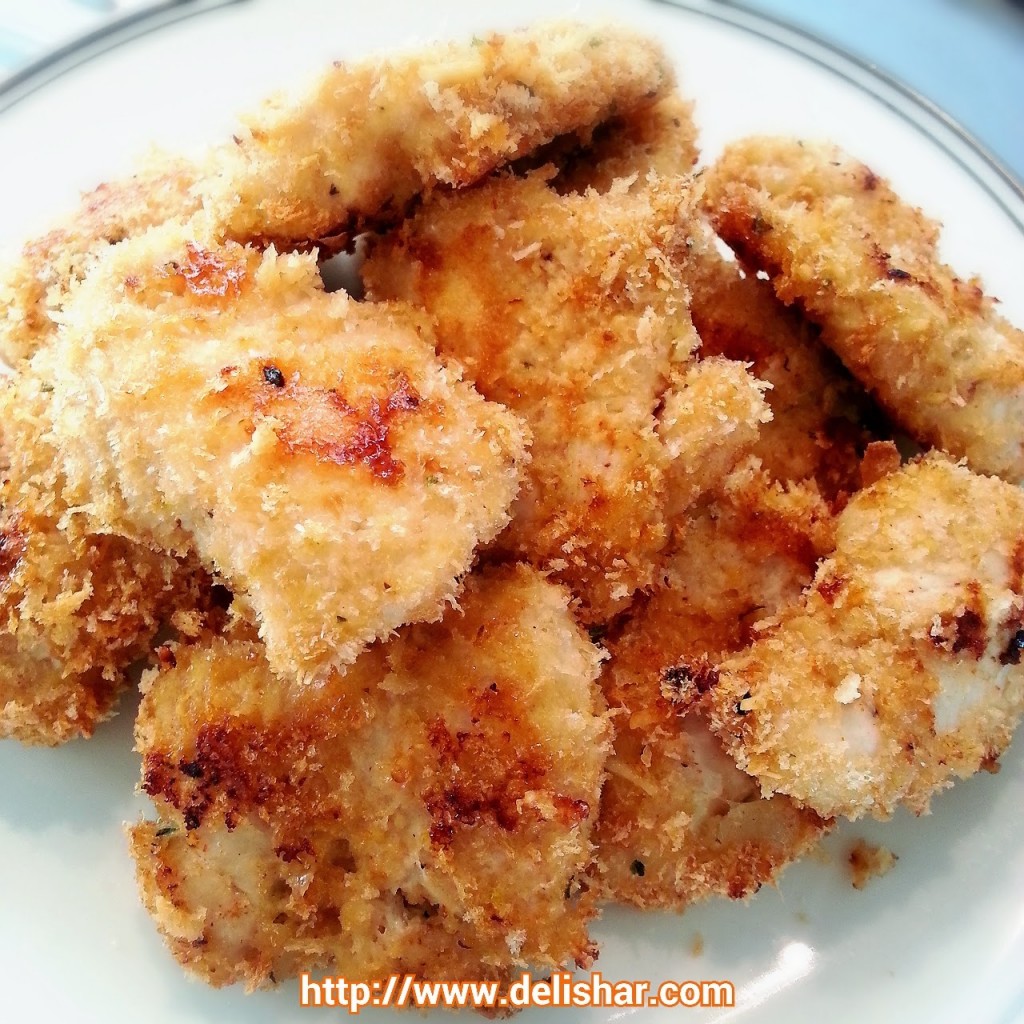 It's so easy you can even get the kids to make their own nuggets!
I might try coating it with crushed ritz crackers the next time.