I never use to like cauliflower before I started cooking for the family. I always though that it was an inferior cousin of the nutrient rich gorgeous green broccoli. Putting them beside each other, the cauliflower kind of pale in comparison in the visual appeal department. But after starting to learn more about cooking and ingredients, I found out that I could not be more wrong!
The dear cauliflower loaded with fantastic health benefits. For starters, it is packed full of vitamin C. Cauliflower is in the family of cruciferous vegetables. It is recommended to include cruciferous vegetables in our diet 3 times a week. Some of the health benefits of consuming cauliflower includes detox support, anti-inflammatory, anti-oxidant, cardiovascular support, and digestive support.
What really bought me over is how extremely versatile this head of vegetable can be! It is often used to replace simple carbohydrates in our daily diet. Great for people who are on a low-carb diet or diabetic patients. I've used it to make pizza dough, Cauliflower Fried 'Rice', Feta Spinach Cauliflower Mash, Roasted Curry Cauli-Poppers, and Rosemary Cauliflower Mash. Each and every time I made something with cauliflower as a carb substitute, the family can hardly tell the difference, and will always leave the table with their plates emptied. That's a double bonus for me. I know my girls are eating their 'greens' and I get a low-carb meal in so I don't feel sluggish after dinner!
Don't forget to take part in the $100 Tangs Gift Card Giveaway!! Click on this link to go to the giveaway page.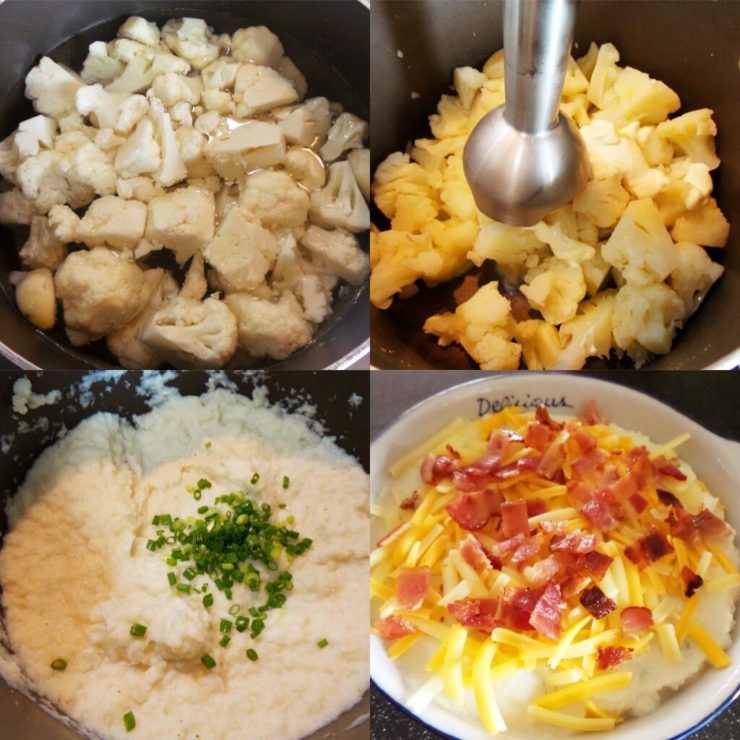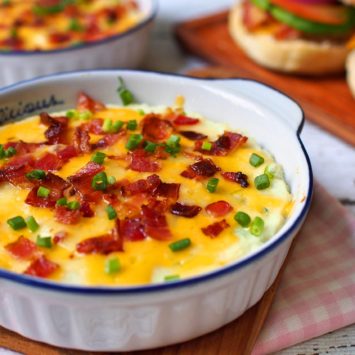 Loaded Cauliflower Mash
Ingredients
680

g

cauliflower

cut into florets

4

pieces

of bacon

4

cloves

garlic

1/3

cup

75g sour cream

1

tbsp

butter

Salt & pepper to taste

3

tbsp

chopped spring onions

1/4

cup

shredded cheddar cheese
Instructions
Place bacon on a tray and place in unheated oven.

Set temperature to 200C and cook for 20 minutes until bacon is crisp.

Alternatively, you can crisp up bacon in a pan on the stove top.

Crumble bacon and set aside.

Meanwhile, cook cauliflower and garlic in a pot of water until soften. (About 15 minutes)

Drain all the liquid from pot, and season cauliflower with salt and pepper.

Add sour cream, butter, and blend using a stick blender. If you don't have one, you can put everything into a normal blender or food processor.

Blend until smooth, and mix in 2 tbsp of spring onion.

Transfer cauliflower mixture into a casserole or baking dish.

Sprinkle cheese and bacon on top.

Bake for about 3 minutes to melt cheese.

Garnish with remaining spring onions.
Notes
Adapted from Skinny Taste