After all the festive feasting, it's time for us to lose the carbs that are clinging on to dear life around our belly. Using this cauliflower 'rice' method, I was successful in tricking the kids into eating cauliflower. Which for some weird reason, they do not like. They seem to think it's a defected broccoli, and it's just not right to eat.
While we were having dinner at the dining table as a family, I asked if they knew what they were having. Excitedly, the girls exclaimed, "Fried rice! Mmmm I like fried rice! It's very yummy, mummy!". The husband looked at me with a puzzled face thinking I've gone crazy asking him such a silly question. He said, "Isn't it fried rice? Or has it got some magic?" so I whispered to him that it's actually cauliflower. His respond was, "Wow! Smart move." knowing that the girls doesn't like cauliflower, he kept the secret.
Cauliflower is one of those vegetables that is very often under-appreciated. Perhaps it's because it's not green? In actual fact, cauliflower has an abundance of health benefits. It contains sulforaphane which has been shown to slow tumour growth and fight cancer. It is rich in vitamin and minerals, especially Vit-C. Good source of Vit B which is good for the brain. Cauliflower is also an anti-inflammatory, and contains antioxidants that's great for detox. It is also heart healthy and is an important source of dietary fiber for digestive health. It is listed as one of the world's healthiest food. So if you are looking for an alternative low-carb source of food, cauliflower may be your best bet. 🙂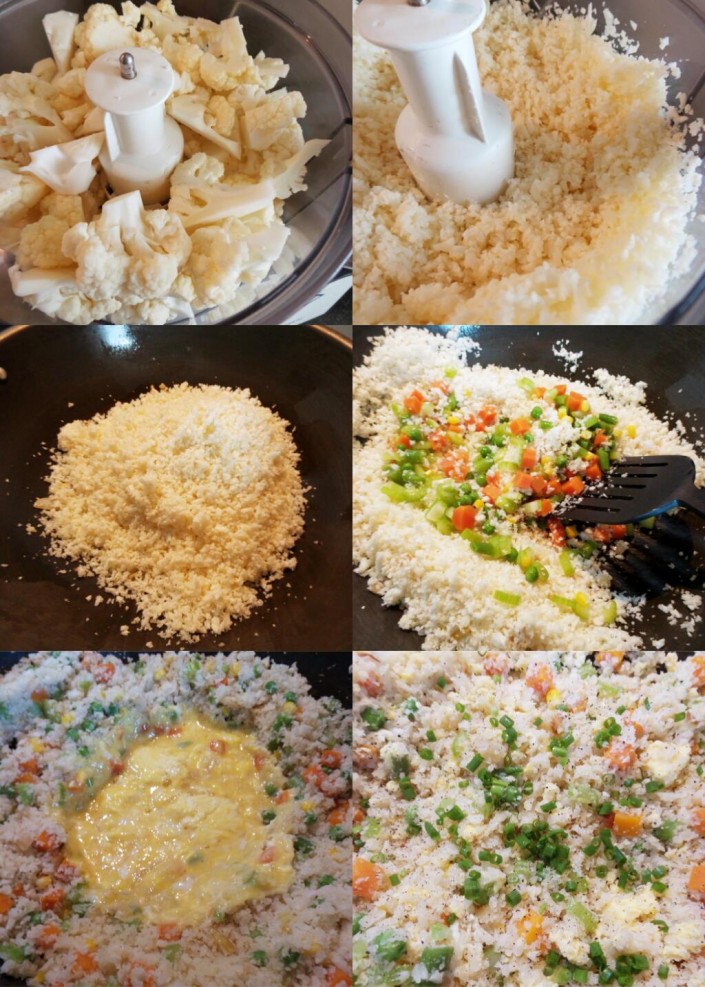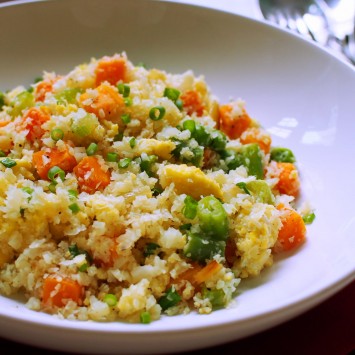 Califlower Fried 'Rice'
Ingredients
650

g

Cauliflower

cut into florets

2

eggs

lightly beaten

1

cup

mixed frozen vegetables

2-3

tbsp

soy sauce

Salt & black pepper to taste

1-2

tbsp

cooking oil

2-3

tbsp

chopped spring onions.
Instructions
Place cauliflower florets in food processor, process until you get fine rice-like pieces.

Alternatively, you can grate a head of cauliflower to get cauliflower 'rice'.

Heat wok on medium high heat, add oil.

Add cauliflower 'rice' and stir-fry for 5 minutes.

Add frozen mixed vegetables and stir-fry until heated through.

Season with soy sauce, salt & pepper.

Create a crater in the middle of the cauliflower rice, and pour in eggs.

Scramble until almost set but still wet.

Toss with cauliflower 'rice' to coat.

Remove from heat, and stir in chopped spring onions.