I caught bug of the Whole Tomato Rice trend! And of course, I had to doctor it up to make it even yummier! Melody, my first born is quite a picky eater and she gobbled down her plate in 5 minutes, without leaving her chair! That says a lot. The husband liked it and commented that this is probably one of the reason he doesn't want me to go to work full-time. So I can have some time to create new dishes in my kitchen, and he gets to reap the rewards.
He said that it tasted like fried rice, without the grease, and was surprised that the rice wasn't mushy with a whole tomato added in the cooking process. The flavour of the tomato, butter, corn, and chicken stock nicely coated each and every grain of rice. The bacon bits makes you want to dig into one bite after another. And the corn added a nice sweetness to the whole dish. You can make it a one pot meal if you add ham instead of bacon to the uncooked rice, and add the broccoli in as well. Let the rice cooker do the work for you. I prefer blanching it and cooking the bacon and egg on the side, just for different play in texture. Here's how to make it.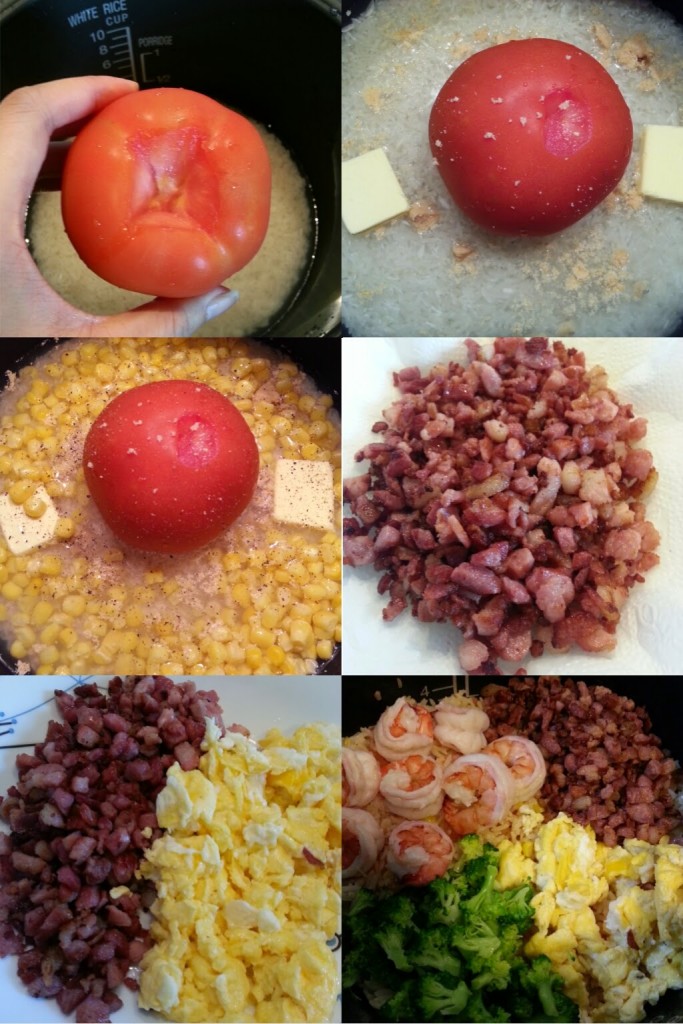 Ingredients (Serves 4)
2 cups uncooked rice (Rice cooker measuring cup or 3/4 cup regular measuring cup)
1 palm size tomato
150g bacon bits
2 eggs
1/2 cup frozen corn
8 tiger prawns, peeled and cleaned
1/2 cup chopped broccoli
1 msg-free maggie chicken cube
2 tsp butter
Black pepper to taste
Wash your rice and add water to the 2 cup mark in your rice cooker.
Scoop out 1/4 cup + 2 tbsp water from the rice cooker so your rice will not get soggy as the tomato will release its juices.
Remove the stem part of the tomato and the tough bottom part.
Place whole tomato on top of rice.
Crumble chicken cube over the rice. I shaved it with a knife.
Add butter and corn.
Season with black pepper, and cook as per normal.
In a cold pan, add your bacon, and turn up the heat to med-high.
Cook bacon until crisp, drain fats, and place bacon bits on paper towel to drain the remaining grease.
Scramble your eggs.
Blanch broccoli in slightly salted water for 45 seconds to a minute, remove from water, and set aside.
Blanch prawns in slightly salted water for 1-2 minutes until just cooked.
When your rice is done, use your rice server to cut through the tomato, mashing it and mixing it into the rice.
Then add all your prepared toppings into the rice.
Mix well.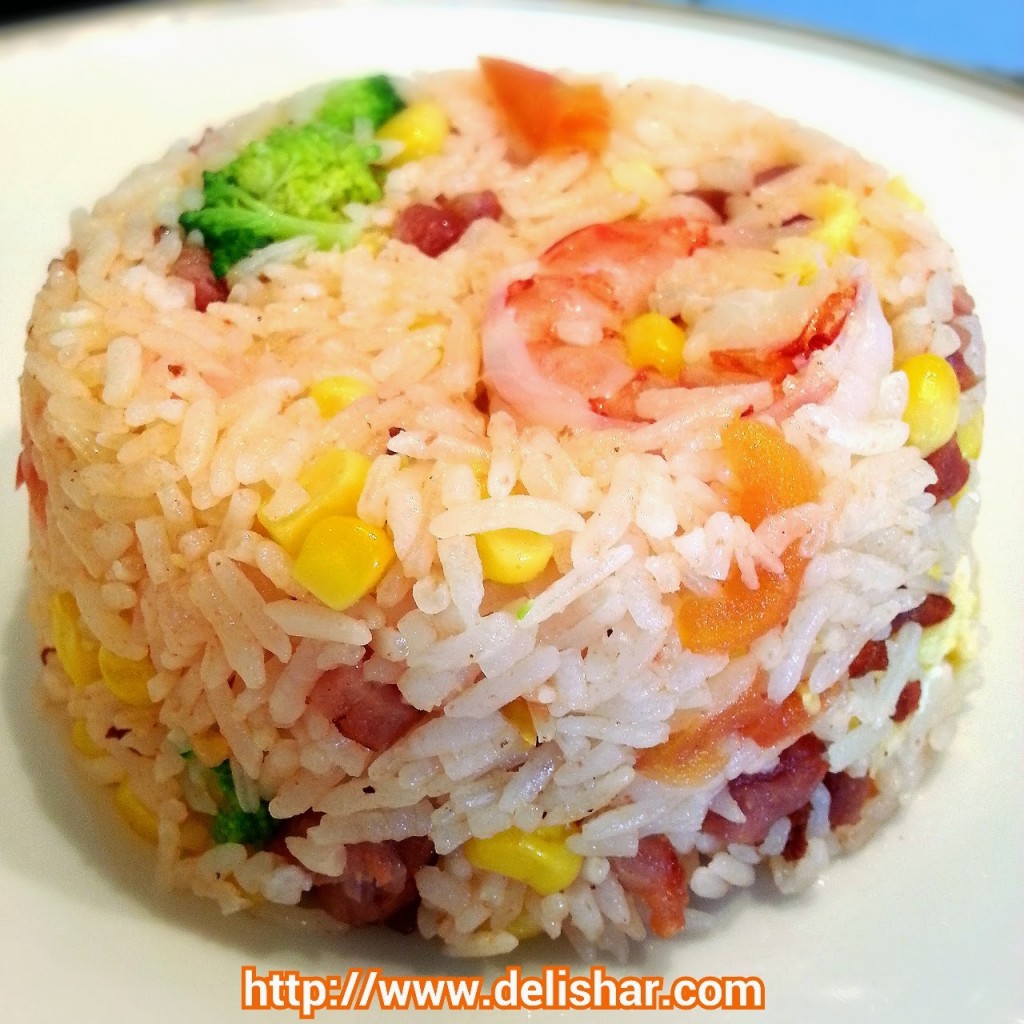 Serve immediately or keep warm in rice cooker until ready to serve.
Bon appetit!!