This gorgeous dish that originated in Nice. Ratatouille is a traditional French recipe and is also known as stewed vegetables. If you find the name familiar, it is because it's the same of a Disney movie. And in the movie, they served up this dish as well in one of the scene!
This dish is traditionally build on fresh vegetables sauteed separately then layered on a baking dish before sending it to the oven to stew. Here, we skip that first step, layered the vegetables, and allow it to cook all at once. It's a great side dish, and a great vegetarian alternative as well. I particularly like this dish because it's healthy and I don't have to feel guilty reaching out for a 2nd serving.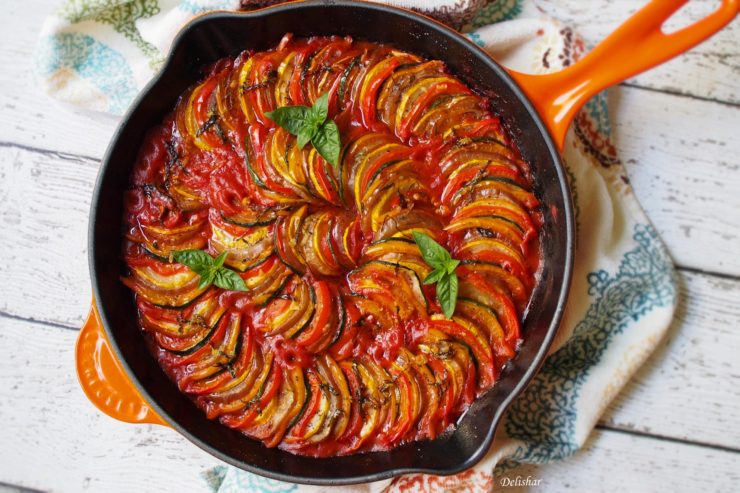 The process of layering is pretty tedious in my opinion. But it was well worth the effort after seeing how gorgeous it turned out to be! I used the thinnest setting on my mandoline slicer to get more layers. However, you can always go a little chunkier. Use your favourite pasta sauce as the base, or you can always make your own. After pictures, I grated some parmesan cheese on top before serving, which gave the dish a little more oomph!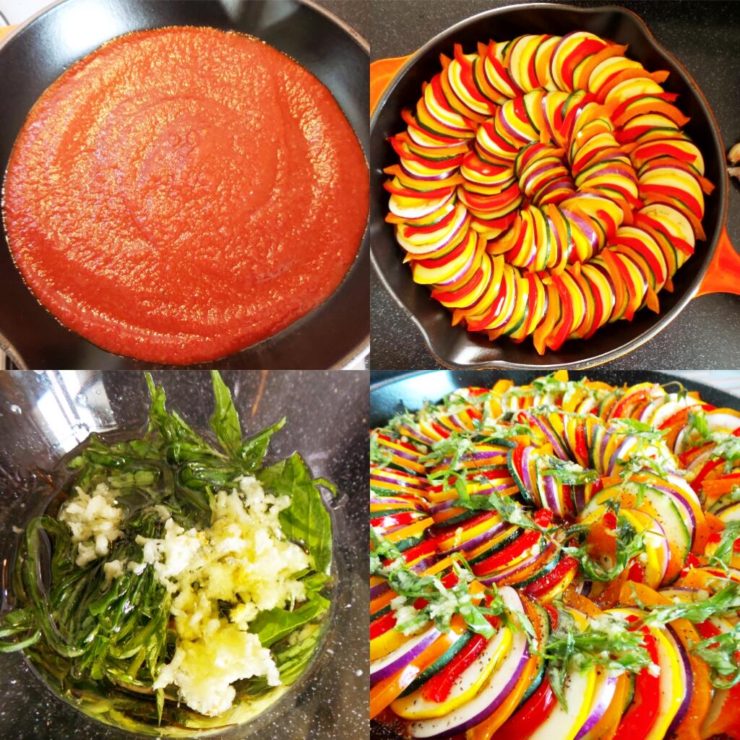 Ratatouille
Serves 4-6
Ingredients
1

zucchini

thinly sliced

1

yellow squash

thinly sliced

1

brinjal / eggplant

thinly sliced

1

red pepper

thinly sliced into semi circles

1

jar

400g of your favourite pasta sauce (I used a roasted red pepper sauce)

3

tbsp

extra virgin olive oil

2-3

cloves

garlic

minced

4

springs thyme

leaves removed

2

tbsp

chopped basil leaves

Salt and pepper to taste

Fresh basil to garnish
Instructions
Preheat oven to 190C.

Mix olive oil, thyme, basil, and garlic together.

Coat the bottom of your 10 inch cast iron skillet with pasta sauce.

Lay out thinly sliced vegetables in alternate patterns.

Season with salt and pepper.

Spread olive oil mixture on top of vegetable.

Cover skillet with foil.

Bake for 35-40 minutes until sauce is bubbly and vegetable is soft.

Garnish with fresh basil before serving.
Notes
Use a mandoline slicer to get even thin slices of vegetables.
Use a casserole in place of a cast iron skillet.