This recipe came about on one of those days that I needed to clear out my fridge. Which would most probably be a Sunday as that's the day that I'm usually low on supplies. I usually plan out the week's menu from Monday to Friday, and pretty much make do with what I have on the weekends if I'm not making something special or to share on my blog.
This dish was very much inspired by the popular Cashew Chicken. I actually think that cashew chicken is more popular in the western counterparts rather than in SEA. The first time I had cashew chicken was when I was either in the USA or Aussie. Any how, as I was looking through my pantry, my eyes caught sight of a bottle of chilli jam I recently purchased during my trip to Thailand (oh, how I miss that place!). So this was the result of putting my 'left-over fresh produce' together.
The resulting dish was absolutely awesome! The husband kept nodding to himself as he enjoyed this for dinner. I really liked the crunch of the cashew that gives the dish some texture. The sweet, spicy, and savoury notes marries beautifully, and the sauce is just amazing over white rice. This is another one of those recipe that I will revisit again and again!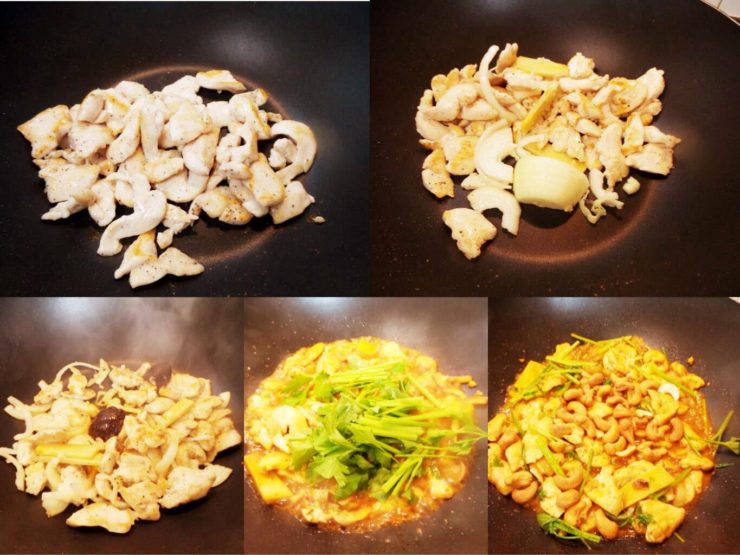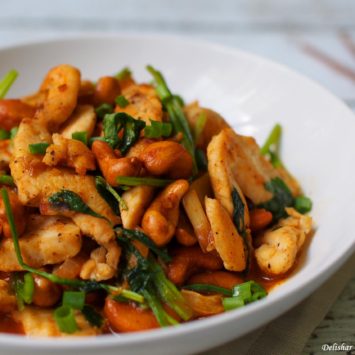 Chilli Jam Chicken
Serves 4 as part of multi-dish meal
Ingredients
2

chicken breast

sliced

1/2

yellow onion

sliced

2

cloves

garlic

minced

4

slices

ginger

2

tbsp

Thai chilli jam

1-2

tbsp

fish sauce or to taste

2

bunches of chinese celery

cut into 2 inch pieces

1/2

cup

roasted cashew nuts

1

cup

Thai basil leaves

2

tbsp

cooking oil

3-4

tbsp

water
Instructions
Heat wok on high heat, and add 1 tbsp oil.

Brown chicken slices.

Add onion, ginger, and stir-fry until onion soften.

Add garlic, chilli jam, and 3 tbsp of water.

Season with fish sauce to taste.

Add chinese celery, and stir-fry until wilted.

Remove from heat, toss in Thai basil and roasted cashew.
Notes
You can get chilli jam from shops in golden mile complex.
Or you can make you own chilli jam using this recipe http://goo.gl/S2RcW0
Chilli jam is used for Thai red tom yum soup too.
Adapted from Taste.com.au