I've probably made soy sauce stew pork a gazillion times when I was living in Aussie. That was my go-to recipe when I want comforting Asian food that reminds me of eating at home. I always thought that will forever remain my favourite stewed pork recipe. But all that changed when I went to bangkok with a friend, and she ordered a bowl of stewed pork belly to share.
Oh mah goodness! The spices made the stew sooooooo much better! So much warmer in terms of flavour, and so much more comforting.
My littlest one (Peighton) has claimed this to be her favourite pork dish. She can't stop asking for more meat, and was slurping down her gravy. Our plates were clean that night, not a one piece of pork was left, and there I was hoping there will be leftovers for my lunch the next day! Lol!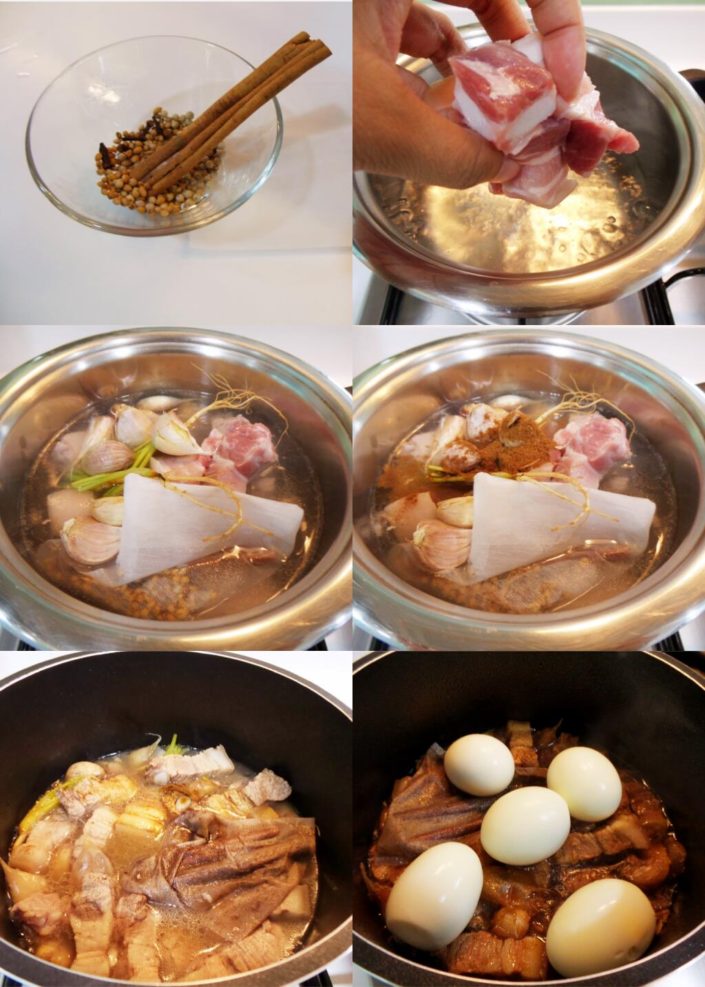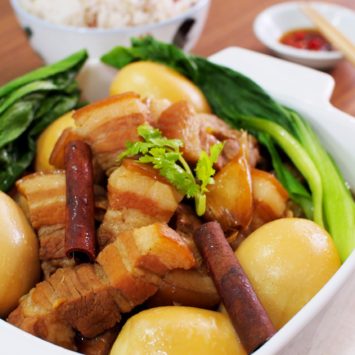 Thai Style Stewed Pork Belly
Ingredients
500

g

Pork Belly

cut into 1/2 inch pieces

1

tbsp

5 spice powder

2

cinnamon sticks

2

coriander roots

5

cloves

1

tsp

coriander seeds

1/2

tbsp

white peppercorn

lightly smashed

2

tbsp

dark soy sauce

4

tbsp

fish sauce or to taste

10

cloves

old garlic

smashed

2-3

tbsp

palm or brown sugar or to taste

3.5 - 4

cups

water

4

hard boiled eggs

shells removed

Cilantro to garnish

Blanched xiao bai cai to serve
Instructions
Bring 3.5 cups water to boil.

Put peppercorn, cinnamon sticks, cloves, and coriander seeds into herb bag

Add pork, garlic, corander roots, 5 spice, and spice bag into boiling water.

Bring to boil, cover and cook for 30 minutes on medium heat.

Skim off scum.

Season with fish sauce, dark soy sauce, and sugar.

Cover and cook for another 20 minutes.

Add some water if liquid evaporated too much.

Add hard boiled eggs and cook on low heat for 10 minutes.

Garnish with cilantro.

Serve with blanched xiao bai cai and steamed rice.
Notes
Use a sauce pan that fits all the ingredients snugly.
By using a wide pan or larger pan, the liquid will evaporate faster.
Adjust seasoning to taste. Always add less and adjust later.
Add some firm tofu for extra protein.