Christmas is my favourite time of the year! Everyone around seems happier, are in a more giving and forgiving mood. The kids are eager to please, in order to make it to Santa's good kids list. The malls and shopping streets are all dolled up in Christmas deco and lights, so pretty! Even coffee joints rolled out some specially created X'mas drinks to enough with lovely jingles playing in the background.
But what gets me most excited about this time of the year is being able to spend time with friends and family. Gathering and laughing over good food and company. December is also the busiest time of the year for me. There are more assignments, events, and social gatherings. Ever since my girls joint their current school, their social calendar have been filling my plate even faster.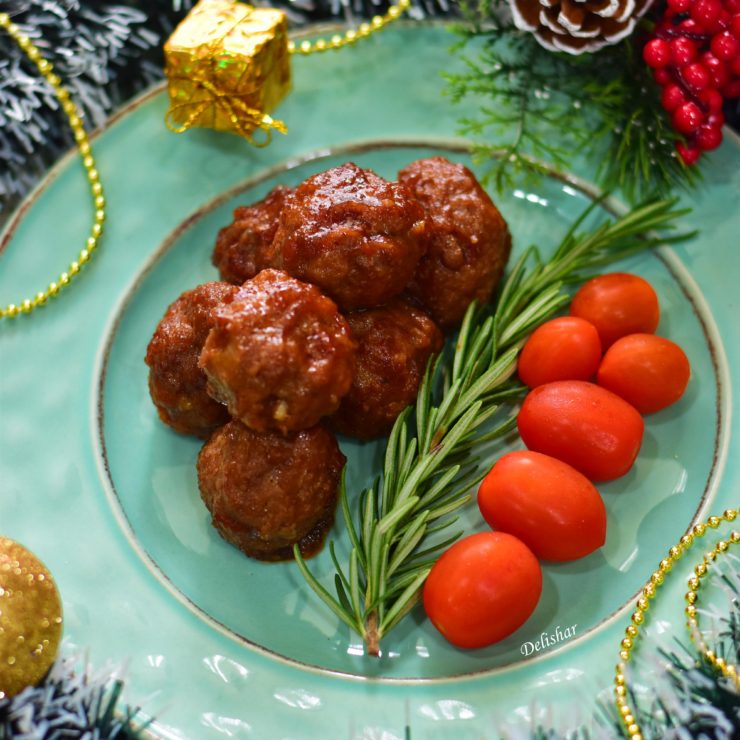 That means a lot of cooking and baking that I need to do. So time is of the essence and I need food that I can prepare in a jiffy, food that I can make ahead, and food that will keep for pot lucks and parties. This is one such recipe and a real crowd pleaser at that. You can pre-make the meatballs, bake it and heat it up in the sauce before the party.
If you're looking to cater for something healthy this festive season, visit Cookit SG and take a look at the exclusive Christmas Sets that I've jointly created with Cookit. Both Plant-based and Paleo sets are Sugar-free, Gluten-free, and Lactose-free. Early bird promotional price now on! 🙂
Have a very Merry Christmas my dear friends! I hope you'll enjoy this recipe as much as we did!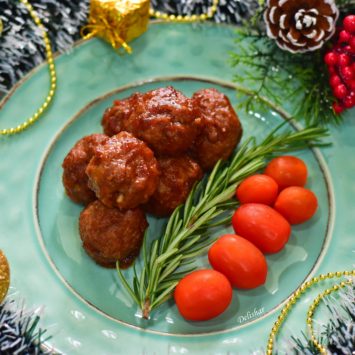 Cranberry BBQ Meatballs
Serves 8 as an appetizer
Ingredients
500

g

Ground beef

1

Egg (60g

50

g

Panko bread crumbs

2

cloves

garlic

minced

1/2

40g yellow onion, minced

2

tbsp

water

1 226

g

canned cranberry sauce/jelly

204

g

3/4 cup BBQ sauce

2

tsp

lemon juice

2

tsp

brown sugar 1 tsp

Salt and pepper to taste
Instructions
Preheat oven to 200C

In a large bowl, add beef, egg, bread crumbs, water, onion, garlic, salt, and black pepper.

Use hand to mix until just combined.

Shape into 1 inch meatballs.

Bake for 15 minutes.

In a saucepan, break up cranberry jelly/sauce. Pour in bbq sauce.

Over medium heat, blend the sauce together with brown sugar.

When meatballs are done, add it into the sauce, and simmer on medium low heat for 10 minutes.

Stir in lemon juice and serve.
Notes
Do not over work your meatballs or it will get tough.