One pot meals are truly a life saver! I have so much on my plate lately that I'm up to my neck with stuff I need to do. We are moving in to our new place very soon, and I've been trying to get everything in order for the move. The renovation, the furniture hunting, liaising of delivery, trying to pack the whole house up into boxes (Oh, don't even get me started with that!), and that's only part of it. I'm also trying to help my new helper familiarise her duties, and making sure she is transitioning well into the family. On top of that, we moved to girls into my husband's international school. So it's a whole new culture for them and myself to transition into.
With all that going on, I'm still trying to keep up on posts and my business. I can hardly catch a breather. As I'm writing this post, I'm actually feeling unwell and slightly nauseous. But like most mothers will agree with this statement, "Being a mom is a full time 24/7 job, and we have no off days." Even when mom is unwell, the family still needs to function. Everyone still need to eat, the kids still need me to do stuff for them, which I'm more than happy to oblige.
So one pot meals like this sure makes life easier. Very little clean up, minimal preparation, and we all get to enjoy a pot full of yums! The sweet Italian sausages imparted so much flavour to the pasta as it cooks together. Whenever sausages or bacon is use as an ingredient, I know I will not have to fight the kids to finish their food, or tell them to sit down while they get distracted with every single thing that is happening. They sat very nicely to finish their food, giving the dinner plate their full attention. The husband was of course more than happy to see what was on the dinner table. Sausage, cheese, and pasta = a winning dinner. It was a win-win for me too, because I took a mere 30 minutes to make this delicious one pot meal without much effort!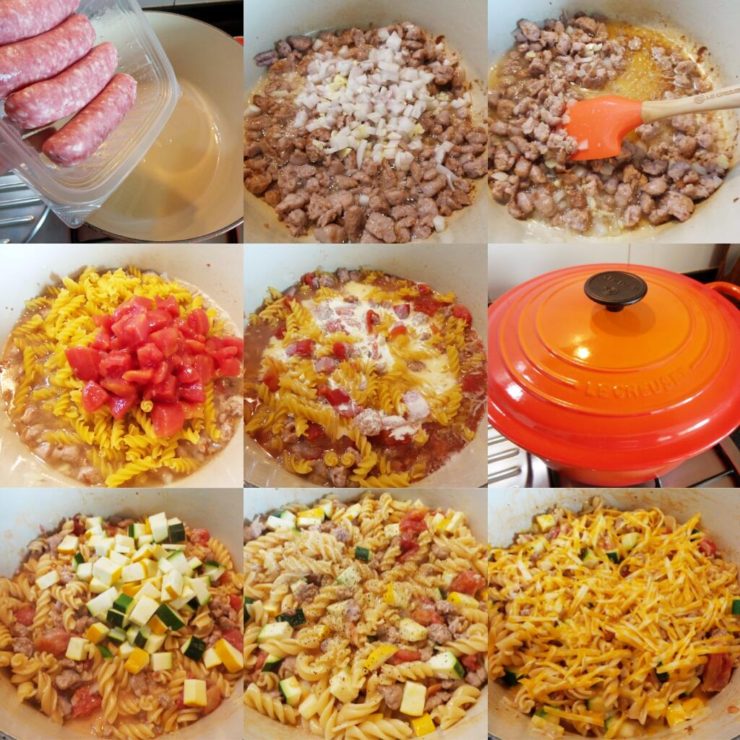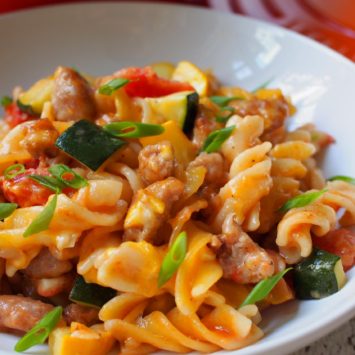 One Pot Italian Sausage Fusilli
Ingredients
500

g

Italian sausage

casing removed

220

g

fusilli pasta

1

medium yellow onion

diced

1

medium zucchini

diced

3

cloves

garlic

minced

2

cups

low sodium chicken stock

1

can

227g diced tomatoes

1/2

cup

heavy cream

1

cup

shredded cheddar cheese or Monterey Jack Cheese

Salt and black pepper to taste

Sliced spring onion to garnish
Instructions
Heat pan on medium high heat, and add 1 tbsp olive oil.

Add sausage and onions, and cook until sausage is lightly browned (about 4-5 minutes).

Then add garlic and cook for 30 seconds.

Pour in broth, tomatoes, cream, and pasta.

Bring to boil, cover, and reduce heat to medium low.

Simmer for 8 minutes, and add zucchini.

Season with salt and pepper to taste.

Toss to mix, cover, and allow to cook for another 5-7 minutes until pasta is tender.

Remove from heat, and stir in cheese.

Garnish with spring onions and serve.
Notes
Adapted from Kevin & Amanda