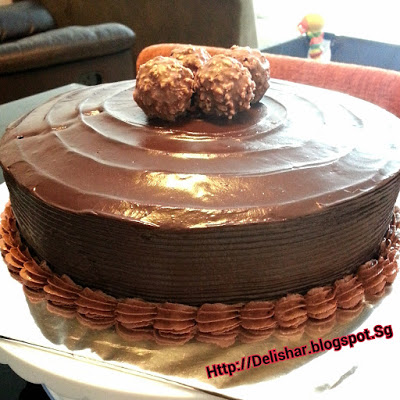 Today is my dear husband's birthday, and I wanted to bake him a cake. It is my first time baking, frosting, and decorating an actual cake! Cupcakes are not counted. I have to say that I was pretty stressed out on this project. I researched on the recipe that I would like to use. Decorating techniques based on the tools I have at home. I have never been taught how to ice a cake, or decorate a cake. And I was pretty bold to not even practice! I went head first, it was make or break I thought to myself. Lucky for me the results was pretty decent for a first timer! So if I can do it, you can too! I'm just going to post the recipe and directions here. I did not take step by step pictures for this post. If you need any tutorial, go to youtube… It was my teacher. 🙂
I used dark chocolate ganache as my filling and icing, and chocolate buttercream as my borders. I choose to let my ganache set/harden over a couple of hours and frost my cake with a angled spatula instead of the usual pouring of ganache over the cake and let it run down the sides. It is a personal preference as I like that look and texture better. It is best of you can let the ganache set overnight. Else, you can chill it in the fridge for an hour to help it harden faster. If it gets too hard, just pop it in the microwave for 10 secs each time until desired consistency.
Recipe heavily adapted from About.com
Prep Time: 25 minutes, Cook Time: 35 minutes, Total Time: 1 hour
Ingredients:
1 & 2/3 cups all purpose flour
1 tsp baking soda
1 tsp salt
—
113g 85% dark chocolate
1/2 cup unsweetened coffee
—
1/2 cup butter, softened
1 & 3/4 cups brown sugar
3 eggs
1 teaspoon vanilla extract
3/4 cup buttermilk
Directions:
Grease and flour two 9-inch round cake pans. Preheat the oven to 175*C. Combine the first set of ingredients with a wire whisk. Set aside. On a stove over low heat melt chocolate with coffee. Set aside. In a large mixing bowl, cream the butter and sugar. Add the eggs one at a time. Add the vanilla and mix well. Pour in the chocolate a little at a time and mix well. Add the flour mixture alternately with the buttermilk until all is used. Pour batter into prepared pans. Bake for 27 to 35 minutes until tested with a toothpick and cake has pulled away from the pans.
Chocolate Ganache
Ingredients
2 cups heavy cream or whipping cream
1/8 tsp salt
450g dark chocolate, break into small pieces (I used a mix of 85% and original dark chocolate which was sweeter)
Sugar (optional or to taste)
1 tbsp butter (for that glossy finish)
Directions
Bring chocolate to room temperature if you store them in the fridge. Break the chocolate into small pieces and put them in a mixing bowl. On stove over low heat, bring the heavy cream, salt, and sugar to a boil. Remove from heat and pour it over the chocolate. Let it sit for 2-3 minutes. Stir and mix well. The chocolate should melt easily. When well combined, add in butter. Mix well. Set aside until you are ready to use. Or refrigerate, stirring occasionally until spreadable consistency. It takes about 1 hour or more.
Assemble
Make sure your cake is fully cooled! Take one piece of the cake, place it on cake board. Put about 1/2 to 3/4 cup of ganache on top and spread evenly. Place the 2nd piece on top and press down firmly. Then frost your cake with the remaining ganache frosting starting from the top and working your way down to the sides.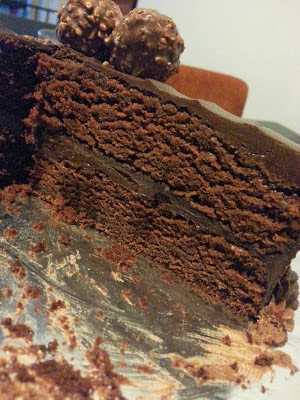 This is a picture of the inside of the cake. It is really rich and moist.
Bon appetit!!