Chewy Witches' Fingers…. I meant… Chewy Malt Cookies! Yup, they are for halloween, but no I'm not giving them out as treats. They are really for fun and I want no part in scaring the cute little supermen and ladybugs that will be knocking on my door!
These are fun to make and taste great too, if you are brave enough to pick one up that is! My niece was most afraid of the fingernails. She says it looks too real! My mum had to pull out the 'nails', which was almond slices to make it less scary. Lol! But once she started munching on one, she couldn't stop eating.
Witches Fingers Malted Cookies
makes about 30 cookies/fingers
Ingredients
30

almond slices

1

tbsp

red food colouring + 1 tsp water

2

drops of green food colouring

2

eggs

beaten

1/2

tsp

baking powder

1/2

tsp

vanilla extract

1/2

cup

butter

softened

1 2/3

cup

all purpose flour

3/4

cup

malt powder

I used Horlick

5

tbsp

caster sugar

1/4

tsp

salt

Strawberry Jam for dipping
Instructions
Oven should be at 180C when baking.

In a large mixing bowl, mix flour, malt powder, salt, and baking powder together.

In large mixing bowl, cream butter and sugar together.

Add in eggs and vanilla extract. Mix well.

Pour in dry ingredients and mix well to form dough.

Then add a drops of green food colouring until desired colour and mix colour in.

Place flattened dough on cling wrap, wrap it up, and leave to chill for 1 hour.

When dough is firmed, take half of the portion out and leave the other half chilled.

Roll dough to form finger shape, making sure it is thinner about 2/3 the width size as it will spread.

Place it on lined baking sheet.

Using a paring knife, score the 'finger' to get knuckles.

Dip the wider end of the sliced almond in the red food colouring, then push it on to the tip of your 'finger' cookie dough to give it 'nails'

Bake in 180C for about 12-15 mins or till edges starts to brown.

Allow to cool completely on wire rack.

Take about 2 tbsp of strawberry jam, if it's too thick add some hot water.

Dip the end of the fingers into the jam to create a bloody appearance.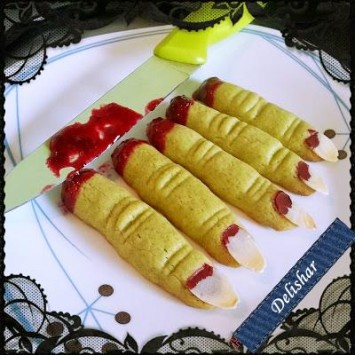 Have fun making them and enjoy the look of your guests' face!