The first time I tasted this dish was during one of my auntie's confinement month. I have to admit that it didn't really appeal to me as a kid. I did not dislike it though, just pretty indifferent. I couldn't quite make out what the flavours were about, sweet, sour, and gingery. But one thing I realised, the more I have it, the more I loved it! It grew on me really quickly, tender pieces of pork melting in my mouth, and very soon I was slurping down the gingery vinegar broth like I was drinking soup. After every bowl, it makes me feel warm from the inside out.
Black vinegar pork trotters is a classic heritage dish made by Cantonese families during confinement month following the birth of a baby. It is believed that this post-natal therapeutic food helps boost post natal immunity to expedite healing, keeps the body of the mother warm (a huge no-no to lose heat during confinement month!), and helps to expel wind/gas built up in the tummy during childbirth. This belief has been passed down from multiple generations, legend has it that it dates back to the Mind Dynasty.
"Calcium in the bones of the pork knuckles will be dissolved by the vinegar during the cooking process, a major nutritional value of the dish is to replenish the lost of calcium in pregnancy. Moreover, not only is ginger rich in Vitamin C, which helps to strengthen the mother's immune system, it also has the function of removing the "wind", which is known as "fong" in Cantonese, that is generated during childbirth and when the body is at its weakest; ginger also helps lactation. Eggs provide the new mother with large amount of protein which is especially good for repairing muscles." – Wiki
In my opinion, my mum makes the best black vinegar pork trotters I've ever tasted. Friends of mine who have tasted my mum's recipe has given raving reviews. And when I announced of another pregnancy in the family, those friends will be ordering their share of vinegar trotters months before. It used to be that I have to wait for someone to have a baby in the family before I get to eat my mum's vinegar trotters. But not any more! She has very kindly came over to help me out with this recipe, and today I'll share her recipe with you.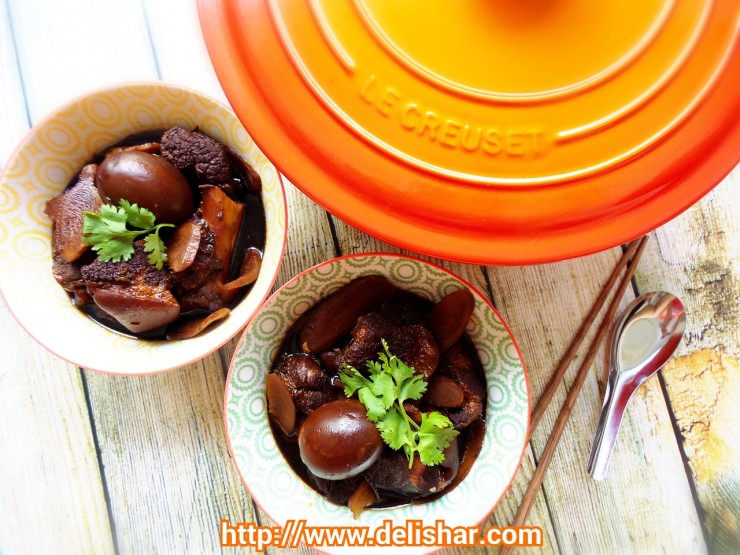 This is such a great time to share with you this heritage recipe, which is in line with Le Creuset's 90th anniversary! Did you know that vinegar trotters are traditionally cooked in tall earthenware pot due to the acidic vinegar and cooking method leaches metals from metal pots. I didn't have to buy another earthenware to make this or worry about the vinegar leaching iron from my French oven. All thanks to the advanced interior enamel that coats the Le Creuset French Oven. The coating protects the cast iron pots from rust, saves us the trouble of seasoning the pot after every use, resists chipping, and ensures easy cleaning.
(Giveaway completed)
In celebration of Le Creuset's 90th anniversary, I am hosting a 5 pcs Le Creuset Skillet Bundle giveaway worth $572! Stand a chance to win the bundle that includes:
1 Skillet 26cm in Dijon Yellow
1 Spatula medium in Caribbean Blue
1 Silicone handle sleeve in Caribbean Blue
1 Bowl in Dijon Yellow
1 Bowl in Caribbean Blue
To take part in this giveaway, simply complete the rafflecopter at the end of the post. This giveaway is made possible by the good people at Le Creuset.

Here is a picture of the vinegar I used. My mom specifically said, have to use this bull dog/Chan Kong Thye Black Rice Vinegar, and it has to be the "Shuang1 Liao4" version. She shared that you will be able to get it at sundries stores at our local wet markets.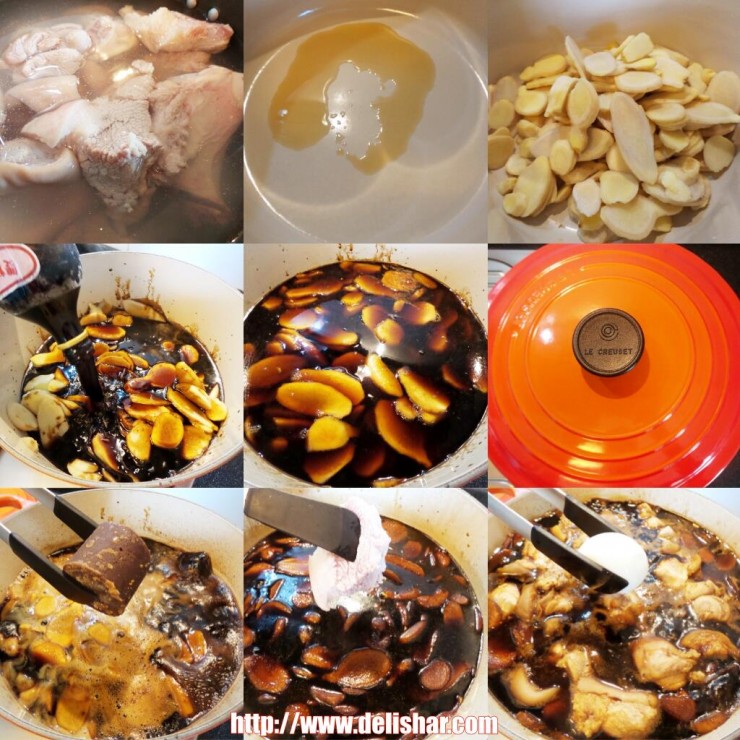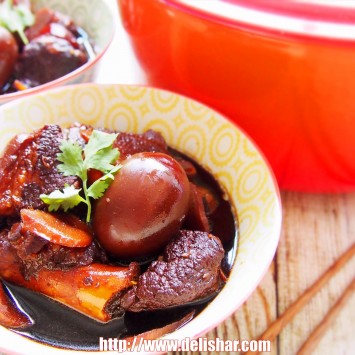 Black Vinegar Pork Trotter
Ingredients
1.8

kg

pork trotters*

600

g

Indonesia ginger or old ginger*

peeled and sliced 1/4 inch thick

10

hard boiled eggs

shells removed

2

tbsp

sesame oil

750

ml

water

750

ml

bull dog brand "Shuang Liao" black vinegar

500

g

gula melaka
Instructions
Cut trotters into 2 inch pieces.

Scald pork with boiling water to remove scum, then drain.

Heat French oven on med-high heat and add sesame oil.

Stir-fry ginger until fragrant.

Pour in vinegar and water.

Bring to boil and add gula melaka.

Cover and allow to simmer until gula melaka has dissolved (5-10 minutes)

Then add pork trotters, and egg, then bring to boil.

Reduce heat to a simmer, and allow to simmer until pork is tender.

About an hour.

Skim off fats before serving.
Notes
*Substitute some pork trotters for pork shoulders if you prefer lean meat.
*My mum advocated for Indonesia ginger, just ask the sundries store owner at the wet market. You will not be able to get Indonesia ginger at supermarkets.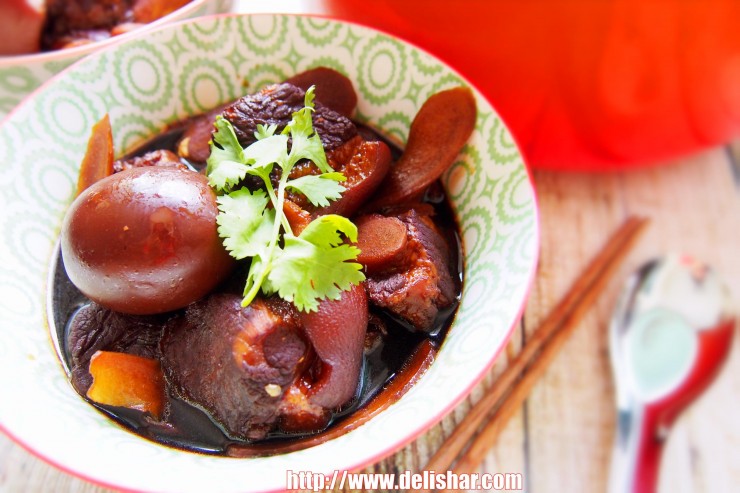 To take part in this giveaway, simply complete the rafflecopter below!
This giveaway ends on Tuesday, September 22, 2015 at 12:00 a.m. Singapore time (GMT+8). Giveaway bundle includes: Skillet 26cm in Dijon yellow x 1, Spatula medium in Caribbean x 1, Silicone handle sleeve in Caribbean x 1, Bowl in Dijon x 1, Bowl in Caribbean x 1. The winner will be selected by random.org and will contacted by email. The winner will need to respond within 48 hours. If there is no response from the winner after 48 hours, another winner will be selected. The winner will need to self-collect the prize at Le Creuset's office; therefore, it is open to Singapore entrants only.