Dinner time is very precious and important to me. It's a time to connect without distractions, no tv, no phones, no technology. Just family. Well, after my picture shots that is. A time where we catch up as a family. It starts with the usual, "How was your day?", "Did anything interesting happen today?", "Tell us something you learned in school today."
Then there's a little small talk exchanges between the husband and I. Most often than not, aligning schedule or decisions about the kids. You know, mundane parenting stuff. But nonetheless, over delicious homemade food. 😀 By the way, this recipe converted my non-mushroom loving family into mushroom lovers.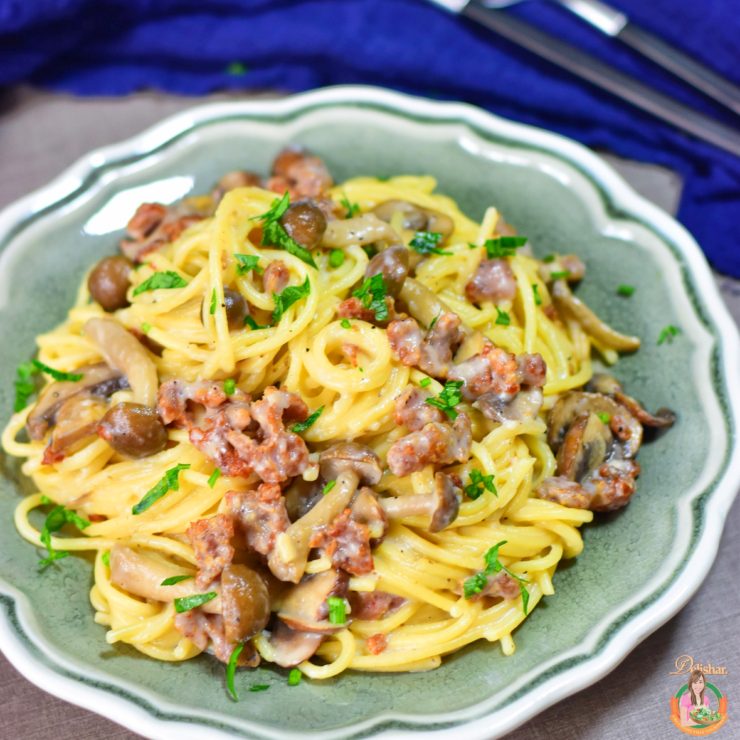 As we were talking as usual over dinner, the husband brought up spring break, and the possibility of a short vacation. A romantic one, just him and I. *insert heart emoji here* He suggested going to Bali for a our getaway, which I thought was a great idea.
The last time we were in Bali, we had the kids with us, and had a blast. I remembered our gorgeous orange villa in Seminyak area. Private pool, in-house massages, great food all around, great service, and have I mentioned how gorgeous our villa was? We hardly left the place, partly because of our young kids and partly because we wanted to fully enjoy our villa.
So this time round, we are thinking of going back to Bali during spring break to enjoy what Indonesia has to offer. And since we had such a great experience with Villa Getaways, we have been villa shopping for our holiday plans. For now, we are just spoilt for choice. So, lets get back to the pasta.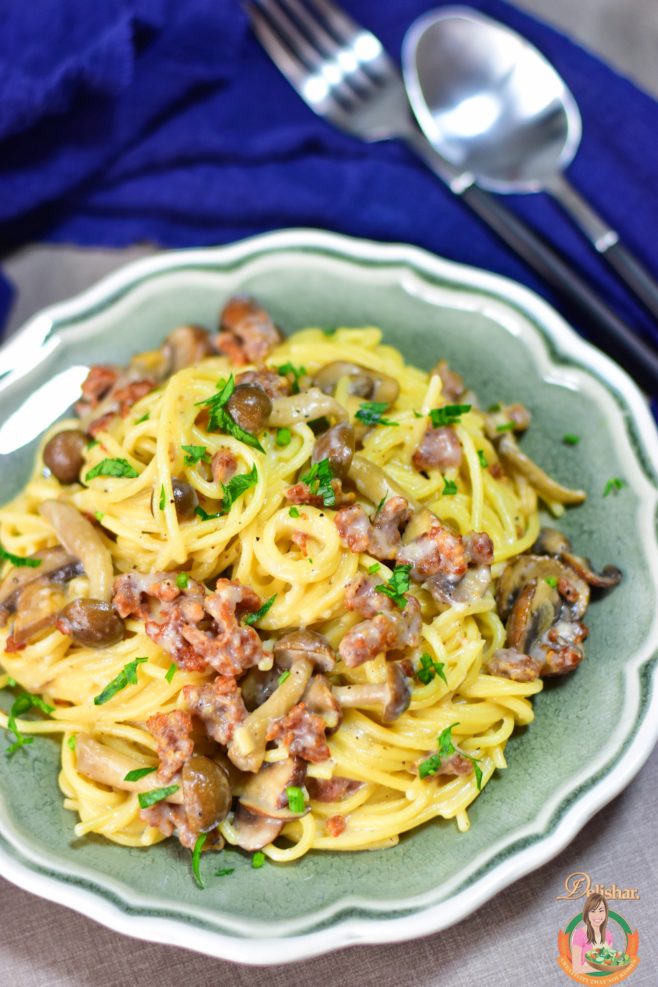 I ran out of cooking cream that day, and improvised by using roux and milk to make the cream sauce. In order to convert the non-mushroom loving family, I used fresh sausage to flavor the pasta. Because, who can say no to sausages right?! As the sausage cooks, it renders flavorsome fat, which was used to cook the mushrooms, and create the roux. No wastage here.
The end result was an incredibly delicious plate of pasta. A whole new level of umami-ness with the mushroom, cream sauce, and beautifully browned sausage meat. I didn't have to keep reminding the girls to finish their food and finish it fast. Granted, there was some hesitation at first when they found out it has mushrooms in it. But after applying the golden rule of "Always try new food first, before saying I don't like it", solved that problem. After their first bite, they smiled, and I knew I won that battle.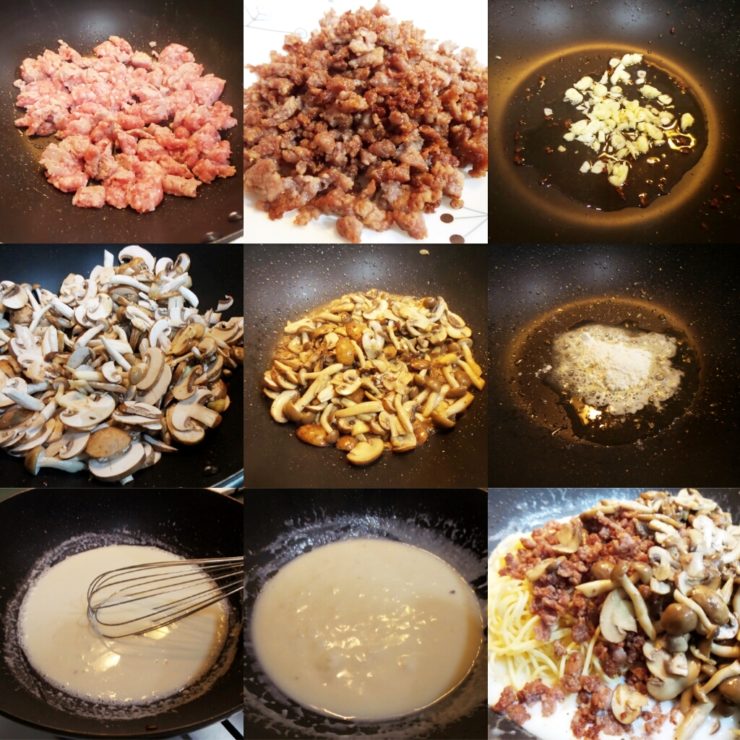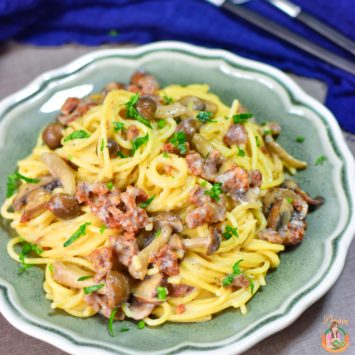 Sausage & Mushroom Pasta
Ingredients
250

g

spaghetti

300

g

fresh sausage of choice

casing removed

300

g

brown Swiss mushrooms

sliced

100

g

Shimeji mushrooms

separated

4

cloves

garlic

2

tbsp

flour

1-3/4

cup

fresh milk

I used low-fat

1/4

cup

italian parsley

chopped

Salt and black pepper to taste
Instructions
Cook pasta in a pot of salted water until just shy of al-dente.

Drain, and set aside.

In a pan, cook sausage until brown over medium heat breaking it up into small pieces with your spatula.

Remove sausage on a plate, and drain fat, leaving 2 tbsp in the pan. Set aside the fat for later.

In the same pan, over medium high heat, cook garlic for 30 seconds.

Then add mushrooms, season with salt and pepper, and saute until brown.

Pour mushrooms onto the same plate where you have your cooked sausage.

Add 2 tbsp of reserved fat into the same pan, and stir in flour.

Cook over medium high heat for a minute.

Then slowly drizzle in milk while stirring consistently with a whisk or wooden spoon until combined, and sauce thickens.

Add in cooked pasta, sausage, and mushrooms.

Toss to combine, and season with salt and black pepper to taste.

Remove from heat.

Toss in chopped parsley before serving.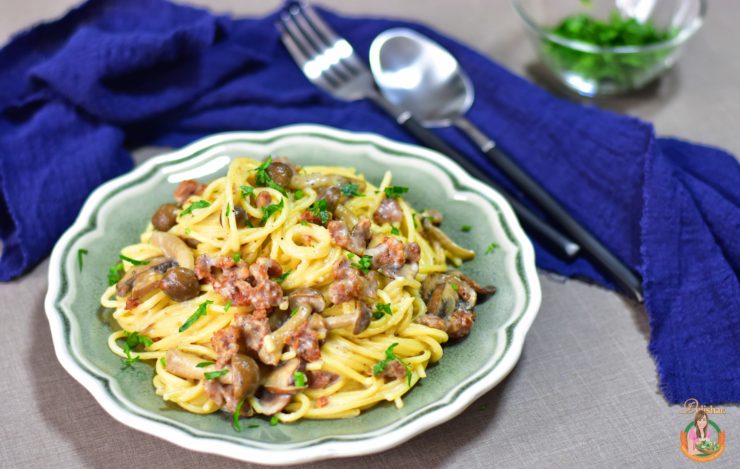 * Disclaimer: Although this post is sponsored by Villa Getaways. I'm only recommending them because we had experienced first hand, the impeccable service they had to offer when we traveled to Bali on our own a few years back.