Lychees are one of my favourite tropical fruit, but the husband isn't a big fan of it. So I have not eaten it for years! But when I saw someone posted a picture of her Lychee sweet and sour pork, I went straight to the supermarket to buy a can of lychee. Head right back home, and whipped up this plate of delish. The husband was going at it with the meatballs and the bell peppers. Needless to say, ignoring the lychees, which I was secretly rejoicing that he did. LOL!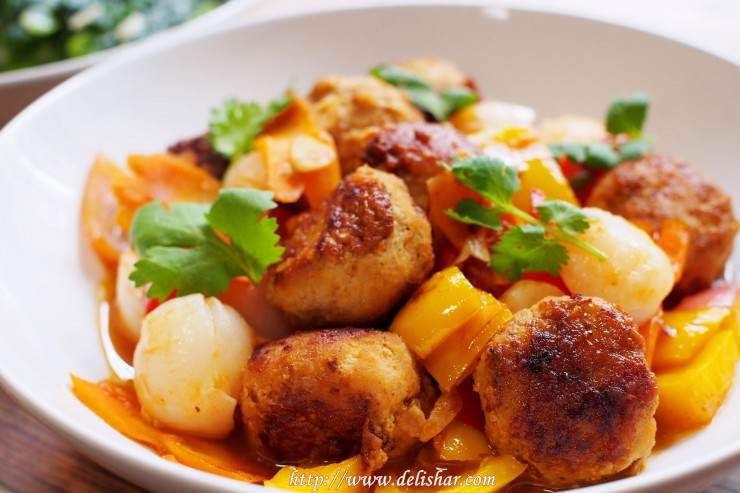 This dish was inspired by the traditional sweet and sour pork. Whereby the pieces of pork are battered and deep fried before being tossed in the sweet and sour sauce. But because we never deep fry anything in my kitchen, I adapted to make a healthier version. Minced pork seasoned, then shaped into meatballs before pan frying in very little oil to brown all sides.
The meatballs turned out nicely springy but still tender. Making it this why means lesser fats and calories but still as delish. No wonder it's one dish that have won the tastebuds of many children and adults alike! My kids included too!
If you don't take pork, substitute with minced chicken. And for whatever weird reason you don't like Lychee, like my husband, substitute it with pineapple cubes. But that would mean that you are making sweet & sour meatballs. 🙂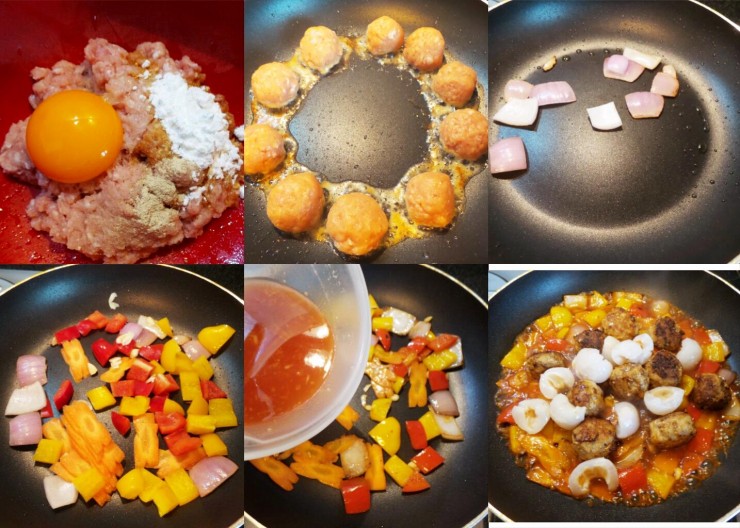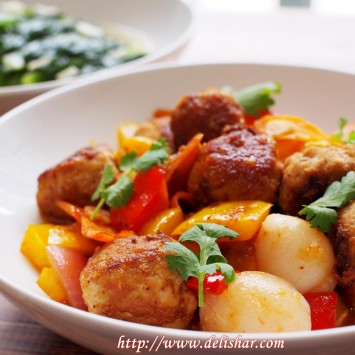 Sweet & Sour Lychee Meatballs
Serves 4 as a multi-dish meal
Ingredients
Meatballs
250

g

minced pork

or minced chicken

2

cloves

garlic

minced

1

egg yolk

1

tbsp

soy

2

tsp

flour

dash of white pepper

1-2

tbsp

oil for pan frying meatballs
Sauce
2

tbsp

can juice

2

tbsp

white vinegar

2

tbsp

ketchup

1

tbsp

soy sauce

2

tsp

brown sugar

1

tsp

grated ginger

Salt and white pepper to taste
Accompanies
1

tbsp

oil

1/4

red bell pepper

cut into chunks

1/4

yellow bell pepper

cut into chunks

8

lychees from a can

halved

1/4

red onion

cut into chunks

1/2

carrot

thinly sliced
Instructions
Mix all the ingredients for meatballs except oil in a bowl.

Mix well until meat is sticky.

Shape into 1 inch balls.

Mix everything for the sauce in a bowl or measuring cup

Heat pan on medium high heat, then add oil.

Pan fry meatballs until brown on all sides.

Clean out the pan, add the 1 tbsp oil to pan-fry the vegetables.

Add onion and pan fry over medium high heat for 30 seconds.

Then add the rest of the vegetable and lychee, then pan-fry for a minute.

Pour in sauce mixture and meatball, then lower heat to low.

Allow to simmer for 4 minutes until sauce thickened and meatballs cooked through.

Garnish with chopped cilantro.
Get the pre portioned cook kit for this amazing dish and
cook it in your own kitchen! Order Now