Day 8 of our Whole30 journey! Woohoo! One week has gone by in a flash, and we did not murder anybody! I'm really looking forward to day 12. Based on the timeline, day 10-11 is when most people give up. If you get past that, there should be a big improvement in energy.
So far, things has been pretty good. I do get a little more agitated the last few days. However, I'm not sure if it is because of my PMS or the diet. I dozed off a couple of times while doing research or replying emails. I do suffer from fatigue when I'm pms-ing, but this time felt a lot more intense.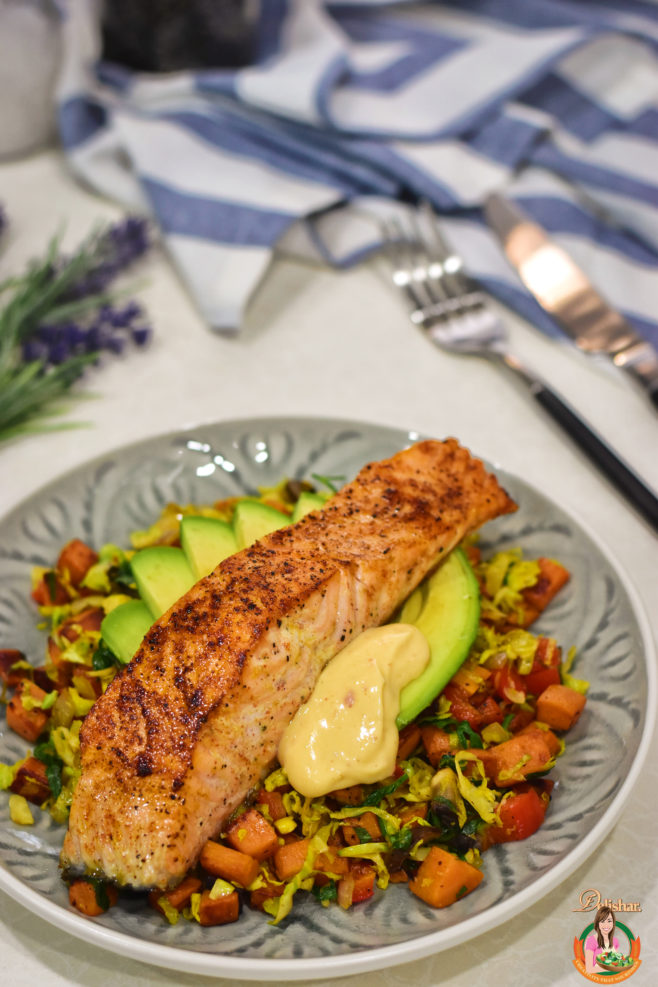 Talking about intense, I had cramps one day. Which was quite common during the pms-ing period. However, this time round was unbearable. I couldn't even walk straight. I was on my bed all curled up in a fetal position. Managed to crawl out for some ibuprofen to ease the pain. It felt as though I was getting one of those labour contractions!
Alright, enough about that. This whole30 journey definitely challenges my creativity and cooking skills, and I quite enjoy it. 🙂 I'm eating things that I do not usually enjoy and I'm learning how to appreciate them.
I'm actually not a big fan of sweet potatoes. However, this recipe changed that. It was so good when paired with brussel sprouts! The sweetness of the potatoes balances out the slight bitterness of the brussel sprouts.
Did you know that store bought peri-peri sauce is compliant?! Yup, so I bought it and mix it in my 30 seconds homemade mayo (shown in the video above) to get a spicy peri peri mayo for the wild caught salmon. The whole meal was pretty easy to put together.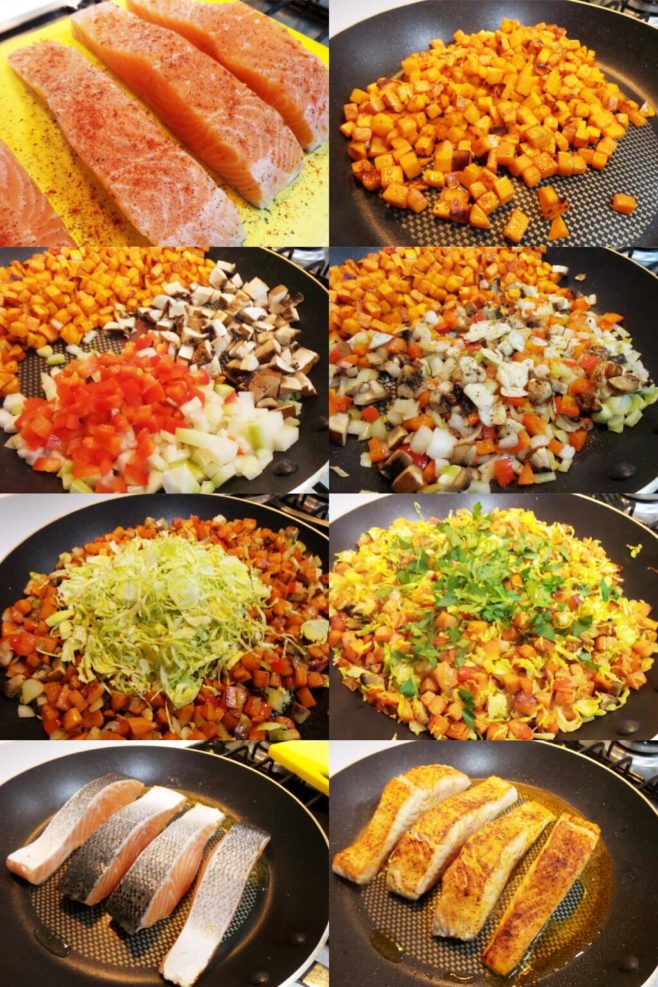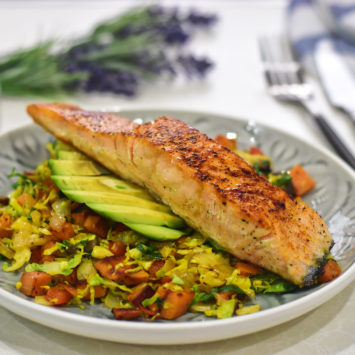 Salmon on Sweet Potato & Brussel Sprouts
Serve 3-4
Ingredients
Sweet Potato & Brussel Sprouts Hash
1

large sweet potato

diced

200

g

brussel sprouts

shredded

1

medium sized portobello mushroom

diced

1/2

red pepper

diced

1/2

yellow onion

diced

2

cloves

garlic

minced

3

tbsp

italian parsley

chopped

1-2

tbsp

olive oil
Salmon
4

salmon fillet

about 150g each, wild caught from The Alaska Guys

Salt and black pepper to taste

2-3

tbsp

olive oil
To serve
1

avocado

sliced

Homemade mayo + peri peri sauce to taste
Instructions
Sweet Potato & Brussel Sprouts Hash
Heat oil in skillet over medium high heat.

Add dice sweet potatoes and cook for 2-3 minutes, toss and cook for another 2-3 minutes or until slightly golden.

Push sweet potatoes aside and add onions, garlic, mushrooms, and red pepper.

Saute it together for a minute, and toss in sweet potatoes.

Add brussel sprouts, and saute until wilted.

Season with salt and black pepper.

Remove from heat and toss in italian parsley.
To serve
Serve fish over sliced avocado and hash, with a side of peri-peri mayo.
Salmon
Season salmon with salt and black pepper.

Heat pan on medium-high heat with olive oil.

When oil is shimmering, place salmon into pan, skin side up and hold for 1 couple of seconds.

Reduce heat to medium, and allow to cook for 3 minutes.

Flip, and cook for about 3-4 minutes or until desired done-ness.
Notes
Make sure you pat dry the salmon with paper towel before seasoning.
Bring salmon to room temp before cooking.