I was at the wet market buying my weekly fresh produce. While I was at my butcher, I impulsively pointed at a slab of pork belly without really thinking about what I'm going to do with it. My first inclination was to make Siew Yok (Crispy Roast Pork Belly) but I just gave my oven a throughout scrubbing down just a day again, and I'm not planning to work those arm muscles the same way any time soon.
So the piece of pork belly was spared that day, but not for long! The next day, I tried my luck and invited my mum over for dinner. So happen, that social butterfly mother of mine was free for dinner! Without a thought, I knew I had to make dong po rou as I knew that my mummy will really enjoy it. I started preparing after I hung up the phone with her as the braising process is going to take hours to yield a melt in the mouth tender pork belly.
I'm so glad I made this for her that evening! If you know my mum, she is very typical Chinese, to get any kind of verbal affirmation or praise from her is almost like trying to teach pigs to fly. My husband can attest to that. So when I nervously served my dong po rou to her, she exclaimed "Wahhh!". I silently affirmed myself, "Wah is good! Wah means good!". Mind you, I'm confident when it comes to food and cooking, but satisfying my mummy's tastebuds are not an easy feat.
Mummy didn't utter a word during dinner, so after dinner I boldly asked her for her feedback. She sternly looked at me and said, "Mmm, got standard (Very good in singlish), good! But can't cook even longer." With my mum, there's always room for improvement. I was beaming, super rare praises from mummy! Woooo Hoooo! So to conclude this dish in three words, "Wah! Got standard!"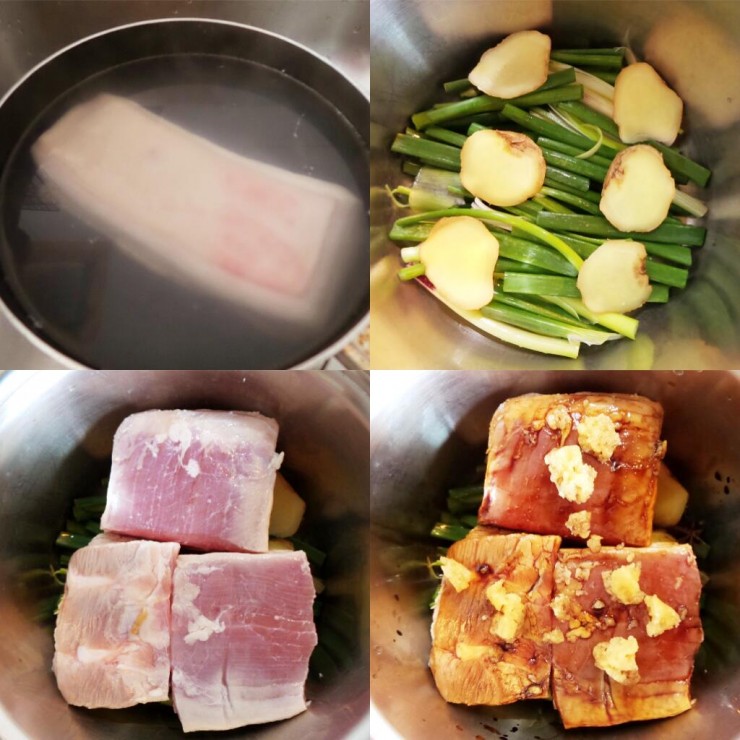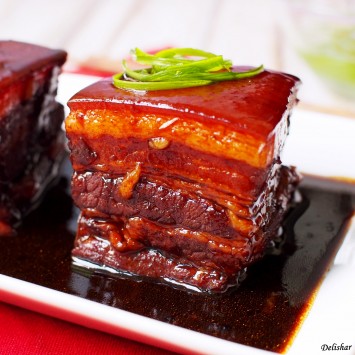 Dong Po Rou (Braised Pork Belly)
2016-02-28 20:01:22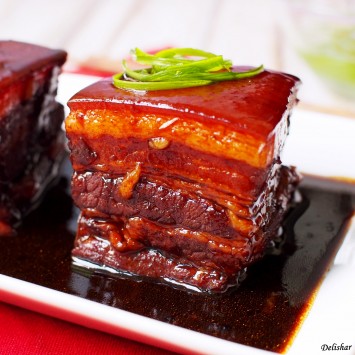 Serves 2-3
Ingredients
600g pork belly
2 bunches of spring onions/ scallions, cut into 2 inch pieces
6 slices of old ginger
1/4 cup shaoxing wine
3-4 tbsp light soy sauce or to taste
2 tbsp dark soy sauce
50g rock sugar or to taste, chopped up
3/4 to 1 cup hot water (it was enough to cover all sides of pork belly)
Sliced spring onion to garnish
Instructions
Wash and clean pork belly, then blanch in boiling hot water for 1 minute.
Drain and cut into 2x2 inch squares.
Line your clay pot / stock pot / sauce pan (use one with tall sides that'll nicely fit your pork belly, do not use a wide or large pan.) with spring onions, then layer the ginger slices on top.
Place pork belly skin side down on ginger, and pour shao xing wine, light soy sauce, and dark soy sauce over.
Top with rock sugar, then pour water into the pot.
There is no need to stir.
Cover and bring to a boil over medium high heat.
Once boiling, lower heat to low, and simmer for 90 minutes.
After 90 minutes, carefully flip pork over and simmer for another 90 minutes, basking the skin occasionally.
Adjust seasoning to taste add more sugar or more soy sauce.
Sieve out grease before serving sauce over pork belly.
Garnish with spring onions.
Notes
The pork belly is tender and may fall apart when removing from pot. Be gentle. Or you can secure pork belly with kitchen twine to keep meat in place when braising and plating.
Adapted from The Wok of Life
Delishar | Singapore Cooking, Recipe, and Food Blog http://delishar.com/