Happy 2017!!! I missed you all while I was away in cold cold Wisconsin freezing my behind off! I had limited internet access, so I wasn't able to be online most of the time. I'm not complaining though, I do like being offline and being able to be present with my family without distractions.
We had an awesome white winter, and I get to spend time with my lovely nieces and favourite in laws! The girls got to build a huge snowman, walk on frozen lake, watch the fishermen out on the lake ice-fishing, went to a ski hill, and so much more. I'm thankful that the kids got to experience all these that's not possible in sunny Singapore.
The only other thing I missed a lot while I was there was spices. Warm Asian spices, and my hot hot chilis. The lovely husband knew I needed my spices and took me to an Indian restaurant a couple of times to ease my cravings. Which inspired me to make my own when I got back. So here it is. Tandoori chicken made easy.
Using a zip-lock bag makes clean up so easy. Don't have to worry about the spices staining your hands as well. Line your baking tray with aluminum foil, and you'll hardly have anything to wash up after. I served my spatchcock tandoori chicken with Saffron Basmati Rice which I'll be sharing with you in my next post, and some cucumber mint raita on the side. Everyone at home loved it. Definitely a recipe that I'd be making again soon!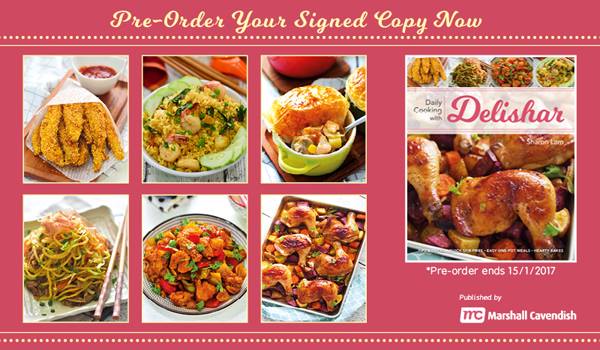 As we start the new year, I'd like to thank all you yummilious readers for all the support that you have given to my cooking blog. Without you support, my cookbook would not have been possible. Pre-order of my debut cookbook, 'Daily cooking with Delishar' will end on 15 Jan 2017. Don't miss out the 10% off deal on Kinokuniya to get your signed copy. A total of 45 recipes with new and exclusive recipes for the cookbook only! Provide the discount code "DELISHAR", for the 10% off upon checkout on their webstore.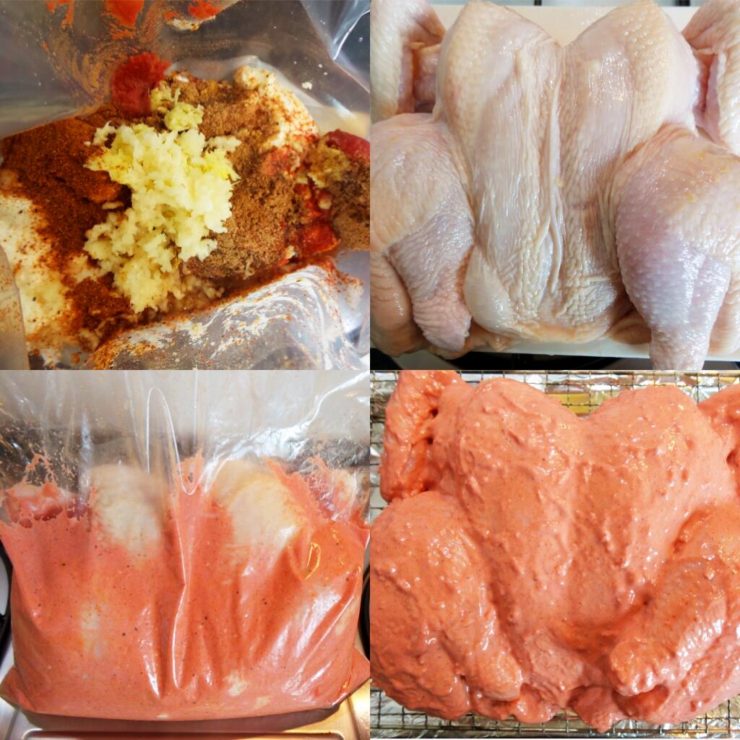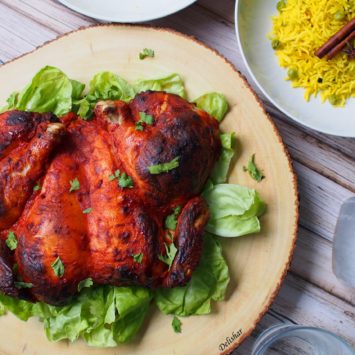 Spatchcock Tandoori-style Chicken
Ingredients
1.6

kg

whole chicken

1

inch

thumb ginger

peeled

6

cloves

garlic

peeled

1

tbsp

coconut oil

Coriander leaves

chopped to garnish
Marinade
150

ml

natural yogurt

1

tbsp

tomato puree

Juice of 1 lemon

1

tsp

chilli powder

1

tsp

paprika

1

tsp

turmeric

1

tsp

cumin

1

tsp

ground cinnamon

1

tsp

ground coriander

1

tsp

garam masala

1

tsp

black pepper

2

tsp

salt
Instructions
Clean and pat dry chicken with paper towels.

To spatchcock a chicken, lay it on a cutting board with breast down.

Use a kitchen spears to cut along both sides of the back bone and remove it.

Flip chicken over, open and lay it as flat as possible on the cutting board.

Using palm, press firmly downwards on breastbone to flatten.

In a food processor or blender, process garlic and ginger until you get a paste.

Add garlic ginger paste, and all of the other marinade ingredientsinto a large zip-lock bag.

Zip it and mix until combined.

Place chicken into zip-lock bag, zip it, and spread marinade all over the top and underside of the chicken.

Leave it to marinate in the fridge over night or up to 24 hours.

Pre-heat oven to 200C.

Grease baking pan with coconut oil.

Remove chicken from zip-lock bag, discarding the left-over marinade.

Bake in middle rack at 200C for 50-60 minutes or until cooked.

Check by piercing thickest part of the leg, the juices should run clear.

Garnish with chopped coriander and serve.