Day 29: Oh my gosh! We are only 1 day to the end of this whole 30 journey! After writing this post, I'm going to plan the reintroduction phase. I've resigned to the fact that the husband and I will not be the lucky ones that experience the legendary tiger blood.
Plus, I started feeling like crap Saturday evening. Yesterday was a drag. I felt like a zombie throughout the day, with fatigue, bodyaches, headache, sore throat, and the works. Still, the mothering, wife-ing, cooking and cleaning needs to go on. Thank goodness the husband skipped his softball game, so he was a big help.



I looked at myself in the mirror last night, and my tummy has gone down quite a bit. Sadly, my butt is gone too. So is the husband's super cute buns. Why is it that we always lose the good bits first when we lose weight? So the goal after whole 30 is to work hard to grow that booty. Squats, I'm coming for you.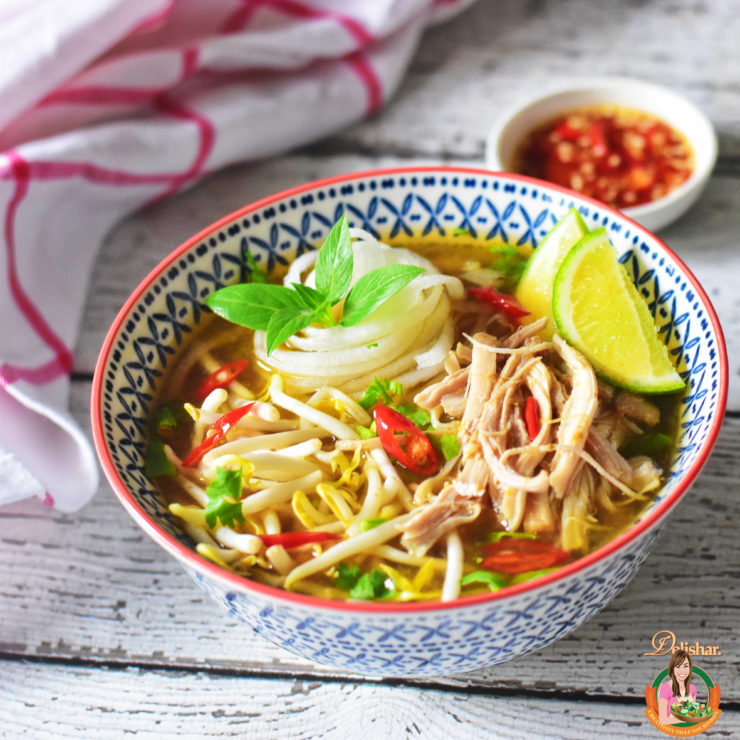 We love love love pho. So making a spiralised version of pho was a no brainer. The spiced broth is so light, yet so comforting at the same time. You can use chicken breast, but using skin on and bone in chicken definitely amp up the game a fair bit. The girls had their pho with regular rice noodles and they finished every last drop of their soup. I actually had to tell them to stop licking their bowl. Silly girls!
I shared what spiraliser I use in my previous Meatball Zoodles post. Again, if you have a vegetable shredder, it works as well. But a spiraliser is a great tool to have in the kitchen, especially if you are trying to eat clean or cut down on carbs.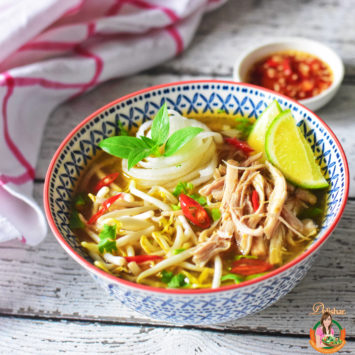 Faux Chicken Pho (Whole 30, Paleo)
Ingredients
2

bone-in

skin on chicken leg

1

unpeeled yellow onion

quartered

2

inch

unpeeled old ginger

sliced in half length-wise

1

tbsp

coriander seeds

1/2

cinnamon stick

1

star anise

2

cloves

2

cardamom

2

tsp

carob powder*

1

bay leaf

2

tbsp

fish sauce or to taste

1.5

L

6.5cups chicken stock (I used Imagine organic free range chicken stock)

1

cup

bean sprouts

to garnish

Lime wedges

to garnish

Thai basil leaves

to garnish

Chopped cilantro

to garnish

Sliced red chilli

to garnish (optional)

2

medium daikon radish

spiralised.
Instructions
In a lightly greased pan, toast onion and ginger until charred on both sides.

Ginger should be softened.

Remove and set aside.

Toast all the cinnamon, cloves, star anise, and coriander seeds in the same greased pan for a minute.

Then place all the spices including bay leaf, into a herb baggie or tie it up in a cheese cloth.

Slice the ginger into thin pieces and place it in a pot together with the spices and charred onion.

Add chicken stock, and chicken, then bring to boil.

Season with fish sauce and carob powder.

Then lower heat to low.

Cover and simmer gently for 30 mins.

Remove chicken and shred.

Serve broth over spiralised daikon, chicken, and sprouts.

Garnish with basil, red chilli, cilantro, and a side of lime wedge.
Notes
*substitute carob powder for 1-2 tsp sugar if not on whole 30 or paleo.