I instantly think of making this Caprese Tart when I saw their Organic Pesto with Zucchini, Organic Balsamic Vinegar, and Organic Extra Virgin Olive Oil in the package that Alce Nero sent me. At first, I was quite worried about the texture of the Organic Pesto with Zucchini. I thought it might be too wet, because zucchini has a high content of fluid. But I was proven wrong when I opened the jar. The pesto was thick, smooth, and creamy! The taste isn't very heavy, which was perfect for this recipe. It'll also make a good pasta dressing, especially for kids as basil pesto can be quite strong in flavour.
I was pleasantly surprised to learn that Alce Nero's Organic Balsamic Vinegar was obtained from organic Italian grapes concentrate and aged in barrels for more than 25 years! I have always loved the rich, distinct flavours of balsamic. It is delicious as a dip for good bread, makes awesome salad dressing, and make great marinade for meats too. I like to reduce it, mix in some honey to make it a glaze for dressing salad to serving it with my pan-seared salmon.
I made the glaze using Organic Wildflower Honey. The honey came at a really crucial time when I wasn't well, and the family started a rotation of sore throat and cough, probably due to the hazy conditions. The family and I have been taking spoonful of honey to nurse the poor throat.
What I love about Alce Nero's products is that it's all made with no preservatives and no artificial coloring / flavoring. With the amount of processed food available out there, it really comforts me to know that safe, healthful foods are still widely available, and at a very reasonable price. It makes me feel good, and secure that I'm able to give my kids products that are free of unwanted chemicals.
I made this for a pot luck party and it was gone in a flash! I mean it's caprese salad on a puff pastry! How can anybody resist that?! Here was how I made it.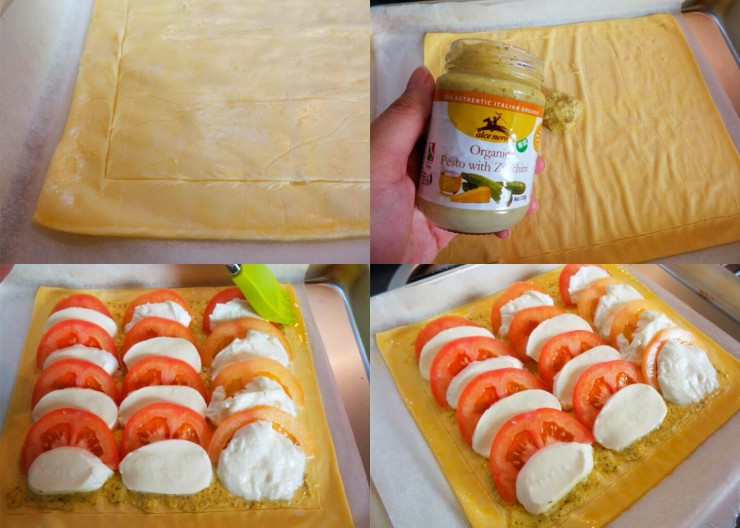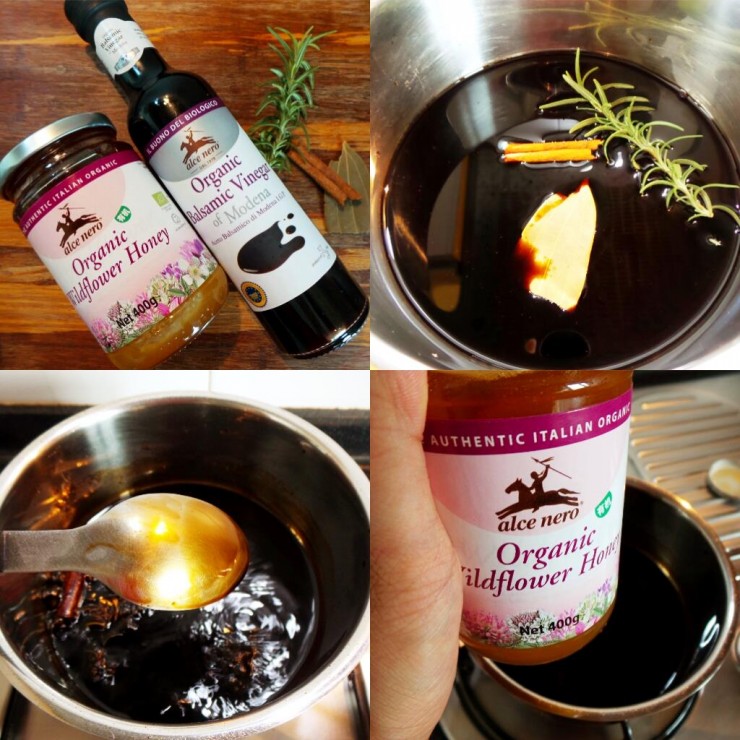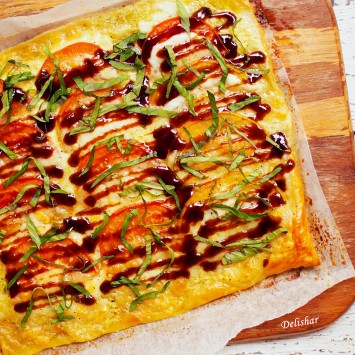 Caprese Tart
Ingredients
Caprese Tart
1

sheet frozen puff pastry

thawed

1

large beef tomato

sliced

1

mozzarella buffalo

sliced

2-3

heaping tsp pesto sauce

Handful of fresh basil leaves

Egg wash

Olive oil

Salt and pepper to taste

Honey balsamic glaze to dress
Honey Balsamic Glaze (makes about 1/2 cup)
1

cup

balsamic vinegar

1/3

cup

honey

or to taste

1

spring rosemary

1/2

stick cinnamon

1

bay leaf
Instructions
Caprese Tart
Preheat oven to 200C.

Prepare puff pastry by scoring the outer edge (about 1/2 inch) of the pastry.

Careful not to cut through.

Apply pesto sauce on top of puff pastry, leaving the outer corners clean.

Place tomato and mozzarella buffalo in alternate layers on inner part of the puff pastry, leaving the scored outer side as the border.

Drizzle some olive oil over the tomato and mozzarella.

Season with salt and pepper to taste.

Brush the sides of the puff pastry with egg wash.

Bake for 20 minutes or until puff pastry is golden

Drizzle with balsamic glaze to dress.

And scatter fresh basil on top before serving.
Honey Balsamic Glaze
Place balsamic vinegar, rosemary, and bay leaf in a heavy bottom saucepan.

Bring to simmer over low heat and allow to reduce for 15 minutes or until it coats the back of the spoon.

Stir in honey, until combined.

Remove bay leaf and rosemary.

Allow to cool.

As it cools it will thicken.
Notes
If you do not want your cheese to brown slightly like mine.
Bake your puff pastry first for the first 10 minutes, without any toppings.
Then add your toppings and bake for another 10 minutes.