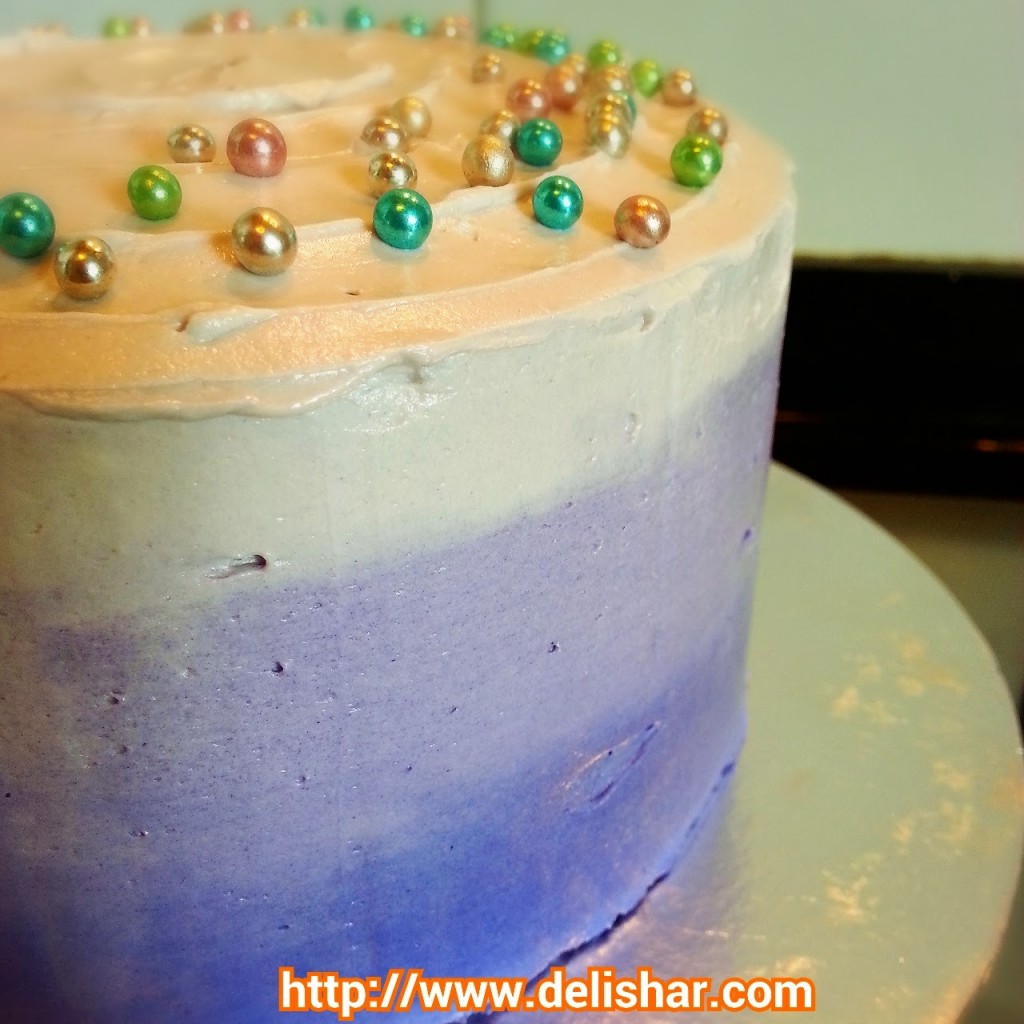 We celebrated by mum's big 6o just over a week ago. Time seems to fly by so quickly! In a short few years my mum has been 'promoted' to a grandma status, and now she is awaiting her 6th grandchild! I wanted to bake my mum a cake, but I also wanted something that needs a little more effort, something special. And since it's her 60th birthday, I thought a 6 layer cake will be appropriate. At first I was contemplating if I should bake her a red velvet cake because that's her favourite/lucky colour. But then I decided on purple, simply because to me, purple is the colour of love and passion. Mum is always a very loving person, although she shows it in sometimes odd (and often very funny) ways. She's a character and super friendly too! Any of my friends who have met her before love her! She has always been very very patient to us, extremely giving, and immensely forgiving. The amount of grief that I've given her during my much younger days was a true test of love, and she showed me once and again that she love us unconditionally. Mum has always been a loving & passionate person. She's very passionate about her interest in Feng Shui and Numerology, and is hoping to finally pursue it when she retires in the next 2 years. I can go on and on about how resilient and wonderful this woman is but it will take me days! So let's get down to the recipe shall we?
This is a 6 inches 6 layer vanilla cake with Vanilla Swiss Meringue Buttercream. I used the same recipe for the buttercream that I did for my Salted Caramel Filled Cupcakes. 1/2 of the recipe will be enough to frost this cake. You can freeze the excess or double this cake recipe to make a 9 inch cake. The husband said this is going on his list of favourite cake, and thinks that I may have out done myself compared to my Chocolate Zucchini Cake which I made for my birthday a month ago. This is definitely a much richer cake compared to the healthy chocolate cake, and I have to say much prettier too. If you are not into ombre cakes, simply tint the cake in shades of a rainbow, frost it with plain buttercream frosting and decorate with colourful sprinkles, and you got yourself a rainbow cake!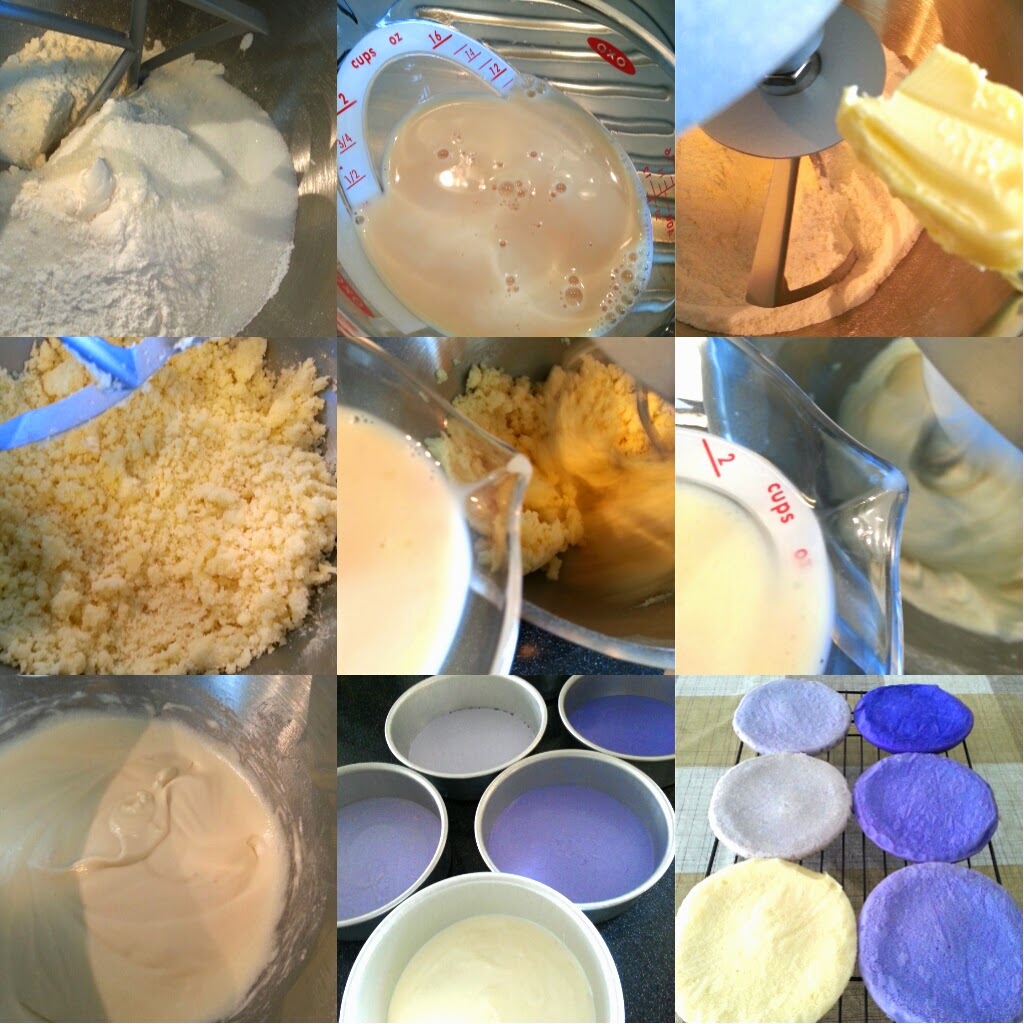 Ingredients (6 inch x 6 layer cake) adapted from cakemerchant
1 & 1/2 cups cake flour
2 & 1/2 tsp baking powder
3/4 cup castor sugar
1/2 tsp salt
2/3 cup buttermilk
4 large egg whites, room temp
1 tbsp vanilla extract
1/2 cup unsalted butter, cut into 1 inch cubes
Purple gel food colouring (I used wilton food gel)
Vanilla Swiss Meringue Buttercream (half of the recipe will be enough)
Preheat the oven to 175C.
Grease 6 x 6-inch tins and line the bottoms with parchment paper. (You may have to bake in batches if you do not have 6 tins)
In a measuring cup, whisk together the buttermilk, egg whites, and vanilla extract until combined, then set aside.
In your mixing bowl whisk to combine the flour, baking powder, sugar, and salt for about 30 seconds.
Add the butter to your dry ingredients, one cube at a time on low speed.
Continue mixing until the mixture resembles moist crumbs.
Add 2/3 of your wet ingredients into the crumbs and beat on medium speed for about 90 seconds.
Then add the rest of the wet ingredients and beat for another 20 seconds on medium speed.
Scrape down the sides of the bowl with a spatula and beat for another 30 seconds.
Divide the batter equally into 6 bowls and tint with gel colouring to get different shades of purple.
Pour each prepared batter into each tin and smooth the top.
Bake for 12-15 mins or until a toothpick inserted into the center of the cake comes out clean.
Allow the cakes to cool in the pans for 10 minutes on wire racks.
Turn the cakes out of the pans, remove baking paper, and allow cake to cool completely on wire racks before frosting.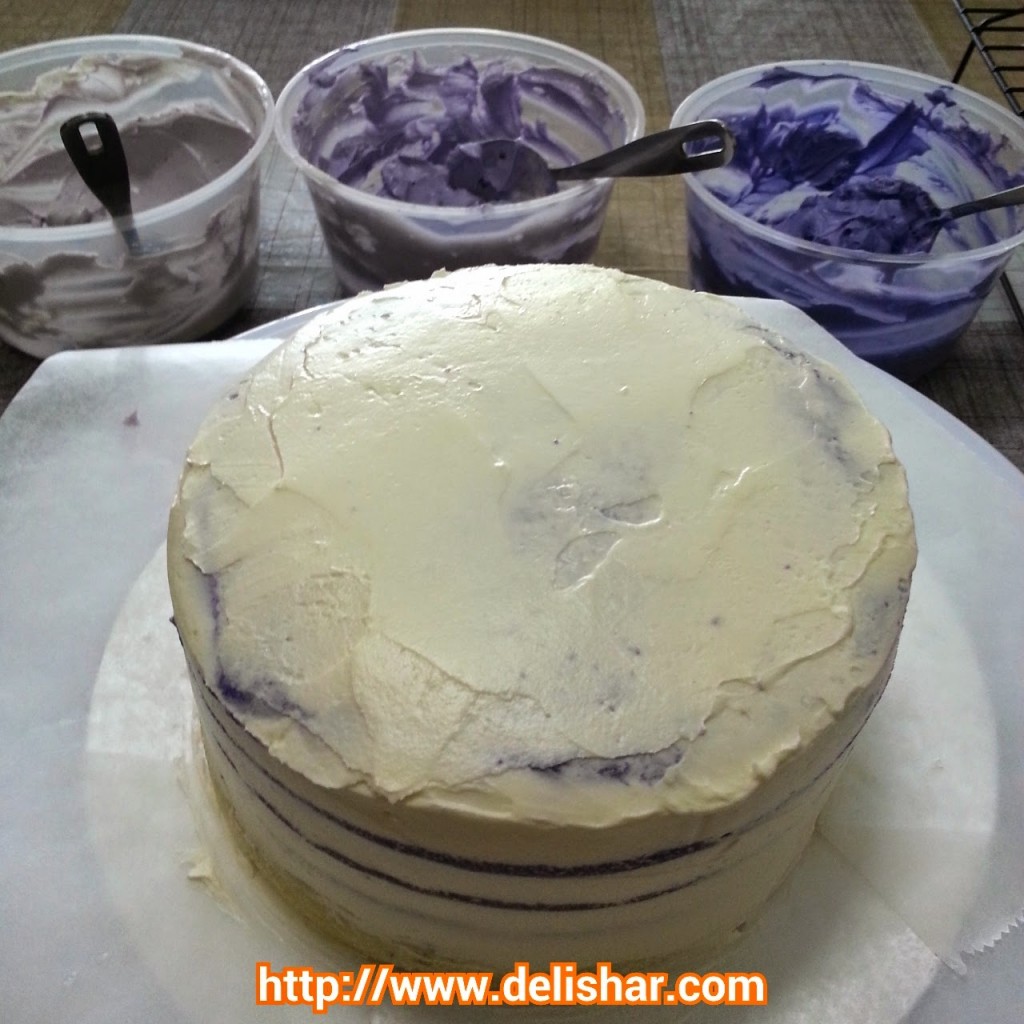 Assemble the cake to your preference of hue (light to dark or dark to light) applying a thin layer of frosting on each layer.
Crumb coat the entire cake with a thin layer of frosting.
Chill cake for at least 30 minutes.
Meanwhile divide frosting into 4 bowls, one of the bowl will need more frosting to cover the top of the cake.
Tint each portion of frosting with gel food colouring to desired shade.
Start frosting your cake.
Working your way from the bottom up.
Click on this VIDEO or this VIDEO to learn how to frost an ombre cake.
Decorate with your choice of sprinkles/pearlies.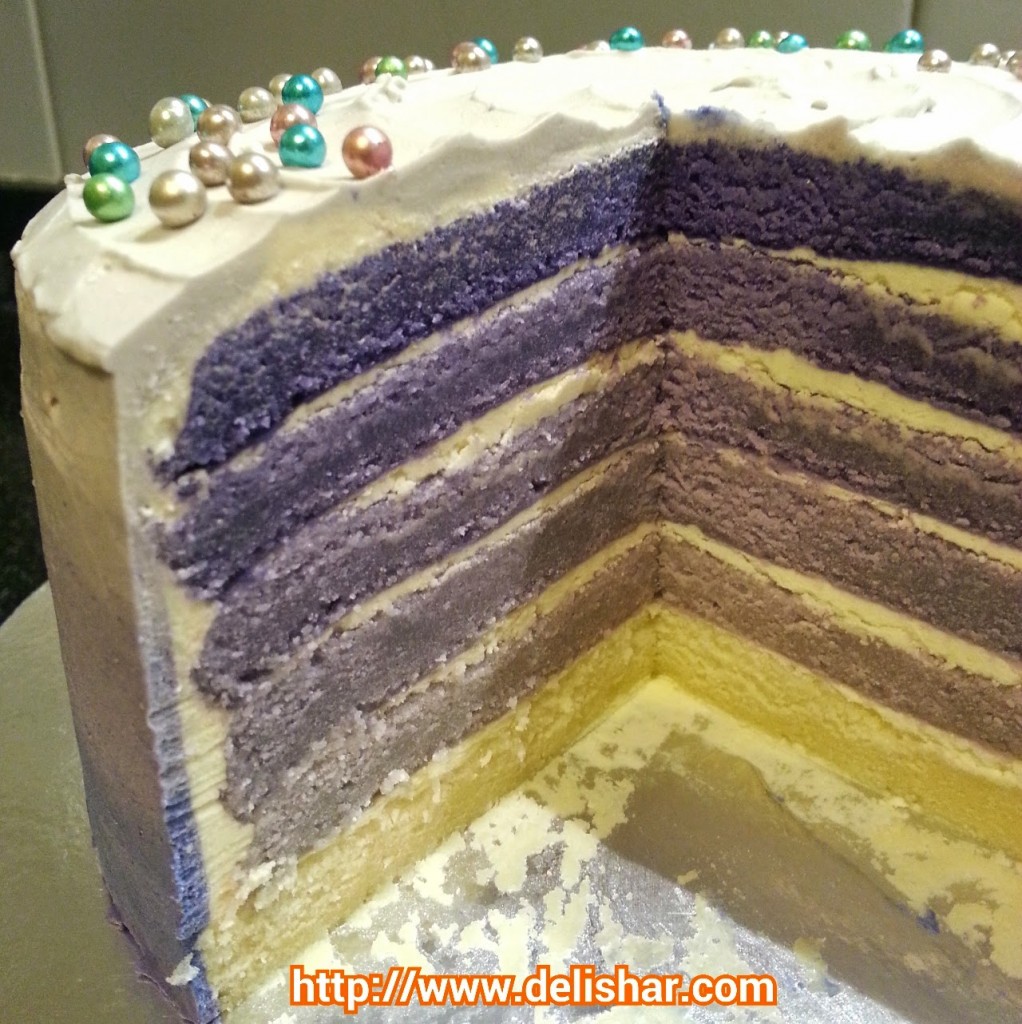 Here is a picture of the cross section.
Bon appetit!!