I've always wanted to make chicken biryani. So when I was flipping through a gluten-free cookbook and saw it, I sprung into action. Rummaged through my pantry and found all the ingredients I need! Lucky me!
I use Pacific foods organic free-range chicken broth which is gluten-free and perfect for this recipe. You can use any chicken broth if you are not planning to make a gf version.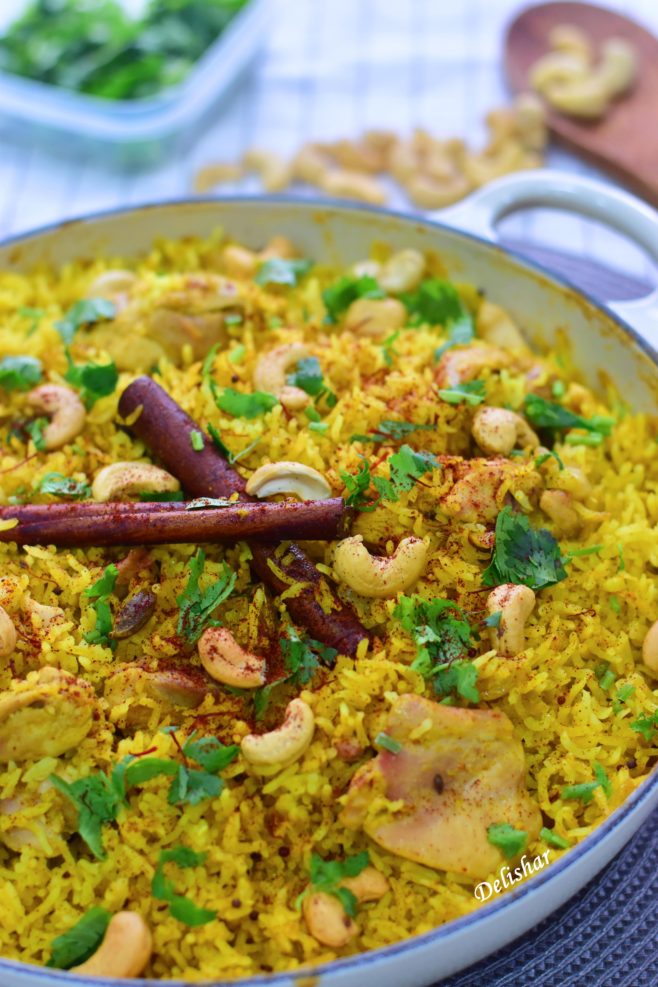 It's really simple to make if you have all the dry ingredients that are. Although, you can easily purchase all the spices from supermarkets or wet markets. Since it is a one pot, cleaning up is a breeze. Use a ziplock bag to marinate the chicken the night before for maximum flavour. If you love warm spices and deep flavours, you will enjoy this recipe.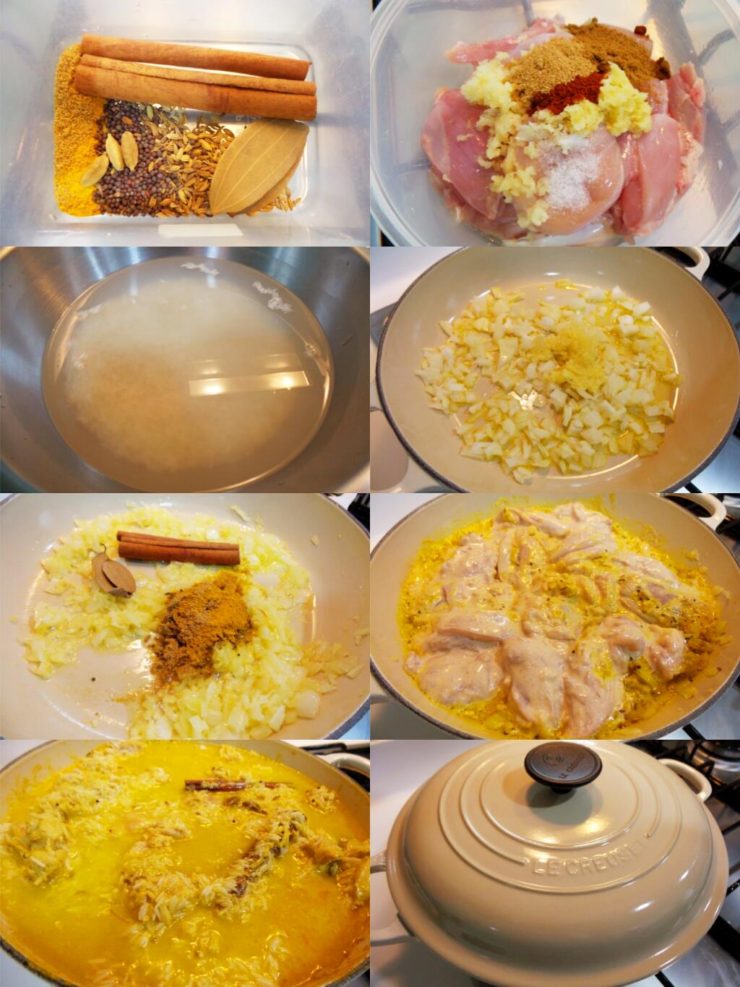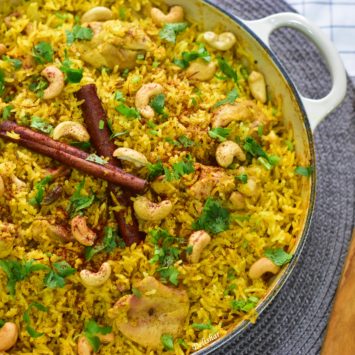 One Pot Chicken Briyani
2017-01-16 22:57:13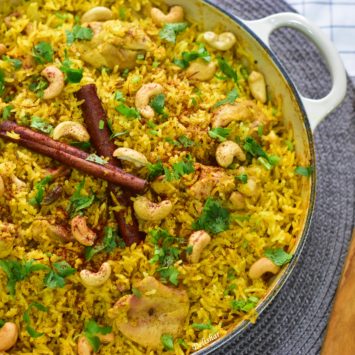 Serves 4
Chicken Marinade
500g boneless & skinless chicken thighs, quartered
200ml coconut milk
1 tsp coriander powder
1 tsp paprika
1 tsp cumin
1 tbsp (10g) grated garlic
1 tbsp (10g) grated ginger
1 tbsp (15ml) lemon juice
1/2 tsp salt
1/4 tsp black pepper
Briyani
2 cups (400g) basmati rice
3 tbsp (45ml) ghee
1/2 cup (75g) shallots, chopped
1 tbsp (10g) ginger, grated
1 tbsp (10g) garlic, grated
1/2 tsp turmeric powder
1 1/2 tsp coriander powder
2 tsp cumin seeds
1 tsp mustard seeds
3 cardamom pods, lightly crushed
2 bay leaves
1/4 tsp salt
2 cinnamon sticks
1 1/2 cup (345ml) chicken stock
Pinch of saffron
Garnish
1/4 cup (10g) cilantro, chopped
1/4 cup (30g) cashew nuts, roasted
Instructions
Combine all the ingredients of chicken marinade into a ziplock bag to marinate overnight.
Preheat oven to 190C.
Soak basmati rice for 30 minutes, and drain.
Steep saffron in chicken broth.
Melt ghee in French oven buffet/braiser over medium heat.
Add shallots, ginger, and garlic to saute for a minute.
Then add turmeric, coriander, mustard seeds, cumin seeds, cardamom, bay leaves, cinnamon sticks, and salt. Saute until fragrant, about 5 minutes.
Add chicken pieces and marinade into the pan, and cook for 2-3 minutes on each side.
Add basmati rice, toss to combine, and pour in chicken stock.
Bring to a simmer, turn off heat, cover, and transfer to oven to cook for 30 minutes.
Halfway through, give the rice a mix.
Garnish with cilantro and roasted cashew nuts.
Adapted from One Pot Paleo
Adapted from One Pot Paleo
Delishar | Singapore Cooking, Recipe, and Food Blog http://delishar.com/