I cannot tell you how much I have fell in love with Alce Nero's Organic Mixed Berries Jam! A week ago, I shared with you my Jam Filled Chia Muffins. Soon after I baked and tasted those lovely muffins with naturally sweeten jam oozing out from it's core. I wanted to get back into the kitchen again to whip something up with that delicious jar of molten jewel! I've been spreading it on wholemeal bread for a quick morning bite before I rush out for work. Knowing that it was made only with the best organic berries with no added sugar, it made me feel great about starting my day out with such goodness!
I had half a tub of greek yoghurt sitting in my fridge after my helper made my Healthier Crockpot Butter Chicken for our dinner one night. Didn't take me too long to decide on baking a simple yoghurt cake. When yoghurt is involved in baking, you can be certain that the end product is going to be nice and moist.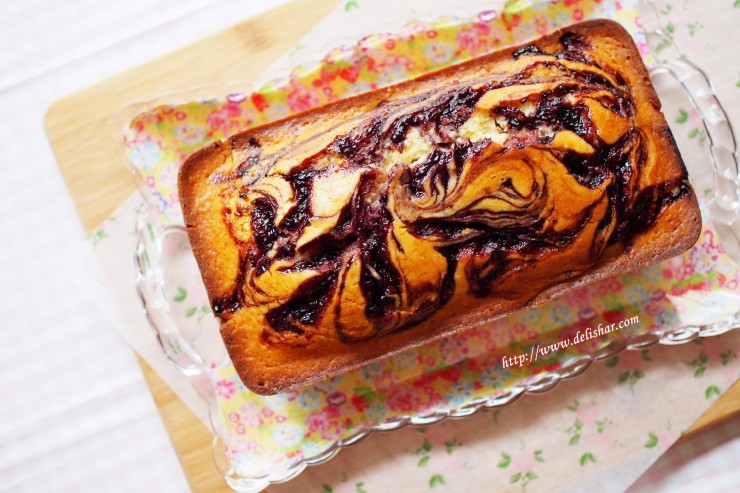 This bake is a pretty simple one bowl bake. It has a very nice texture, kind of a cross between a muffin and loaf/pound cake. The original recipe requires you to rub lemon zest and sugar together in another small bowl. I did it on top of the flour instead, so I didn't have to wash another bowl. Why rub the 2 together? Apparently, it maximizes the citrus flavour of the lemon zest, and at the same time flavours the sugar. Sugar draws out the natural flavour of citrus. Making the end product much more aromatic as compared to one without the rubbing.
I took this cake to work for my co-workers' tea-break snack. It was gone in an hour or so, and I've got really good feedback on this cake. Kept a couple of slices for the family, and my girls came to me requesting for me to make it again. I'd definitely make it again very soon, but I'll try orange zest the next time round.
Don't forget to take part in the Chinese New Year 2016 S$500 Paypal Cash Giveaway! Click to go to GIVEAWAY PAGE and complete the rafflecopter widget at the end of the post!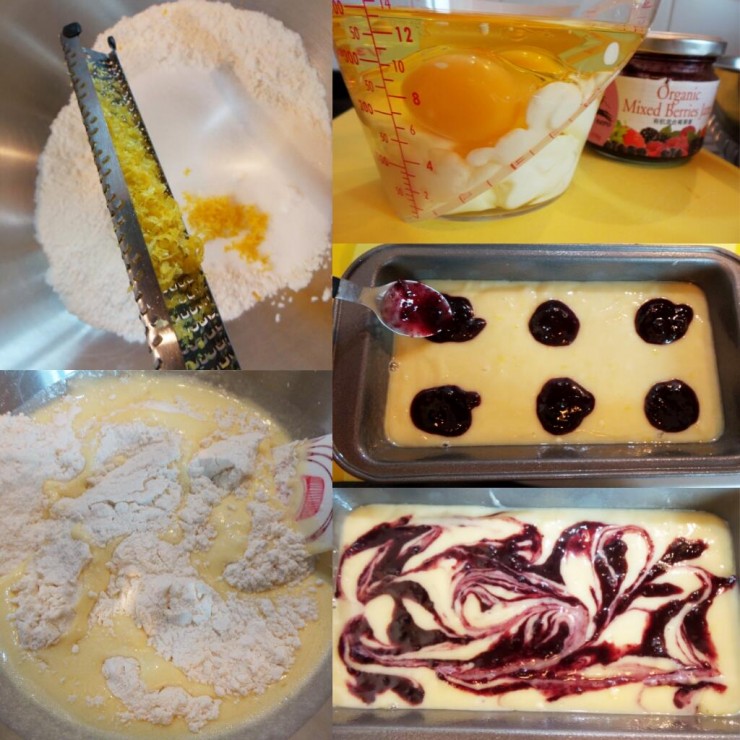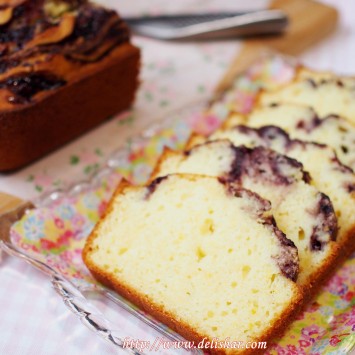 Jam Swirled French Yoghurt Cake
Makes a 9x5 loaf pan
Ingredients
1 1/2

cups

192g all-purpose flour

2

tsp

baking powder

1/4

tsp

salt

2/3

cup

134g sugar

1

tbsp

finely grated lemon zest

3/4

cup

214g Greek yoghurt

1/2

cup

112g vegetable oil

2

large eggs

1/2

tsp

vanilla extract

6

heaping tsp

or more Alce Nero Organic Mixed Berries Jam
Instructions
Preheat oven to 180°C.

Spray pan with non-stick baking spray. (I used PAM)

Whisk flour, baking powder, and salt in mixing bowl.

Add sugar and lemon zest into mixing bowl.

Use fingers to rub together most of the sugar with lemon zest, until sugar is moist.

Add yogurt, oil, eggs, and vanilla extract in measuring cup.

Whisk to blend.

Then fold in wet ingredients to dry ingredients, until just combined.

Pour batter into prepared pan and smooth top.

Drop dollops of jam on top of batter.

Use a skewer or back of knife to create swirls.

Bake until top of cake is golden brown or until a skewer inserted into center comes out clean, about 50–55 minutes.

Let cake cool in pan on a wire rack for 15 minutes.

Then de-mould and allow to cool completely on wire rack.