Bacon wrapped stuffed chicken with homemade roasted red pepper sauce, served along side crispy baked potatoes, and sauteed baby beans. If I have to rank the meals we had while we were doing Whole30, this has got to be in the Top 5. A steep competition with 40 Cloves Chicken and The Best Chicken Cobb Salad. It requires quite a bit of work, but all that effort was well worth it. There are 4 recipes required to put together this meal. I'll be skipping the baby beans recipe, and sharing the other 3 recipes in this post.
The potatoes were the best baked potatoes I've ever made. That step of fluffing the potatoes before baking it was just genius. My girls who aren't fans of baked potatoes could not get enough of it after I coaxed them to try one. They said, "Mmmm, mom… I like these chippies.", while they try to fight daddy for the few extras on the tray.
You can purchase ready made roasted pepper. But it's tough to find compliant ones. Plus a bottle could easily set you back about $8, as compared to $1.30 for a fresh red pepper. Just let it roast on top of the flame while I got the other ingredients ready. Rotate it every now and then to get an even char. Give it time for the pepper to cool in the ziplock bag. This will make the removal of skin much easier.
Don't even get me started on that bacon wrapped stuffed chicken. I mean, it's wrapped in BACON! How can it not be delicious?! HOW?! Plus mushrooms in the stuffing? Salivating yet? hehe Don't skip the step of pounding out the chicken. It ensures that the chicken breast remains tender while it cooks. And facilitates even cooking when the chicken is of equal thickness. Plus it's always easier to have more surface area when stuffing it.
Serve the chicken with the red pepper sauce, and crispy potatoes with some greens of your choice. I served mine with sauteed baby beans with garlic salt, onion powder, and black pepper. Let's get cooking.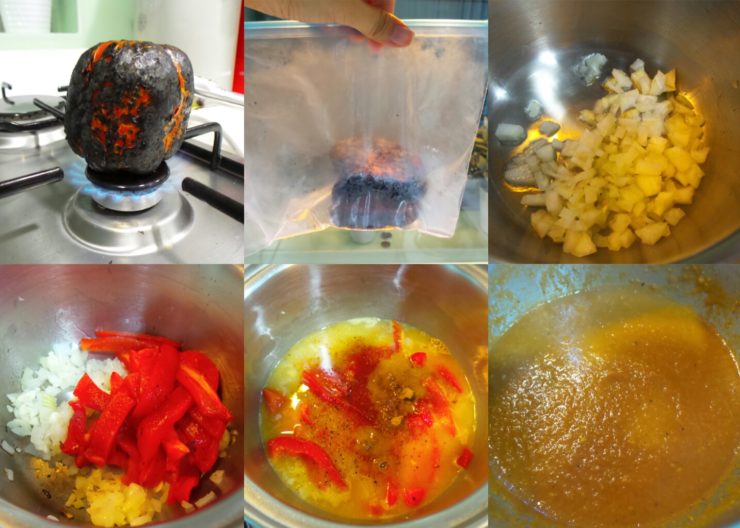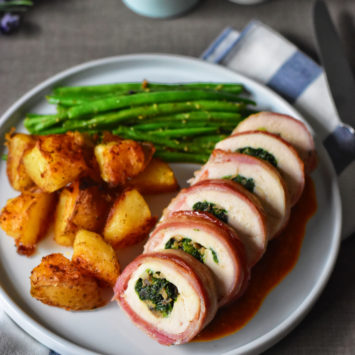 Roasted Curried Red Pepper Sauce
Ingredients
1

red pepper

½

cup

chicken broth

1

tsp

curry powder

1

tsp

carob powder

Salt and pepper

¼

yellow onion

2

cloves

garlic

smashed

1

tsp

olive oil
Instructions
Make sauce by placing red pepper directly over the burner and char skin all over.

Place the charred pepper in a food safe zip lock, seal, and allow to cool.

When cooled, peel off charred skin, do not wash it! You will be tempted, just wipe it off with a paper towel if needed. The skin should come off quite easily.

Remove the core and seed, and discard it.

Chop pepper into smaller pieces.

In a saucepan over medium high heat and olive oil, saute onion and smashed garlic until onion is soft and translucent.

Add roasted pepper and cook for a minute.

Pour in stock, curry powder, salt and pepper.

Bring to boil, and allow to simmer on low heat for 5 minutes.

Then blend with immersion blender or transfer to blender to blend until smooth.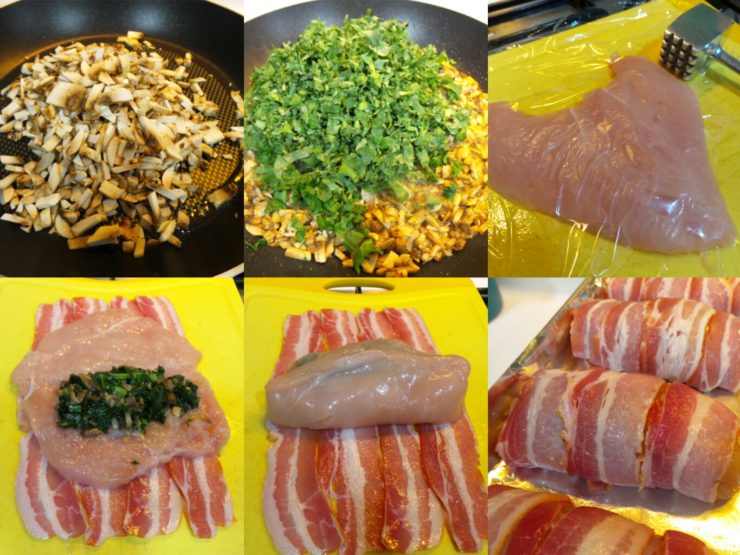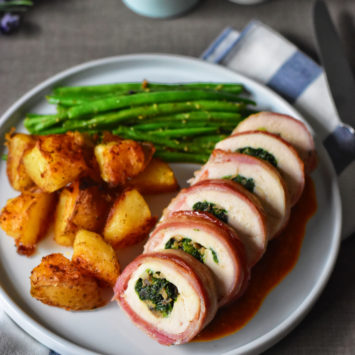 Bacon Wrapped Stuffed Chicken + Crispy Potatoes
Whole30 approved
Ingredients
Filling
3

cups

chopped kale

2

cups

chopped button mushrooms

200g

½

tsp

garlic salt

1

tsp

onion powder

Black pepper

1

tbsp

ghee

2

tsp

olive oil
Chicken Breast
4

chicken breast

12

– 16 strips of bacon

about 3-4 each breast
Crispy Potatoes
3

russet potatoes

cubed

Salt and pepper

2

tbsp

olive oil
Instructions
Bacon Wrapped Stuffed Chicken
Preheat oven to 200C

In a pan over medium high heat with 1 tbsp ghee and 2 tsp olive oil, saute mushrooms until slightly brown.

Add kale, season with garlic salt, onion powder, and black pepper.

Saute until kale has wilted, remove from heat and allow to cool.

Butterfly chicken and flatten with meat mallet.

Place 3-4 strips of bacon on prepping station, then place flatten chicken on top on the bacon.

Scoop about 3 tbsp of kale filling on the middle of the chicken.

Roll chicken carefully, making sure filling doesn't spill out on the sides.

Then wrap bacon over chicken. Place it on a lined baking tray with the seam side down.

Bake for 25 minutes at 200C.

If needed, broil 2 minutes until bacon is crisp
Crispy Potatoes
Place potatoes into pot with enough water to cover them, and season with salt.

Bring it to a rolling boil, then lower heat to medium, and cook for 2 minutes.

Drain, return potatoes into pot, cover the pot and give it a few good vigorous shakes to fluff up the outside.

Drizzle the olive oil, season with black pepper, and some salt if needed.

Transfer to baking tray and bake single layer, for 1 hour at 200C.
Notes
Feel free to substitute white potatoes for sweet potatoes