Mashed cauliflower as a topping instead of mashed potatoes significantly reduces the total amount of carbohydrates for this dish. It lightens up the normally rich and heavy meal without compromising the comforting aspect associated with it.
That after dinner crash that we are all familiar with? It's not going to hit you as hard as you are used to, I promise. It is probably weird to say, "I feel good about eating this pie!". But with this recipe, you can actually say that and feel the same way as well! The same amount of comfort for half the calories!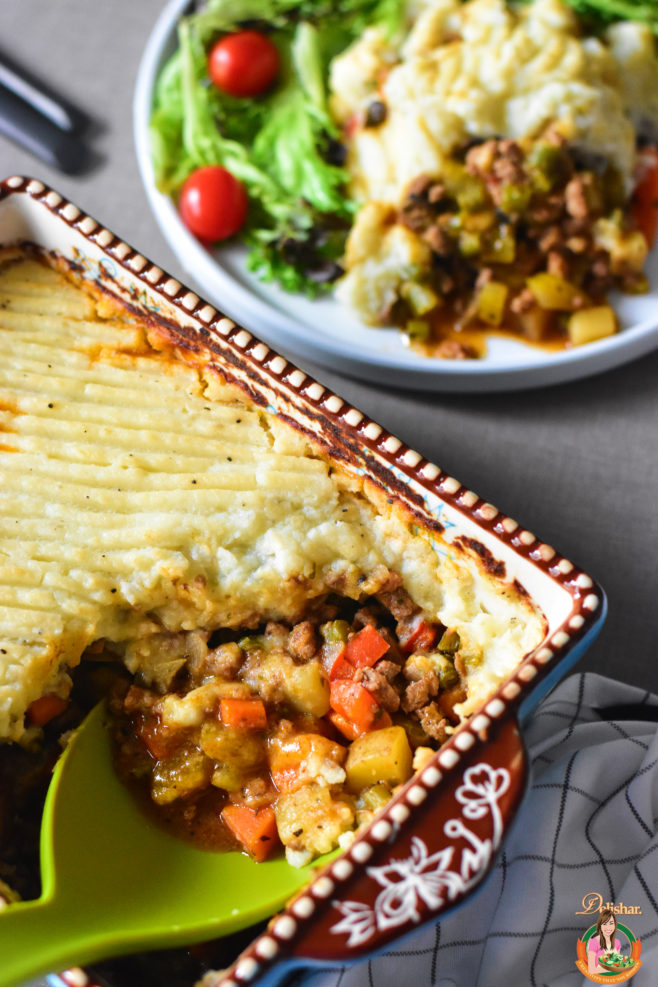 Do you know the difference between a cottage pie and shepherd's pie? A shepherd's pie is made with minced lamb/mutton, and a cottage pie is made with minced beef. However, the term has been used so interchangeably that cottage pie is now more widely known as shepherd's pie. Either name, both are equally delicious.
This recipe is absolutely whole 30 compliant and utterly delicious! Which means it is gluten-free, sugar-free, and grain-free. My girls couldn't tell the difference between this and the regular cottage pie that I usually make. So forget the junky supermarket frozen pie dinners. Make individual portions of this and freeze this instead!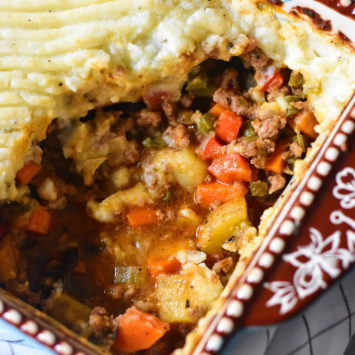 Cottage Pie with Cauliflower Mash
Ingredients
Filling
400

g

ground beef

2

tbsp

olive oil

1

yukon potato

diced

100

g

french beans

diced

1/2

red pepper

diced

1

carrot

diced

1/2

med yellow onion

diced

2

ribs celery

diced

2

cloves

garlic

minced

10

swiss mushrooms

diced

1-1/4

cup

veg or chicken broth

1

tbsp

arrowroot/tapioca flour

3

tbsp

tomato paste

1

tbsp

Italian seasoning

Salt and black pepper to taste
Mash topping
500

g

cauliflower

florets removed

2

cloves

garlic

peeled

Salt and black pepper to taste
Instructions
Preheat oven to 200C.

Bring a pot of salted water to boil, add cauliflower & garlic to cook for 12 minutes until fork tender.

Drain, then season with salt and black pepper.

With an immersion blender, blend cauliflower until smooth and creamy.

Heat oil in pan, and saute potatoes, onion, celery, carrot, and mushrooms until soften. About 8 minutes.

Then add minced garlic, meat, and Italian seasoning to cook until beef is brown.

Stir in tomato paste until combined.

Add arrowroot flour to chicken broth and whisk until combined.

Then slowly add to meat mixture, stirring consistently.

Allow to cook until thickened. Season with salt and black pepper.

Transfer filling to casserole dish, then top with cauliflower mash.

Bake for 30 minutes until bubbly.