What's your favourite Indian food? Personally, it's a tough decision for me. I love Aloo Gobi, Palak Paneer, Mango Chicken, Naan, Pani Puri, Butter Chicken… man, the list goes on and on! However, it seems like a lot of my readers are fans of Aloo Gobi. So this recipe is specially made for you! Click for IG cooking video highlight of this delicious dish.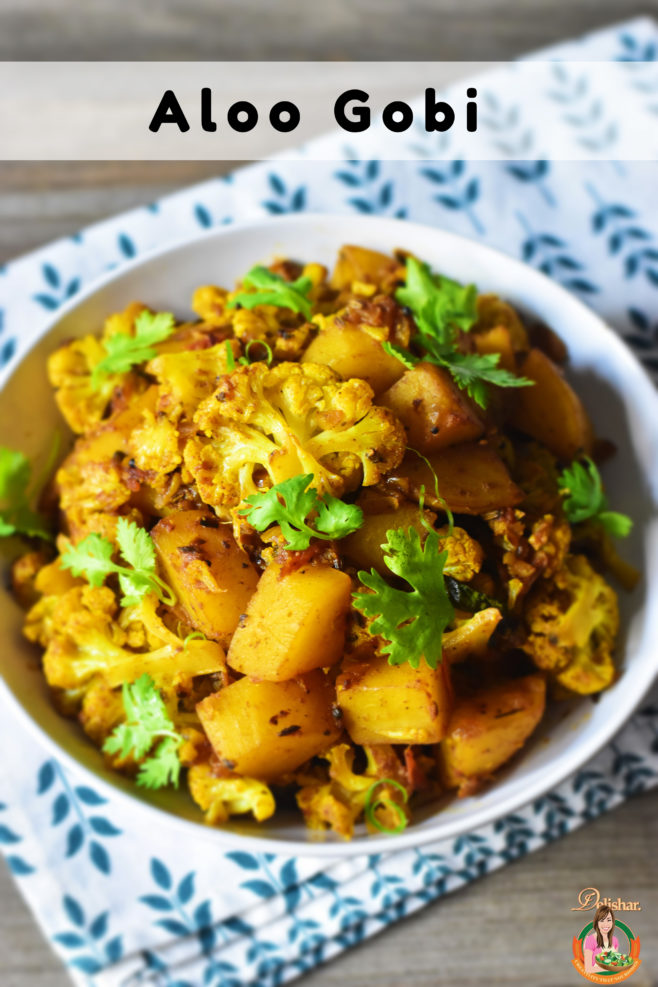 My family and I frequent an Indian restaurant in town for their delicious food every now and then. But my little ones have a hard time with the spices (spicy) even after the chef tried to tone it down. Making it at home allows me to control the spice level to suit my girls' tolerance. This recipe allows you to omit the chillis but still get the warm flavours of the dish. Add or reduce as much of the chilli as you wish.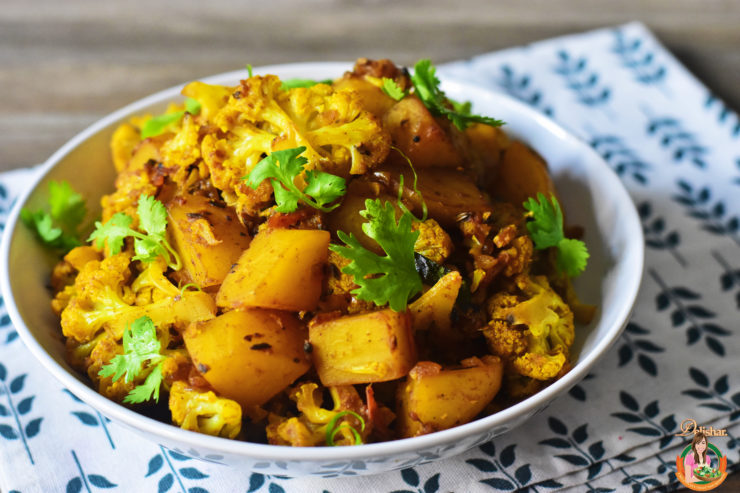 It's no surprise why a lot of you love this dish. Tender cauliflower & potatoes engulfed in warm savoury spices. It's a flavour explosion with every single bite. It's a great dish to pair with basmati rice or saffron rice! Click for IG cooking video highlight of this delicious dish. Here's the recipe.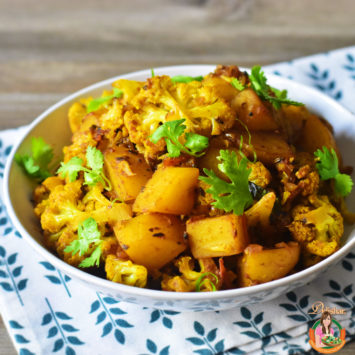 Aloo Gobi (Gluten-free)
Ingredients
2

potatoes

cubed

350

g-400g cauliflower florets

1 to

mato

diced

1

small yellow onion

diced

2

tsp

grated garlic

2

tsp

grated ginger

1

tsp

dried fenugreek leaves

Methi leaves

3

tbsp

ghee

1/4

cup

water
Whole spices
1

tsp

cumin seeds

1/2

tsp

mustard seeds

15

curry leaves
Spice mix
1

tsp

paprika powder

1

tsp

turmeric powder

1

tsp

chilli powder

1/2

tsp

coriander powder

1/4 to 1/2

tsp

chilli powder

optional

1/2

tsp

garam masala

1

tsp

salt
Instructions
Melt ghee over medium heat, and add whole spices to pop.

Add onion and cook until soften, then add in tomato.

Continue to cook until you get a chunky paste like consistency.

Turn heat up to medium high, and add in potatoes to fry for 5 minutes.

Add garlic, ginger, spice mix, and cauliflower.

Toss to combine.

Add water, reduce heat to medium, and cover to steam for 8-10 minutes.

Check to make sure bottom not burn. Add water or reduce heat if needed.

Remove cover, add fenugreek leaves, and stir-fry for another 10 minutes until any remaining sauce is dry and vegetables are tender.

Remove from heat, garnish and serve.