Bought a bunch of thyme and had so much left in my fridge. Froze some for use later, made some thyme tea to drink, and used some for this recipe. I wanted to make Creamy Chicken with Asparagus, but couldn't find any asparagus at my local grocery store. However, broccolini was on offer so I bought some to substitute for asparagus.
My girls call it the skinny broccoli. They are big fan or broccoli, but they have this weird habit of eating the buds and leaving the trunks. However, they will eat broccolini whole. Buds, trunks, stems, stalk, or whatever the girls call it.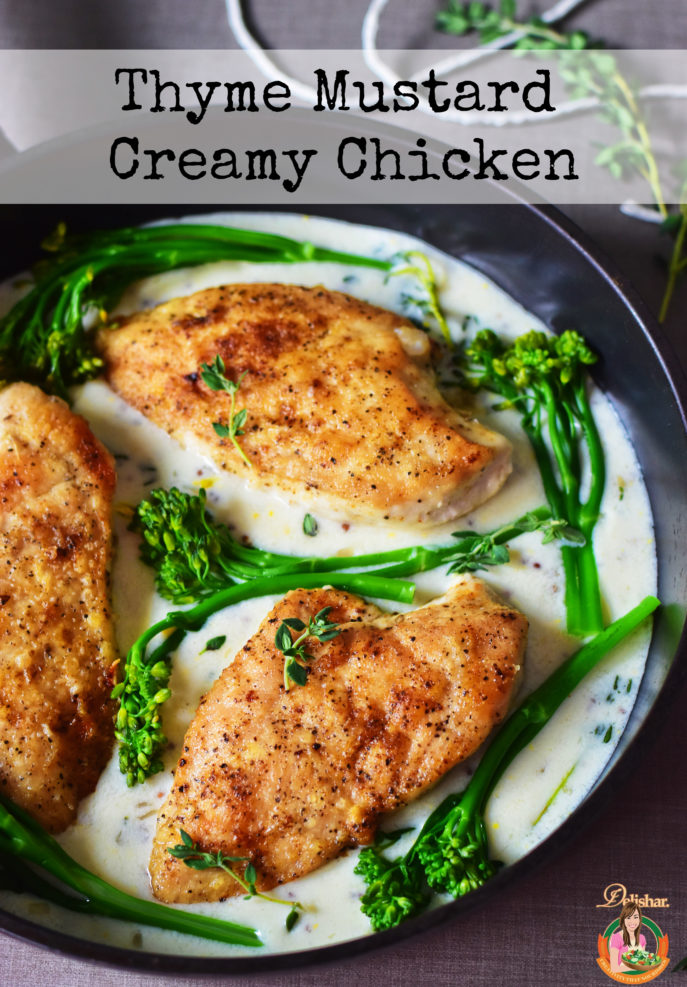 Since I've already made the family a honey mustard pork chop meal a few days ago, I thought I'd make something cream based. I kept it gluten-free by using tapioca flour instead of regular flour to dredge the chicken breasts. Served with sweet potato mash for the husband and I. The girls had it with gluten-free penne pasta tossed in the glorious creamy sauce. Feel free to use regular all purpose flour if you don't mind the gluten.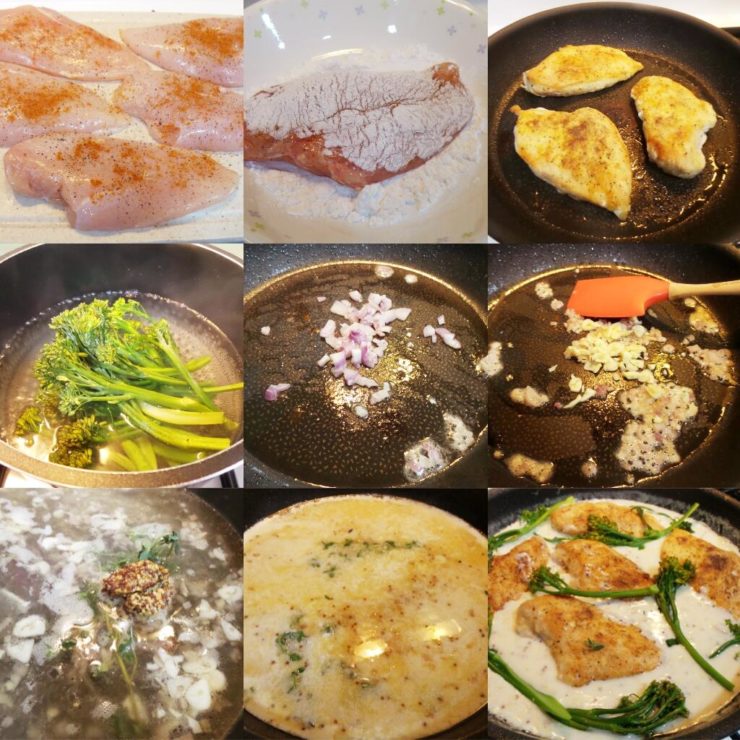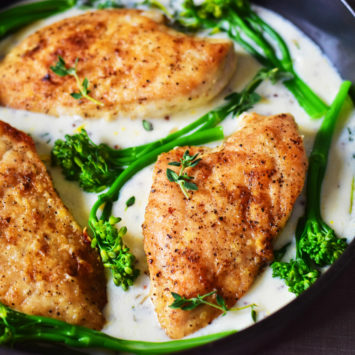 Thyme Mustard Creamy Chicken
Ingredients
4

chicken breasts

skinless

A bundle of broccolini

about 300g

2

tsp

old bay seasoning

62

ml

1/4 cup wine or chicken broth

375

ml

1 1/2 cup chicken broth

200

ml

3/4 cupheavy cream or cooking cream

1/4

cup

tapioca flour

Few sprig of fresh thyme

2

tbsp

whole grain mustard

2

shallot

diced

3

cloves

garlic

minced

Black pepper to taste

4

tbsp

olive oil

Slurry for thickening

2 tbsp tapioca flour + 2 tbsp water, optional
Instructions
Blanch broccolini in salted water for 45-60 seconds.

Drain and set aside.

Season chicken breasts with black pepper and old bay seasoning.

Dredge it in tapioca flour.

Heat pan on medium high heat with olive oil.

Sear chicken until golden brown, about 4 minutes each side, and set aside.

In the same pan, saute shallot until soft, then add garlic to cook for 30 seconds.

Pour in white wine to de-glaze pan, scraping up all the brown bits at the bottom of the pan.

Add in chicken stock and bring to boil, then add mustard and thyme.

Pour in cream, and bring to a simmer, and lower heat.

Allow to simmer for 5 minutes, season with salt and black pepper, then stir in slurry to thicken sauce.

Add chicken back into the pan, cover, and simmer on low heat for 5 minutes.

Remove from heat, and top with blanched broccolini.

Cover and let it sit for 5 minutes before serving. This will help reheat the broccolini.
Notes
Feel free to use regular all-purpose flour instead of tapioca flour.
Tapioca, and arrowroot flour can be used for a gluten-free option.
Adapted from The Food Charlatan