Ingredients
250g minced pork
1-2 small shallot, minced (I omitted, because I did not have any on hand)
2 cloves garlic, minced
2 chili padi, chopped
1 cup of french beans, head and tail removed and cut slanted
Handful of fresh basil, about 1 cup
1 tbsp EVOO/veg oil
Sauce
1 tbsp fish sauce
1 tbsp dark soy sauce
1/2 tsp brown sugar
1/2 tbsp kecap manis
2 tbsp water
Dash of pepper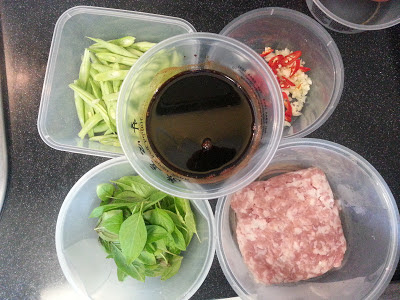 Mix Sauce and put aside.
Heat pan to medium high heat and add 1 tbsp oil.
Stir fry garlic, chili padi, and shallot until fragrant. (You would probably be sneezing at this point)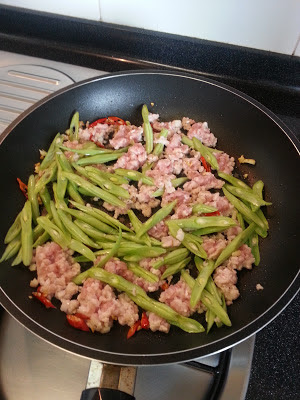 Add pork and french beans together. You can add the french beans after the pork is browned if you like it to be more raw.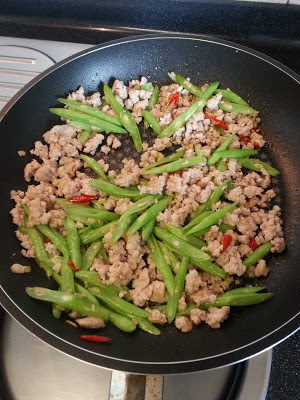 At this point, add your sauce
When the sauce has been absorbed by the meat and beans, add 2 tbsp of water and let it simmer for 1-2 minutes.
Turn off fire and toss in your fresh basil.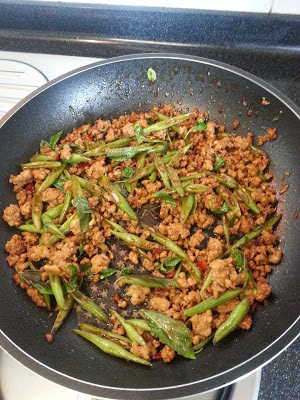 It should look wilted like this.
Serve with steam rice, fried egg, and a wedge of lime.
Make it kid friendly by omitting the chili padi.
Bon appetit!