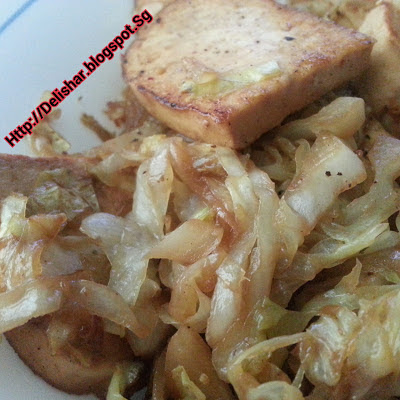 This is what lunch is really like for me when I'm only cooking for myself. Nothing fancy, although I try to eat healthier. Today I opted for a low-carb lunch that I whipped up in about 10 mins. Did you know that cabbage is packed full of nutrients? You can read about it here.
Ingredients (Serves 1):
2 cups cabbage, thinly slice / shredded
1/4 small yellow onion, thinly sliced
1/2 a tau kwa/ firm tofu, sliced in to 1/4 inch thickness
About 1 tbsp EVOO
1 tsp mirin*
1 tsp rice vinegar*
1 1/2 tsp light soy sauce*
1 tsp kecap manis* (optional, you can use dark soy)
1/2 tsp brown sugar*
Or you can use store bought yakisoba sauce.
Directions:


Mix ingredients marked * for sauce base.
Heat non-stick frying pan (I used my HCP) on med high with EVOO.
Fry onion, and tau kwa browning each side.
Add cabbage, stirfry for a minute then add sauce.
Continue stirfrying until cabbage is soft.
Serve with garnish of your choice.
Maybe next time I will try using zucchini as my 'noodle'!
Bon appetit!!