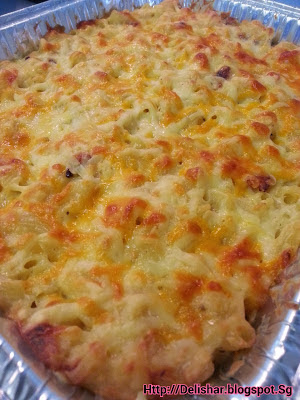 I don't think there is a need to introduce Mac & Cheese do I? An easy, filling, and popular meal worldwide that is great for parties, and a hit with the kids (and adults too). But believe it or not, this is actually the first time I've ever made, and ate mac and cheese. In my honest opinion, I liked it better before it was baked. I found that baking it made it drier, but maybe that's just a personal preference.
Recipe adapted from: Martha's mac and cheese
Ingredients (Serves 12)
500g macaroni, cooked in salted water till al dente
8 slices of bacon, baked and crumbled
5 1/2 cups milk (i used 2%)
1/2 tsp salt (more to taste)
1/2 cup flour
6 tbsp butter
1/4 tsp nutmeg
1/4 tsp black pepper
2 cups white cheddar, shredded
2 cups red cheddar, shredded
2 cups swiss cheese, shredded
Method
Preheat oven to 190C
Get the bacon and cooked macaroni ready.
Mix all the cheese in a big mixing bowl, then reserve 1 1/2 cups for topping later.
Heat milk.
Melt butter over med heat, when bubbling stir in flour cook for a min, stirring frequently.
Slowly whisk in heated milk, until sauce thickened (about 10 mins). Whisk constantly…
Remove from heat, stir in nutmeg, black pepper, season with salt to taste.
Stir in the remaining 4 1/2 cups of mixed cheese.
Then mix in the macaroni and bacon.
Transfer to casserole.
Top with the reserved 1 1/2 cups of cheese.
Bake until cheese starts to turn golden brown. About 25-30 mins.
Serve.
Bon appetit!!