A friend of mine, tagged me on a Milo Mille Crepe video that inspired me to create this gorgeous piece of beauty! It wasn't an easy one I have to admit. It took me about 2.5 hours of standing to cook the crepes layer by layer and assemble 30 layers of paper thin crepes.
I'm sure with more practice and using 2 pans, you will be able to complete it in a shorter period of time. I used fresh cream to fill the layers between each crepe. Reviews from friends were fantastic, and I'm really really glad they enjoyed it. They said that it was different, light, and they liked it that it wasn't overly sweet. It's a pretty tall cake, so cutting it into thinner slices per portion will be helpful. This cake can easily serve 10-15 pax. Oh did I also mentioned that the kids loved it?!
I'm dedicating this cake to the LGBT community. You people are one of the most sincere people I've known and loved. Keep being who you are, because you rock!
In a large mixing bowl, beat eggs until combined.
Then add sugar, warm milk, butter, and vanilla extract.
Mix well!
In another bowl whisk salt, cake flour, and plain flour together.
Whisk in your flour mixture in 3 parts. Make sure there is no lumps.
Pour the batter through a sieve to remove any lumps. (optional)
Divide batter into 6 equal portions. (5 x 1/4 cup)
And dye with food colouring until desired colour contrast.
Cover and chill for at least 1 hour. You can make it 24 hours before.
Chilling relaxes the gulten to make the crepes more pliable.
Remember to stir before use!
Heat 8″ pan on Med heat.
Lightly brush or use a paper towel to coat pan base with butter to prevent sticking.
Pour 1/4 cup of batter into pan while swirling.
Watch video demo.
When the sides starts to dry up a little as shown above.
It's done. There is no need to flip it, the crepes cook through fine like that.
Carefully release the sides with a spatula, and flip it out on a cooling rack.
You can leave the rest of the ready made crepes to cool or chill it covered until ready to use.
Whip cream till thicken, then gradually add in powdered sugar, and vanilla extract.
Whip until firm, it should hold its shape and not fall out when you turn it upside down.
Take part of the cream out for layering and keep the other chilled.
Top up when needed.
Lay one crepe on cake board, then spread a thin later of cream on top of the crepe.
Lay another crepe on top of the cream.
Try to lay it as straight as possible.
Continue with layering each crepe with cream then crepe.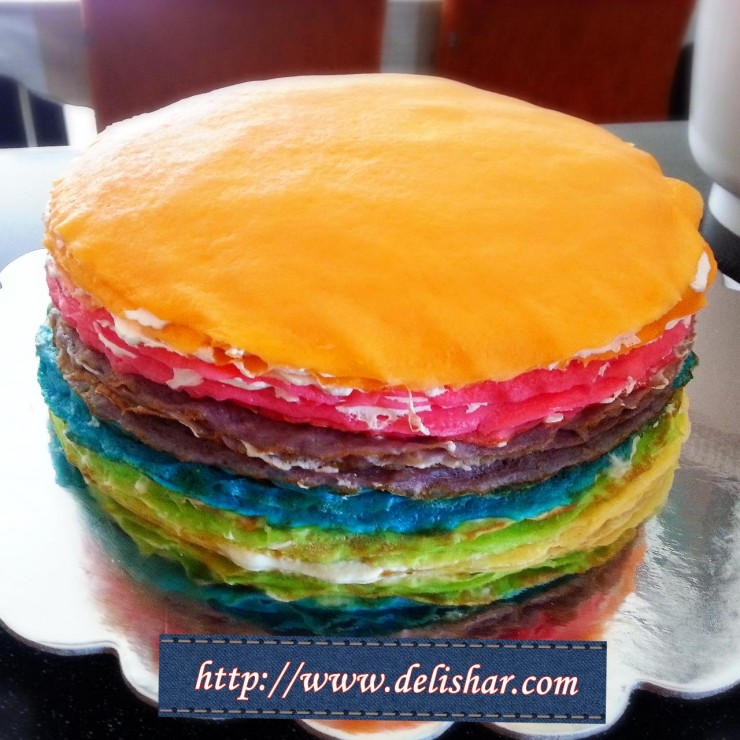 Top with last piece of crepe.
At this point you can chill for at least 4 hours, or serve it as it is.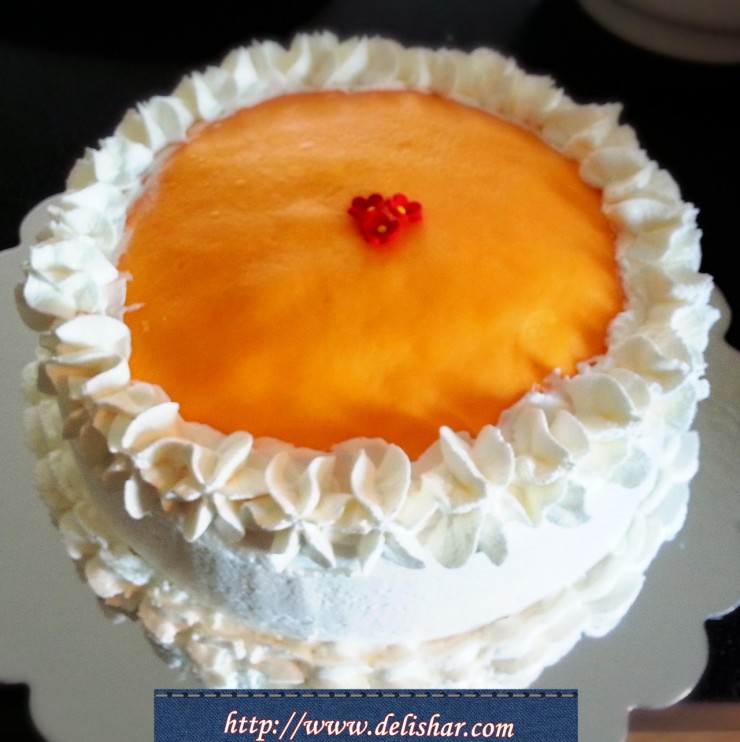 I had extra cream that I didn't want to go to waste so I frosted the sides of the cake and piped in very simple stars and shell borders. Remember to chill it. The cream soften quite quickly in room temp. Chilling it makes it easier to cut. You will need a VERY sharp knife to make clean cuts. No sawing or using a serrated knife. I cut it into quarters then 3 portions per quarter. Then enjoy the beautiful rainbow layers!