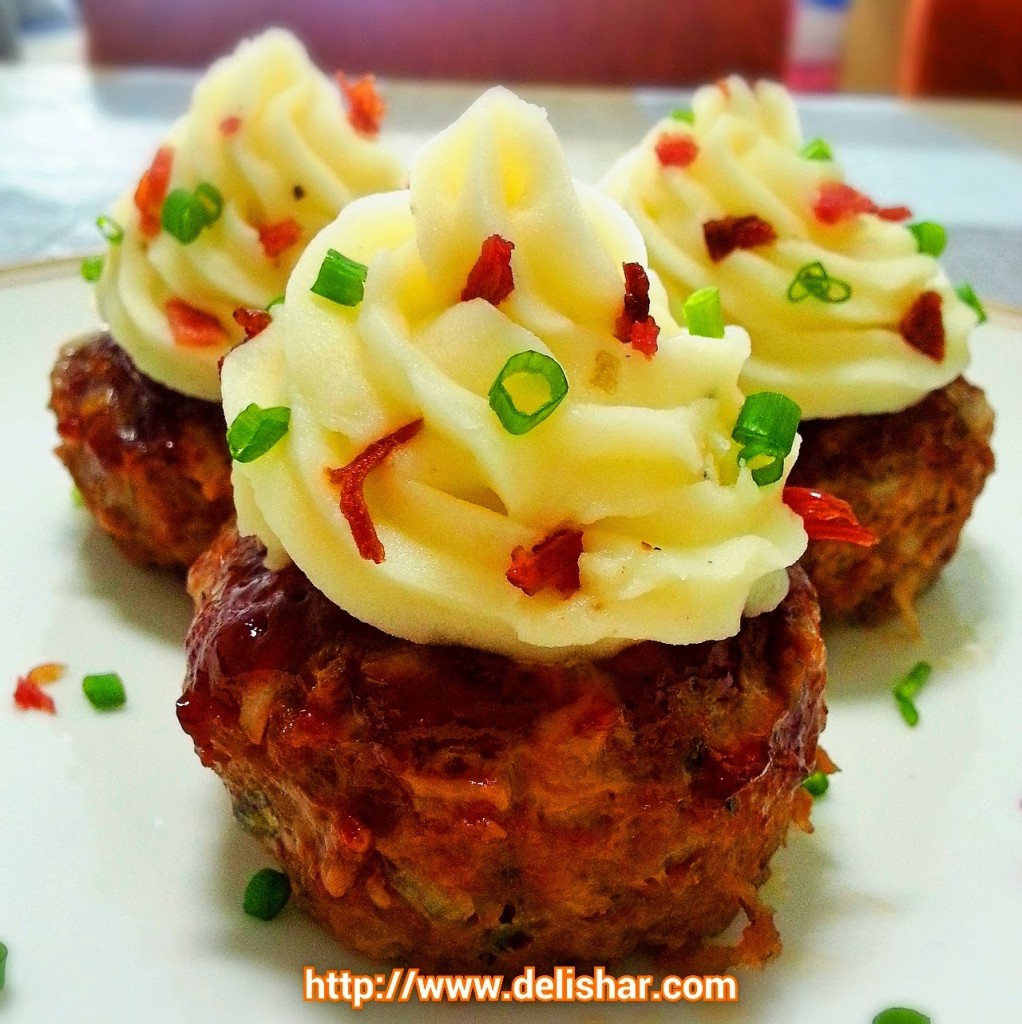 I'm so excited to share this dish with you! They were amazing, gorgeous, fun to make, and so simple! Even my picky 3 year old was going "Mmmmm Mmmm Mmmmm" throughout her whole meal, she wolfed down her dinner really quickly given that she usually takes about an hour to finish her food, and asked for seconds! The meat was moist and tender, and it paired nicely with the creamy mashed potatoes. I used my Sweet Baby Ray's BBQ sauce just to make sure it is ultra delicious! This is a sure fire method to get the kids all pumped up for their meals. Don't forget to serve it up with a good portion of greens! I served mine with mixed salad for the adults, and blanched broccoli for the kids.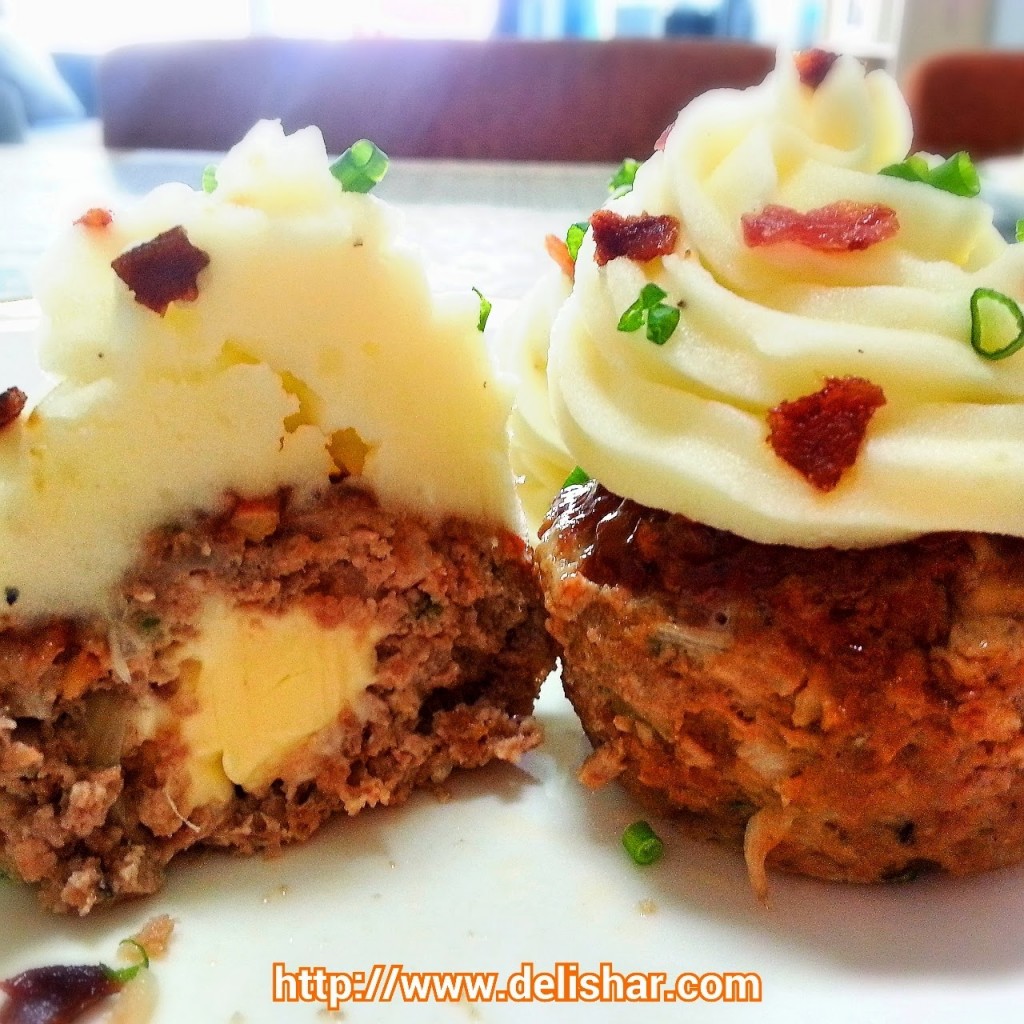 I stuffed my meatloaf with cheddar cheese, you can use any kind of cheese, or even cream cheese. Next time, I will use mozzarella, or Monterey Jack cheese for that extra ooze effect!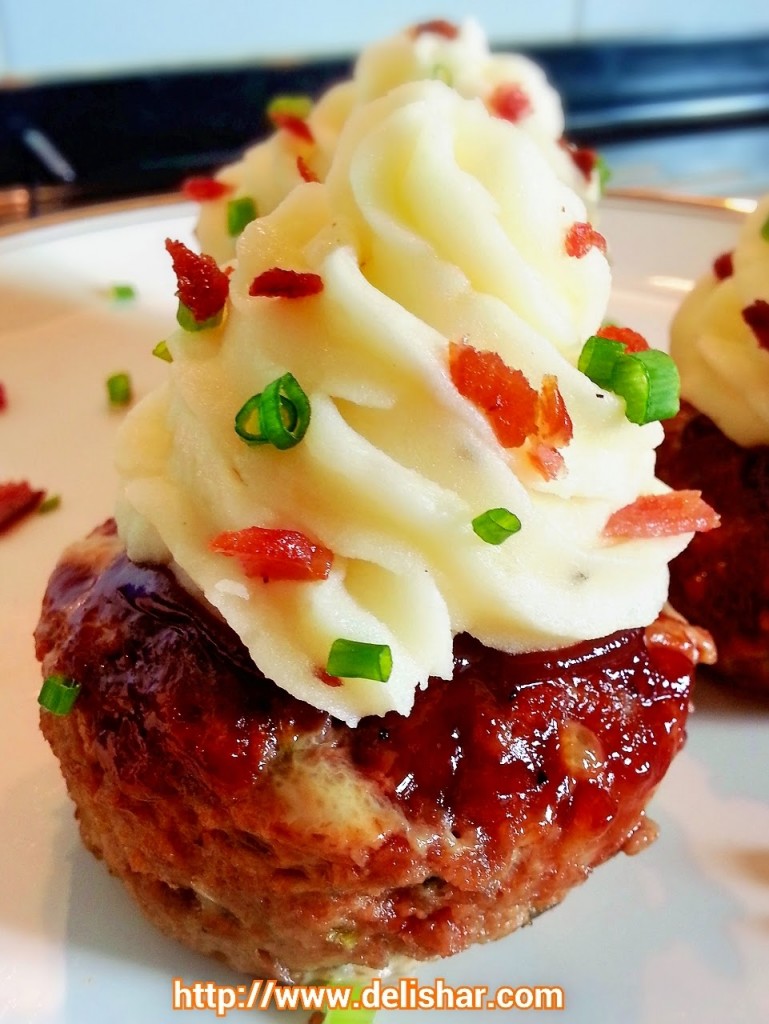 I can't get enough of how pretty it looks! That glaze was just amazing! Remember to use your favourite BBQ sauce too! I can't wait to make them again and again and again, because it only took me 40 minutes from start to finish! For a healthier twist, use sweet potatoes instead of regular potatoes.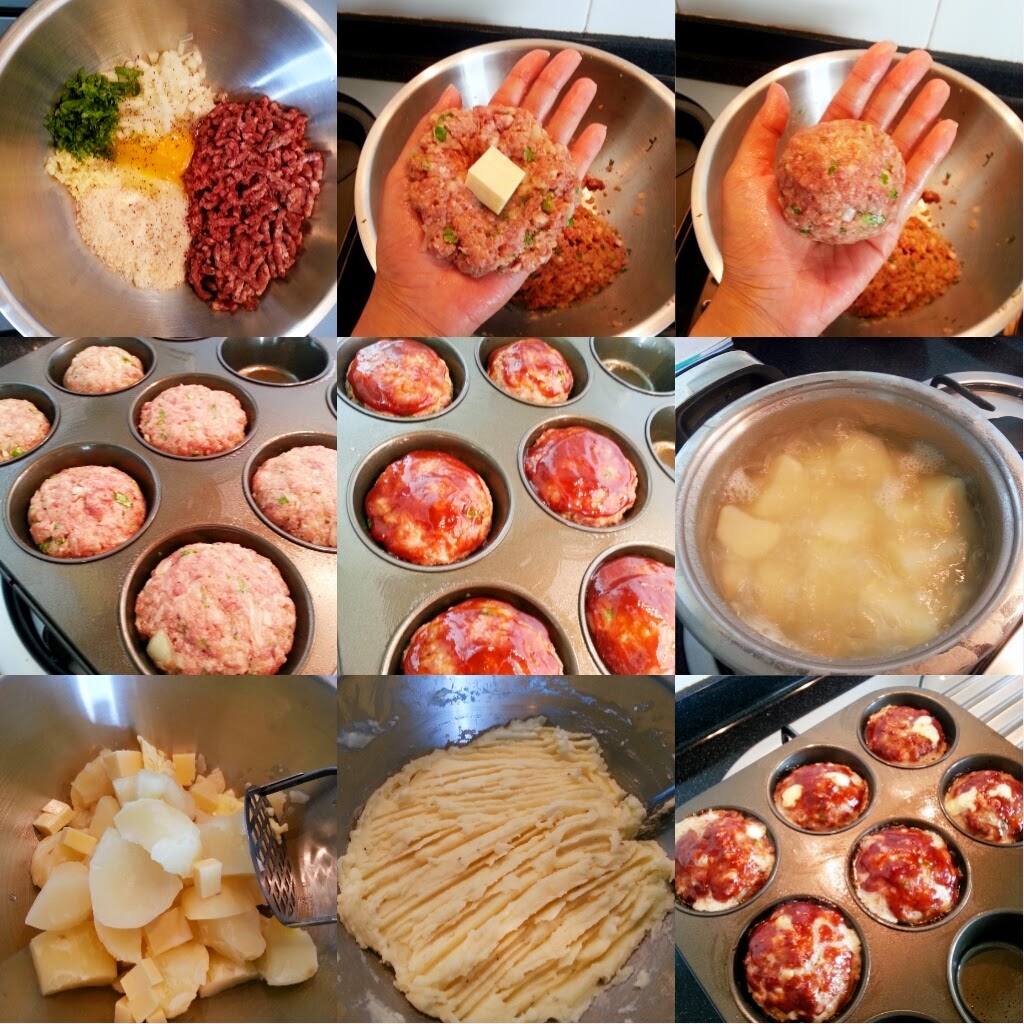 Ingredients (Serves 3)
300g minced beef
1/2 cup bread crumbs
1/4 cup milk
1 egg
2 cloves garlic, minced
1 small yellow onion, finely chopped (about 1/4 cup)
2 tbsp chopped parsley
6 cubes of cheddar cheese, about 2cm cube
6 tbsp BBQ sauce
Salt and pepper to taste
Topping
2 bacon, crisped and crumbled (turkey bacon works too)
2 tbsp chopped spring onions
Mash
4 russet potatoes, peeled & quartered (Better if you can get Yukon potatoes)
2 cloves garlic
3 tbsp butter/margarine
Appox 1/2 cup cold milk
Salt and pepper to taste
Method
Preheat oven to 176C.
Grease your muffin pan.
Meatloaf
Moisten breadcrumbs with milk.
In large bowl add beef, onion, garlic, parsley, egg, moistened breadcrumbs, then season with salt and pepper.
Mix until combined but careful not to over-mix or your meatloaf will be tough.
Divide mixture into 6 portions.
Place one potion in the palm of your hand, shape it into a patty, and indent the middle with your fingers.
Place 1 cube of cheese in the middle, seal up the cheese with the beef, rolling it into a ball.
Place the ball of meat into the muffin pan, and pat it down gently.
Repeat for the other portions.
Spoon 1 tbsp of BBQ sauce on each meatloaf and spread it to glaze meat with the back of a spoon.
Bake for 25 minutes at 176C.
Mashed Potatoes
Boil your potatoes in a pot of salted boiling water for 18 minutes or until potatoes are mashable.
Drain the cooking water completely, add butter, salt and pepper to taste, and 1/4 cup of milk.
Mash, and add additional milk until desired consistency.
Bear in mind that the consistency of the mash needs to be able to hold it's shape when piped.
Assemble
Using a knife, carefully release the sides of the meatloaf.
Use a spoon to lift the cupcake from the pan to serving plate.
Fill a piping bag with a piping nozzle (I used 1M).
'Frost' your meatloaf cupcakes and top with crumbled bacon & spring onions.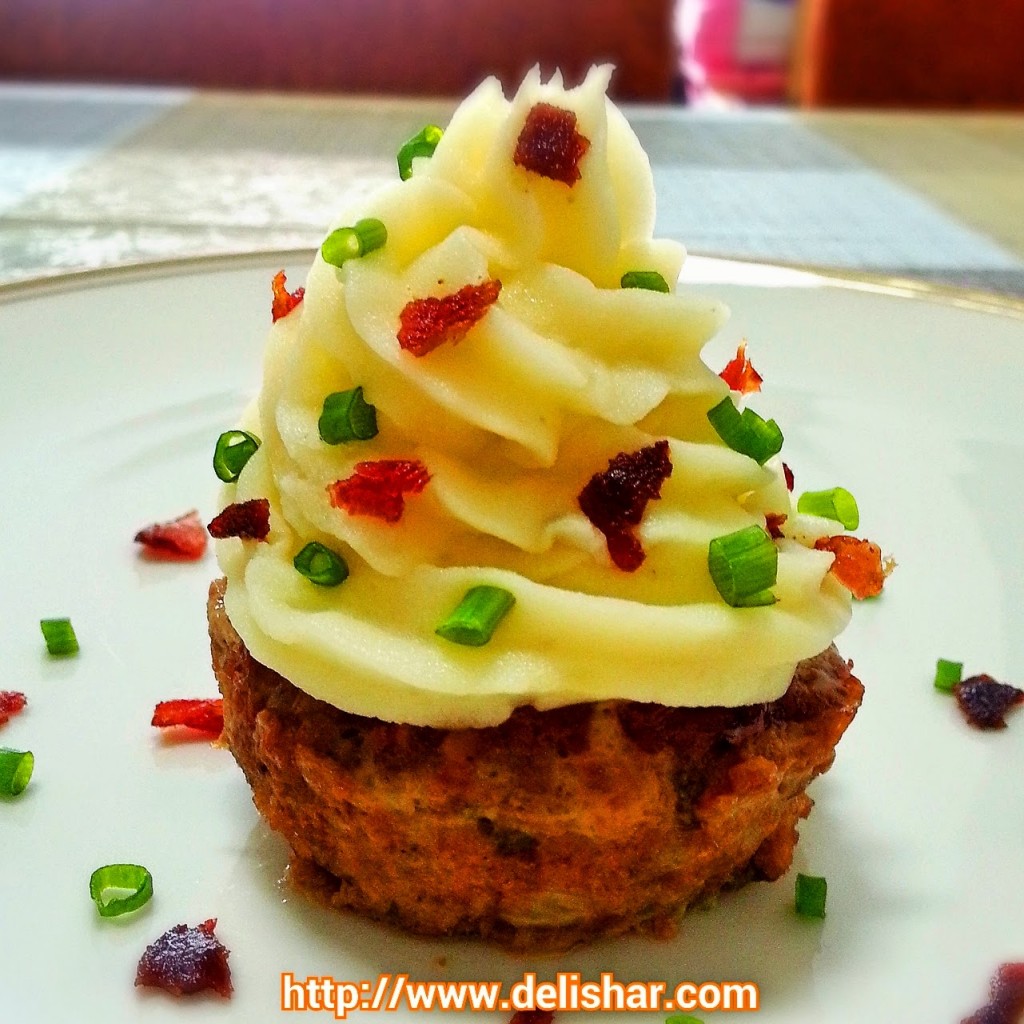 I hope you'll enjoy them as much as we did!
Bon appetit!!