My late grandfather will be very proud of me. This is one of his favourite dish, and he makes it ever so often when he was still around. The smell of the pungent yet aromatic salted fish steaming over a seasoned pork patty evokes many fond memories of my grandfather. I make this whenever I'm feeling a little blue because it makes me feel safe, and it some how comforts me.
Watch me make this dish
HERE
, and share the story behind this dish that is so dear to my heart. I'm very honoured to be able to share this recipe with
My Singapore Food
, a project initiated by Ms Karen Nah to preserve 50 heritage recipes as part of a SG50 campaign.
My Singapore Food
is a very meaningful project as it not only document the 50 different recipes, but also the story behind each recipe. My experience with My Singapore Food was a really memorable one. The crew was awesome (Thank you production crew!! And of course Karen, someone fuelled by her passion for food, who works tirelessly to make this project possible), they were very professional, and they made me very comfortable during the filming.
My auntie makes it a little differently, she likes to mince up the salted fish and mix it in together with the pork. I like to lay the whole piece of salted fish on top of the patty, so that the guest can take as much or as little as they desire. Although laid on top of the patty instead of mixing in together, the minced pork is still infused with the distinct flavours of the salted fish.
Rule of thumb is to use about 10%, the weight of your minced pork to salted fish. Example: 500g pork, use 50g salted fish. If you think the salted fish might be too salty, you can rub some sugar and on the preserved fish and steam it on it's own for about 8 minutes prior to placing it on your pork patty and steaming again. This will help to balance out some of it's saltiness. Serve with steamed white rice.
Don't forget to take part in the current giveaway! Delishar is giving away a Mayer airfryer + baking tin!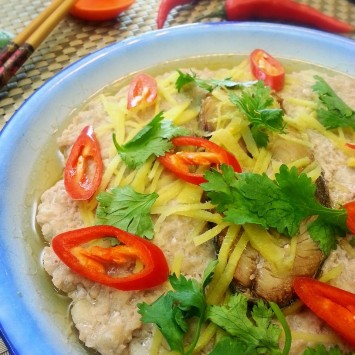 Steamed Pork with Salted Fish (鹹魚蒸肉餅)
Ingredients
Serves 4- 6

50

g

of salted fish

rinsed (use the soft kind)

500

g

minced pork

2

water chestnuts

peeled & roughly minced (Green apple works too)

1

inch

thumb old ginger

julienned

1

tbsp

soy sauce

1 ½

tbsp

shao xing wine

½

tsp

sugar

White pepper to taste

2

tsp

corn flour

2

tsp

sesame oil

Chopped Chinese parsley to garnish

Sliced red chilli to garnish

optional
Instructions
Get your steamer going on high.

In a large mixing bowl, add minced pork, water chestnuts, soy sauce, Shao Xing wine, sugar, white pepper, corn flour, and sesame oil.

Using a pair of chopstick, mix ingredients in one direction until well combined.

Mixing the meat in one direction breaks down the molecules in the protein which causes the meat to bind, produce a springy texture, and the meat will not fall apart when steamed.

Place meat mixture on a stainless steel plate or heat safe plate, creating a slight indentation in the middle, and place the salted fish.

Spread ginger on top of salted fish, and meat.

Steam on high for 15 minutes or until cooked.

This depends on the thickness of your meat. My patty was about an inch in thickness.

Garnish with chopped chilli, and Chinese parsley.

Serve immediately.