It's been a while since we had a nice piece of fish. Lucky for us, we had 2 beautiful fillet of wild Alaskan Halibut from The Alaska Guys, and almost straight away I know we are going to have a really nice dinner.
Not trying to blow my own horn, but quite honestly, everything on the plate was amazing! The quality piece of halibut doesn't need much doctoring up. The gorgeous crispy golden crust was Oh My Yum! That mushroom yuzu butter sauce was out of this world. I secretly wished that I had made more of it.
You can never go wrong with Caprese Salad. Mozzarella balls, fresh basil, and sweet cherry tomatoes drizzled with balsamic vinaigrette. I can eat that every single day!
The pomme puree was a game changer. It was quite a lot of work, but it was well worth the effort. I believe every single mouthful I had, I murmured "Mmmmm…". It was smooth, buttery, rich, creamy, and fluffy, all at the same time. Sounds almost impossible, I know. You have got to try it at least once, please.
This was another one of those dinner, that the husband rewarded me with a big sloppy kiss. His special way of saying "Thank you for the really nice meal". And he usually only does that for meals that he really enjoyed. Putting the fish and sauce together took me about 20 minutes, the salad comes together in 5 minutes. The Pomme puree was the most time consuming, but it was worth it. If you want something simpler, try my garlic mashed potatoes or rosemary mashed cauliflower.
Don't forget to take part in the current giveaway! Win 1kg of wild caught Alaskan Halibut valued at $82! Click here to go to giveaway page.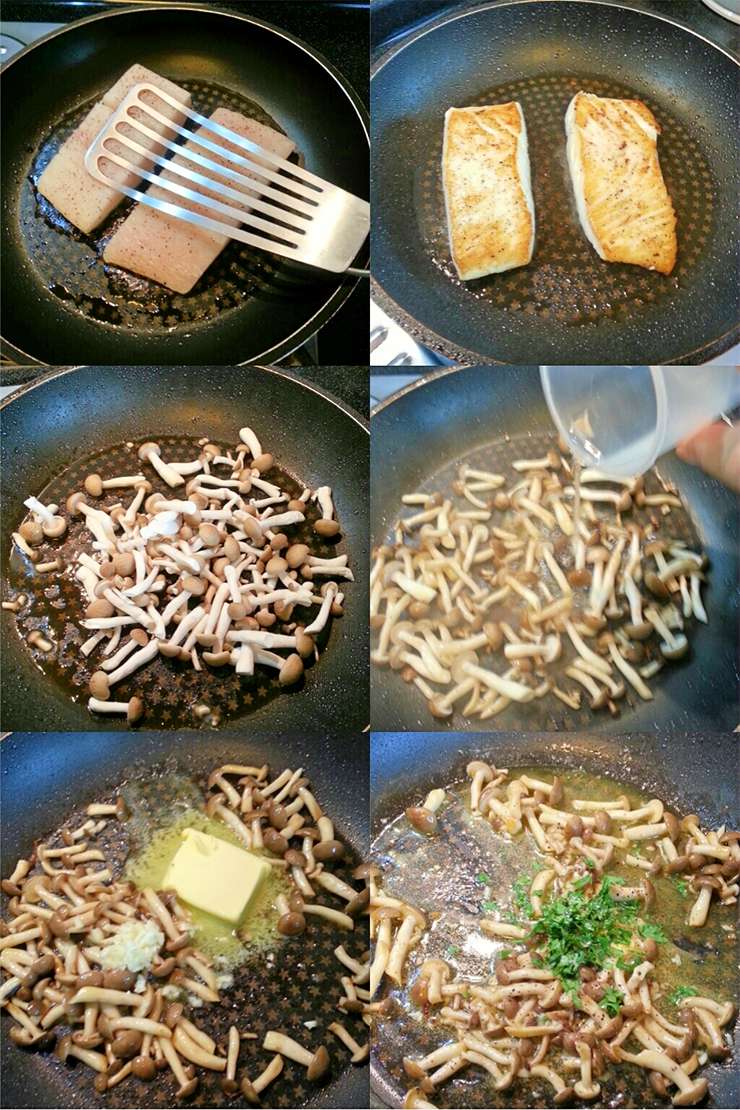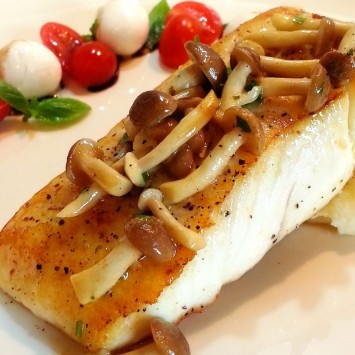 Pan-Seared Halibut
2015-07-20 01:44:56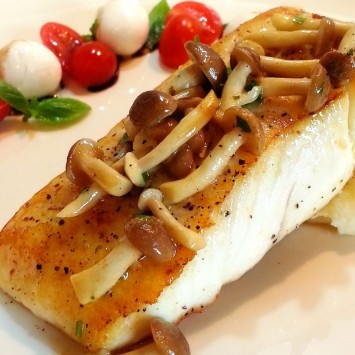 Serves 2
Ingredients
2 pieces of wild halibut fillet (230g each) from TAG
Olive oil or other preferred high smoke point oil.
Salt and pepper to taste
Instructions
Allow thawed fish to stand at room temperature for 15 minutes.
Pat dry both side of the fish to minimise oil splatter.
Season both sides of halibut generously with salt and pepper.
Heat pan on med high, and add oil till about 1/8 inch of side of pan.
When oil is shimmering, add halibut presentation side down.
Hold it down for 30 secs.
Leave it to cook for 4-5 minutes until bottom is golden brown.
So not move the fish, we want a nice sear!
Flip the fillet, reduce heat to med-low, and cook through (about 3 minutes).
Transfer fillet to paper towel to remove some of the excess grease.
Use the same pan for the sauce.
Pour out all but 1 tbsp remaining oil.
Delishar | Singapore Cooking, Recipe, and Food Blog http://delishar.com/