Over the weekend my whole extended family came together for a pot luck lunch at my grandmother's place. Since it was a pot luck, it means I have to make something to bring over. Almost instantly, my mind stated to savour the smell, taste, and texture of this wonderful dessert! If there is ever a day that I have to choose only one dessert to have for the rest of my life, this will be it. It's a no brainer.
There are times when I'm walking into the food court, famished and looking for food. And I happen to walk by the dessert store and see them selling this. I'd head straight for the line, and make this my lunch. I'd gladly have this for breakfast, lunch, dinner, and supper, if I could! That said, this is a very well-loved dessert locally. And this dessert have been on my 'to make' list for a very long time already. So the pot luck give me a reason to make a big ass pot of sticky gooey black glutinous rice pudding.
It was a huge hit! Everyone was going in for 2nd and some 3rd servings. The aunties were asking for recipes! The husband was a little apprehensive to try at first, given that he ain't a huge fan of warm dessert. And being the ang moh, that dark purple almost black looking bowl of goo didn't appeal to him. But being the mostly adventurous (when it comes to food) guy he is, he asked for a bowl to try. I knew this dessert will buy him over, and it did! How can it not?!
Making this bubur pulut hitam requires a little more time as you need to soak the black glutinous rice, preferably overnight. You can shorten to soaking time, but that will mean that you will have to cook it longer. During the hour long cooking, I had to stir every 10 minutes to make sure it doesn't stick to the bottom. Almost like cooking risotto, stir stir stir. However, I assure you that the end result is worth all that extra bit of time.
You will need a big pot for this recipe. I used my 26cm Le Creuset French Oven for 18 servings. Or half the recipe to make a smaller serving. Check out my other pulut hitam recipes: Pulut Hitam Chiffon Cake, Pulut Hitam Ogura Cake.
Don't forget to participate in the current giveaway!! 5 pairs of Each-a-Cup drink vouchers to giveaway! Click HERE for details!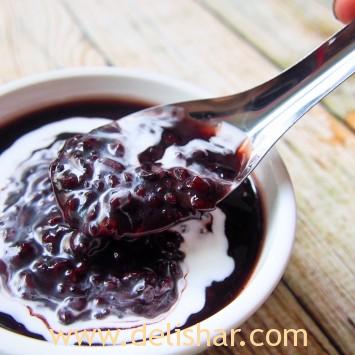 Bubur Pulut Hitam
Ingredients
400

g

black glutinous rice

250

g

gula melaka / palm sugar

shaved

10

cups

water

6

pandan leaves

knotted
Topping
2

cups

coconut cream

1/4

tsp

salt

2

pandan leaves

knotted
Instructions
Rinse glutinous rice, and soak in overnight in a large pot of water.

Drain and add 10 cups of water in the pot with glutinous rice.

Bring to boil, add pandan leaves, and reduce heat to a simmer.

Simmer for about 50 minutes, stirring occasionally making sure bottom doesn't stick.

Add gula melaka, and stir until melted, cooking for another 10 minutes.

Or until rice is soft but still has a chewy bite.

Remove from heat and fish out pandan leaves.
Topping
Heat coconut cream with pandan leaves over low heat.

Stirring as it cooks, do not allow it to boil.

Add salt, and stir until dissolved, and coconut milk thickens.

Remove from heat, discard pandan leaves.

Drizzle over prepared glutinous rice, and serve.