What is it about cream cheese and chocolate that goes so well together? On it's own, they both already won the hearts of many. Put them together, and they are just simply irresistible! Oh, and those pretty swirls atop the cheesecake layer are just so mesmerizing! I can stare at it all day, if I have the time that is.
Sometime back I shared a Red Velvet Cheesecake Brownie, which has always been a hit at all the parties I brought it to. Even my helper has requested for me to make it for her parties a couple of times. This is a richer, more decadent version of the Red Velvet Cheesecake Brownies. It has a denser texture, and definitely loaded with more cocoa goodness as compared to the former.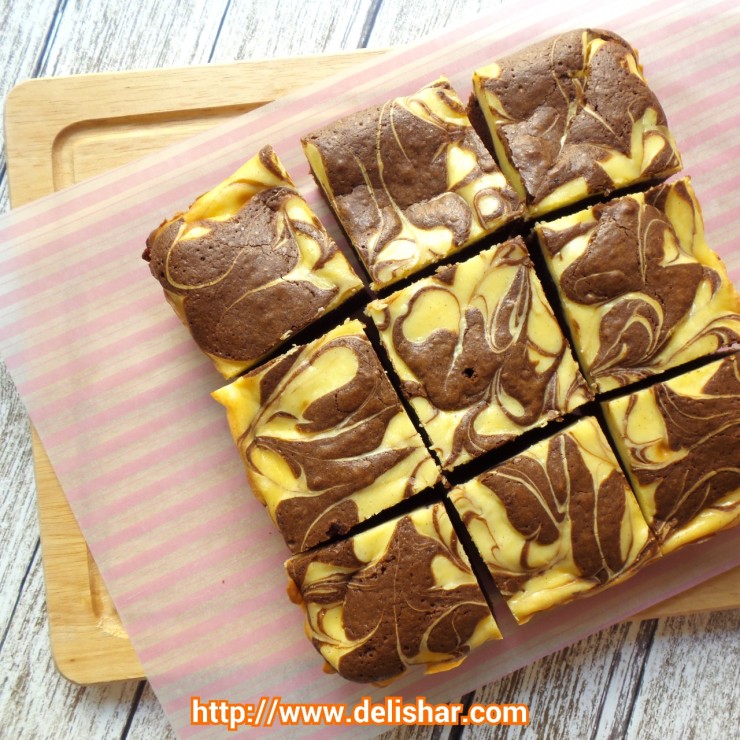 This time round, I baked 2 trays for the husband and I to share with co-workers respectively. Once again, this recipe did not disappoint! It's a relatively easy bake, although the swirling can appear to be tricky. It is better to under-swirl then to over do it. Which is the problem in most cases. I like using the back of a knife to create those swirls, sometimes engaging the help of a toothpick to 'branch' out on some more stubborn batter.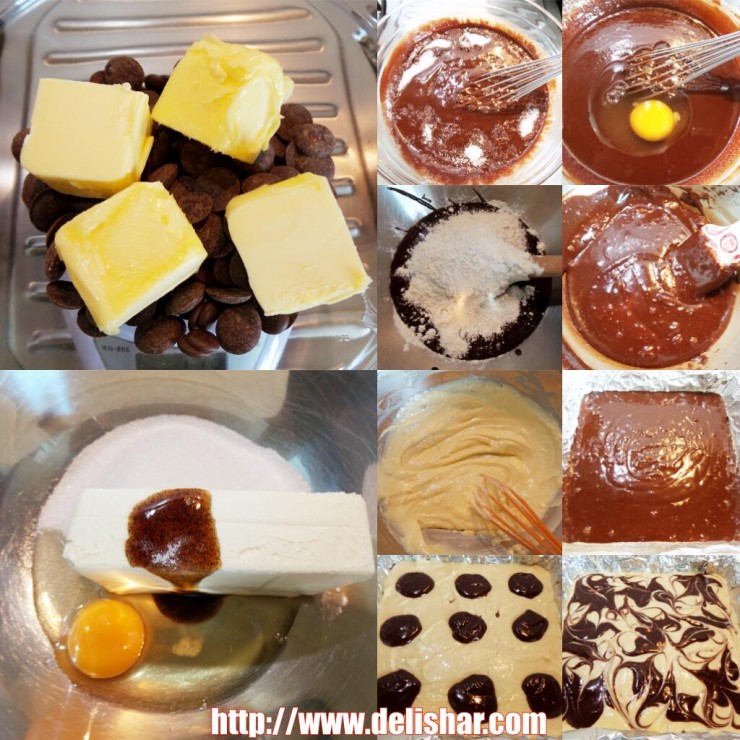 Cream Cheese Brownies
Makes a 8x8 inch pan
Ingredients
Brownie
2/3

cup

85g plain flour

1/2

tsp

baking powder

1/4

tsp

salt

170

g

semi-sweet chocolate

I used 60% cocoa

1/2

cup

butter

115g unsalted butter

3/4

cup

150g sugar

1

tsp

vanilla bean paste/extract

3

eggs
Cream Cheese Mixture
1

block cream cheese

226g, soften

1/3

67g cup sugar

1

egg

1

tsp

vanilla bean paste / extract
Instructions
Brownie
Preheat oven to 160C.

Line a 8x8 inch pan with aluminium foil, then spray with baking spray.

Melt butter and chocolate in a microwave safe bowl for 30 secs.

Stir, then melt at 10 seconds blast if not melted yet.

Mix in sugar, and allow to cool for 5 minutes.

Beat in eggs one at a time.

Change to a wooden spoon or spatula, and mix in flour until batter is glossy.

Reserve 1/4 cup batter, then pour the rest into the prepared pan.

Layer the cream cheese batter on top of the brownie.

Drop dollops of reserved brownie batter on top of the cream cheese mixture.

Use a skewer or back of knife to create swirls.

Bake for 50 to 60 minutes, or until moist, fudgy crumbs adheres to skewer when inserted.

Cool in pan for 5 minutes, then remove from pan to cool on cooling rack.

Allow to cool completely and chill (if you have the time) before slicing into it.
Cream Cheese Mixture
In a double boiler, melt cream cheese and sugar together.

Remove from heat, allow to cool for 5 minutes.

Mix in egg and vanilla extract, until combined.
Notes
I skipped the double boiling step of the cream cheese, and just whisk the cream cheese, sugar, egg, and vanilla together by hand. It works, but it was quite tedious. It'll work better with an electric beater. Otherwise, melt your cream cheese as given in the directions above.
Adapted from Browneyedbaker