I had my first duck confit when I was on a date with the husband. Immediately after that dinner, I started researching on recipes to confit duck legs. I'm intrigued by how much work time was taken to confit duck legs, and the history behind duck confit.
Duck confit originated in France. Confit is the past participle of the French verb confire, or "to preserve". Confit is also one of the oldest ways to preserve food. The process involves curing the meat in salt mixture for 24-36 hours. After which, the cured meat is cooked in it's own rendered fat, low and slow. This results in a moist, tender, melt-in-mouth, flavourful meat. Once the meat has been confit, it can last for several months or years.
So with that, I adapted the confit technique and give it an Asian twist with *drumroll please!* Thai aromatic spices of course! I made everything on a budget from scratch, all the way to rendering the duck fat. I got about 2.5 cups (600ml) of liquid gold from 1 kg of duck fats. And the raw duck fat cost me only $2 as compared to a bottle of prepared duck fat for $20 for 700ml. I rendered about 3-4 kg of duck fat that day, and gave a couple jars of liquid gold away to friends.
Don't let the amount of time needed to confit the meat turn you off. Most of the time is inactive, and it's just a game of waiting. Waiting for this delicious melt in the mouth experience with the most robust explosion of flavours! The wait was definitely worth it.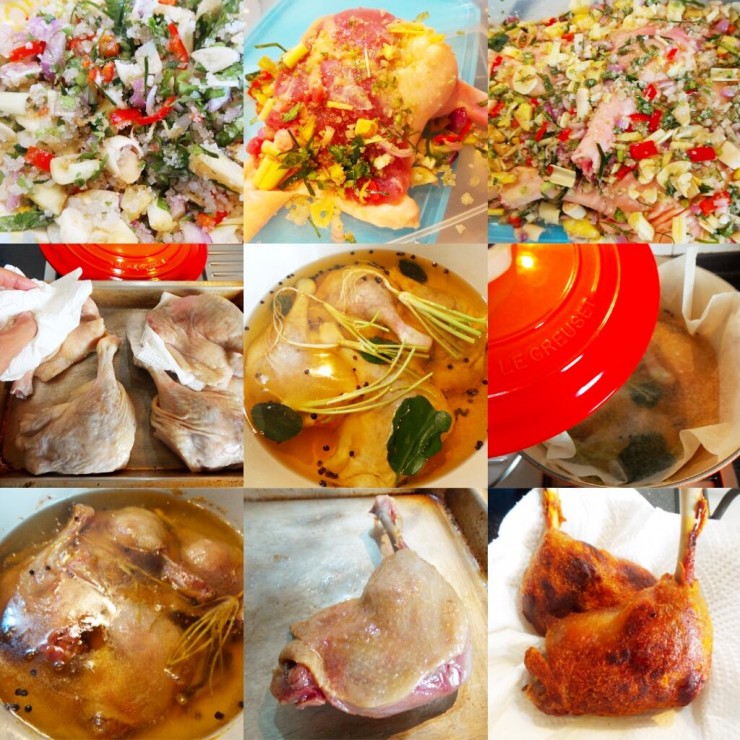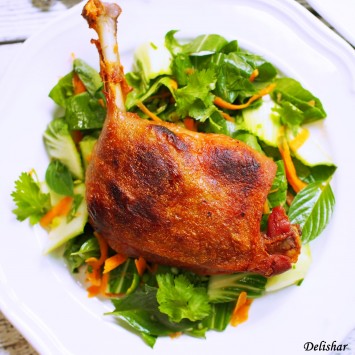 Thai Duck Confit
2016-01-11 13:50:03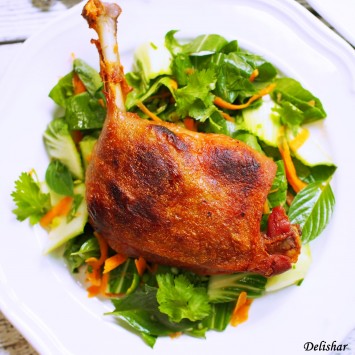 To cure duck legs
4 tbsp sea salt (I used celtic grey sea salt)
3 tbsp sugar sugar
1/4 cup chopped cilantro
3 shallot, minced
5 cloves garlic, minced
1 red chilli or chilli padi, seeded and minced
6 pieces of 1/2 inch thick ginger, smashed
3 stalks lemongrass, chopped
3-4 kaffir lime leaves, crushed then sliced
4 duck legs
To confit duck legs
Cured duck legs
About 4 cups melted duck fat or enough to submerge duck
3 kaffir lime leaves crushed
1 bay leaf
1 tsp black pepper corn
4-5 cilantro roots
2 stalks lemongrass, bruised
6 cloves garlic
1 inch ginger, smashed
To cure duck legs
In a bowl, mix all the ingredients except duck legs together.
Clean and pat dry duck legs.
Rub a little of the mixture on the bottom side of the duck legs.
Arrange the duck, skin-side up in container.
Use hands to make sure all duck legs are covered with salt mixture.
Cover and refrigerate for 6-12 hours.
To confit duck legs
Preheat the oven to 150C.
Remove the duck from the refrigerator.
Rinse the duck with cool water, rubbing off the salt mixture.
Pat dry with paper towels.
Place the peppercorn, garlic, bay leaf, lime leaves, cilantro roots, chilli, and lemongrass on the bottom of the french oven.
Lay the duck on top, skin side down.
Add the melted duck fat.
Cover and bake for 2.5 to 3 hours, or until the meat is tender and pulls away from the bone.
Allow duck legs to cool in fat for an hour.
Remove duck from fat, strain fat, and reserve for later use.
To serve
Remove duck legs from fat, dripping off excess.
Sear duck legs skin-side down in a hot pan until the skin is golden and crispy (about 3-4 minutes).
Or crisp up duck legs in 200C oven for 15, or until skin is golden and crispy. (I prefer this method, it gets an even all round crisp)
To save for later
Submerged duck legs with strained fat in air-tight container.
The duck confit can be stored in the refrigerator for up to one month.
Notes
You can skip the step of cooling the duck for an hour if you are pressed for time.
Cooling makes the very tender duck easier to handle.
Delishar | Singapore Cooking, Recipe, and Food Blog http://delishar.com/
Asian Bok Choy Salad
2016-01-11 13:58:03
Serves 4
Salad
3 cups bok choy, cut into 1 inch size
1/2 cup shredded carrot
2-3 tbsp scallions, use white and green parts
2 tbsp chopped cilantro
20 Thai basil leaves
1 navel orange, supreme
Dressing
1/4 cup navel orange juice (about 1 orange)
Juice of 1 lime
1 tbsp fish sauce
2-3 tsp honey
1 tsp sriracha sauce
1 tsp duck fat or olive oil
1 tsp sesame oil
Instructions
Mix ingredients for dressing together in a small bowl.
Add all the ingredients for salad in a large mixing bowl.
Pour dressing over salad and toss to combine.
Delishar | Singapore Cooking, Recipe, and Food Blog http://delishar.com/