Whenever we get to eat out at a Chinese restaurant or tze char store, I will always order this particular dish as part of our multi-dish meal. My favourite part of this dish is the ultra flavourful broth. And because it is pretty soupy, I can use it to moisten my girls' rice and flavour it at the same time.
The century egg, and salted egg add so much umami-ness to the broth. And the beaten egg added at the end helps to thicken the broth and bind everything together. My girls and the husband are big fans of this dish as well. Although they will skip the salted egg, and century egg. Leaving it all for me to enjoy! Lol!
If you look at the recipe, you'll see that I listed 2 choices of stock base. Honestly, I prefer using ikan bilis stock as compared to chicken stock. I feel that it gives it a richer, deeper flavour. Where else, chicken stock gives it a lighter, cleaner taste. So that's a personal preference. You can even go half and half if you can't decide!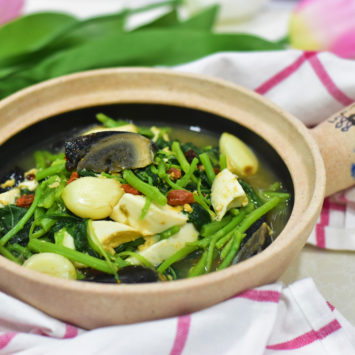 Trio Eggs Spinach in Superior Stock
Ingredients
250

g

- 300g Chinese sharp or round spinach

1

century egg

sliced into wedges

1

salted egg

cooked and sliced into wedges

1

large egg

beaten

2-3

tsp

wolf berries

2

cups

ikan billis stock or chicken stock

3

cloves

garlic

peeled & lightly smashed

1

tsp

sugar

1/2

tsp

sesame oil

salt and white pepper to taste
Instructions
Peel off fibrous layer of the stems, separate leaves from stems.

Then cut stems into 1-1/2 inch length.

In a wok, bring stock to boil.

Add in wolf berries, and garlic. Cover and allow to boil for 1 minute.

Then add in stems into boiling stock.

Season with sugar, salt, and white pepper. Cover and allow to cook for 1 minute.

Add in century egg and salted egg, then cover and cook for 2 minutes.

Then add in leaves, and cover to cook until wilted, about 2 minutes.

Next, stir in beaten egg and allow it to set.

Remove from heat, and drizzle in 1/2 tsp sesame oil.

Serve immediately.