Alongside Aloo Gobi, we would always order Palak Paneer when we visit an Indian restaurant. We love the combination of warm spices marrying with creamy spinach puree. It works so well as a dip for flatbread and as a saucy dish that goes perfectly with basmati rice. My husband and girls aren't too fond of paneer, which means I get to have them all to myself. Win for me, I'd say. When we had our homemade Indian dinner, it was a no-brainer for me to make our own Palak Paneer (IG cooking story here).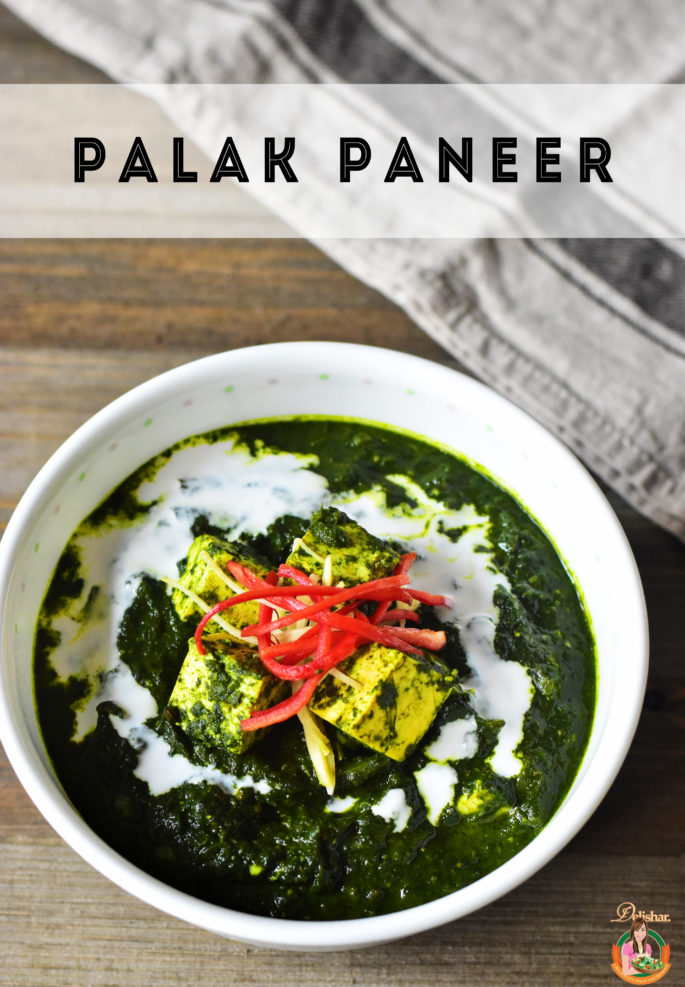 The struggle we usually have while dining out, especially when spices are involved is that most places aren't able to truly tone down the spiciness level to suit the kids' tolerance to heat. Most of the time, it's too spicy for them even if the kitchen tried to tone it down a notch.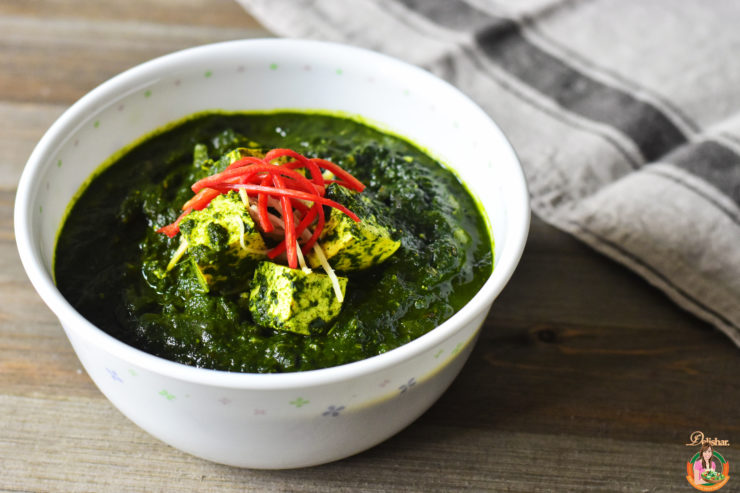 The good thing is that home-cooking allows us to cater to our family's preference and tailor the spices to suit the kids' tolerance level. That way, everyone at home will be able to enjoy all the dishes. Cooking at home also saves us quite a bit of $$ as compared to dining out! Here's how I made my Palak Paneer.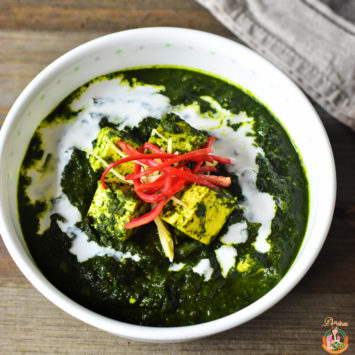 Palak Paneer (Gluten-free, Keto)
Ingredients
Spinach puree:
300

g

Spinach

1

green chilli

, chopped & seeded (optional)
Spice mix:
1

tsp

cumin powder

1/2

tsp

turmeric powder

1/2

tsp

chilli powder

(optional)

1

tsp

garam masala
Others:
200

g

paneer/cottage cheese or tofu

1

small yellow onion

diced

1

tomato

diced

2

tbsp

garlic ginger paste

1/2

tsp

cumin seeds

1

bay leaf

2

tbsp

ghee

1

tsp

fenugreek leaves

Salt to taste
Garnish:
2

tbsp

Cream / coconut milk

Julienned red chilli

Julienned ginger
Instructions
Bring a pot of water to boil, then blanch spinach for 30 seconds.

Dunk spinach in ice water to stop the cooking process.


Drain and transfer to food processor together with green chilli.

Blend to puree.

In a pan, melt ghee and add cumin seeds to cook for 30 seconds.

Add onion, tomato, and bay leaf. Cook until soften.

Add garlic ginger paste and spice mix. Continue cooking until well blended.

Add spinach puree and mix to combine.

Season with salt to taste and add water to your desired consistency.

Allow to simmer on low heat for 5-6 minutes.

Then add the paneer or tofu and cook for another minute.
Notes
Use tofu and coconut milk for dairy-free option.
Ghee is lactose-free but can be substituted with coconut oil.